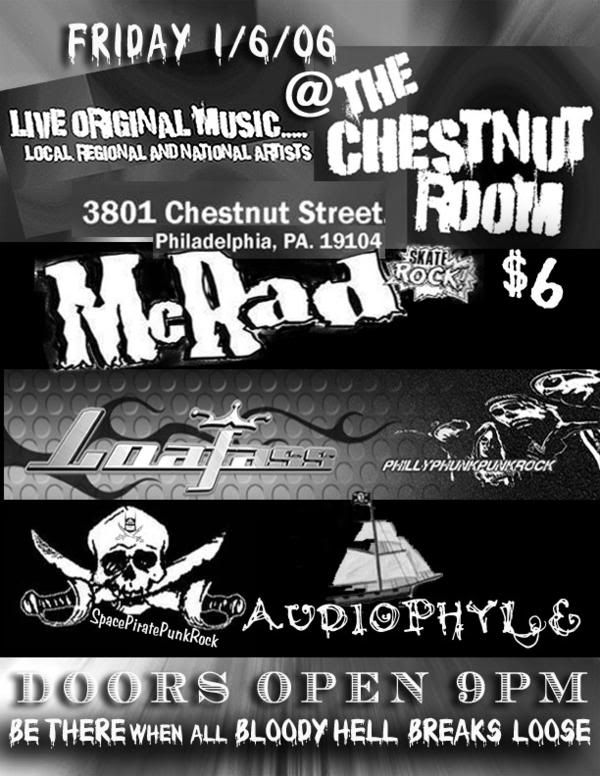 So come see Julie play bass with McRad tonight at
The Chestnut Room
. It's Philly punk night. (Wait. When isn't it?)
And I still have that extra Neil Gaiman ticket for Monday night but I guess if no one wants it and emails me, I will give it to one of the students standing in line an hour prior to the event in hopes of scoring one of the few remaining tickets at a discount. By the way, here's a really cool interview with
Gaiman
about the NY event.
Also, I know I'm being greedy because I've already asked you guys to vote for me as your favorite Phaze author, but it seems I'm listed on the Predators and Editors website as a candidate for all-around favorite author and book of 2005. Right. I have a real shot in hell on that one. But just in case, here's the link to vote for
Three Days in New York City
.
Ha ha - it's nice and cozy here in dream world where I live.
ETA: Hey, somehow I'm #10 on the list? What did I do, enter a parallel universe? Okay, please, please vote for me...I'm not beyond begging and carrying out strange favors in return.
And now, the moment you've all been waiting for. How was Julie's sushi? Well, obviously I'm typing this so she didn't kill me or herself.
Let me just say this. I've eaten at one of the finest sushi restaurants in Seattle and the Pacific Northwest is world famous for their fresh fish. I eat at the best sushi restaurants in Philadelphia and New York City all the time. Can I just say without any parental prejudice at all -- because God knows I call it as it is with Julie -- that she made some of the most incredible sushi I've ever tasted in my life? She made a spicy scallop roll with a chili aoili that was to die for and an inside out roll made with fresh tuna, avocado, wasabi cream cheese, and shredded carrot with a wonderful, vinegary sticky rice -- I mean, she flavored the rice like you would not believe, which blew me away and essentially made both dishes. She's raised the standard of sticky rice...I'll never be happy with the ordinary stuff again. Eat your heart out, Iron Chef. So I know you are dying to see the photos, and I am happy to oblige.
Ha ha - I just realized, in these photos you can really see how laid back I am about housekeeping, but you can also see examples of some of Julie's great artwork on the walls so how about if you just look at that and the food and pretend the messy table does not exist. First up, the scallop rolls: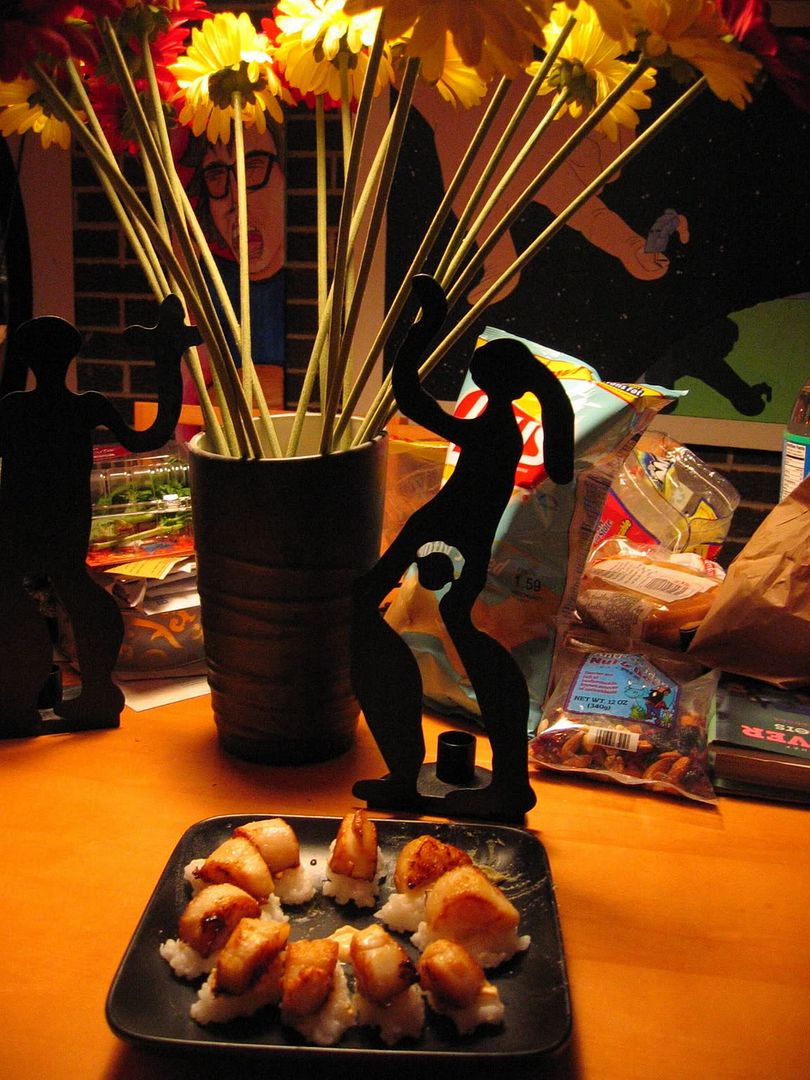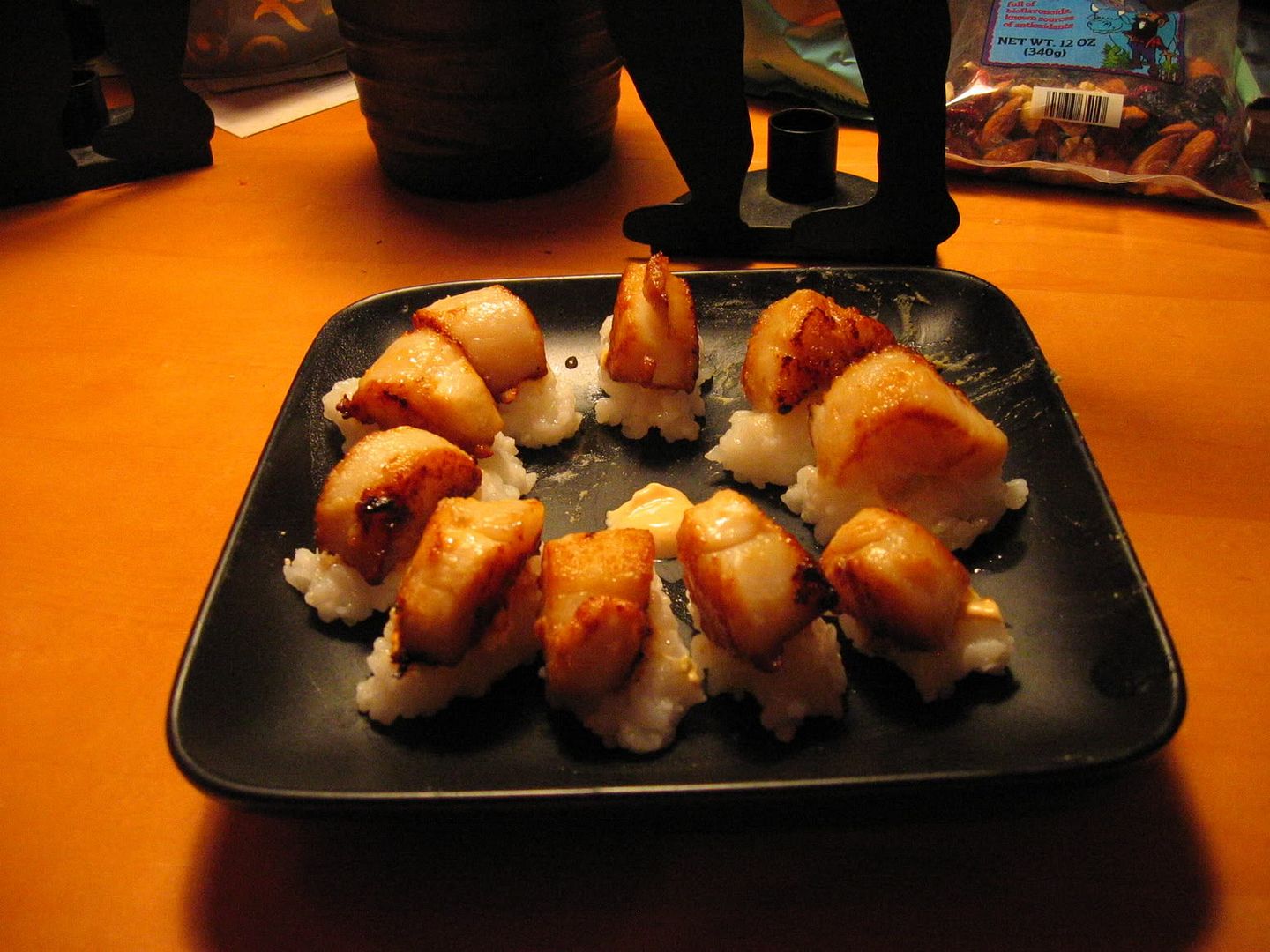 Here's the tuna roll: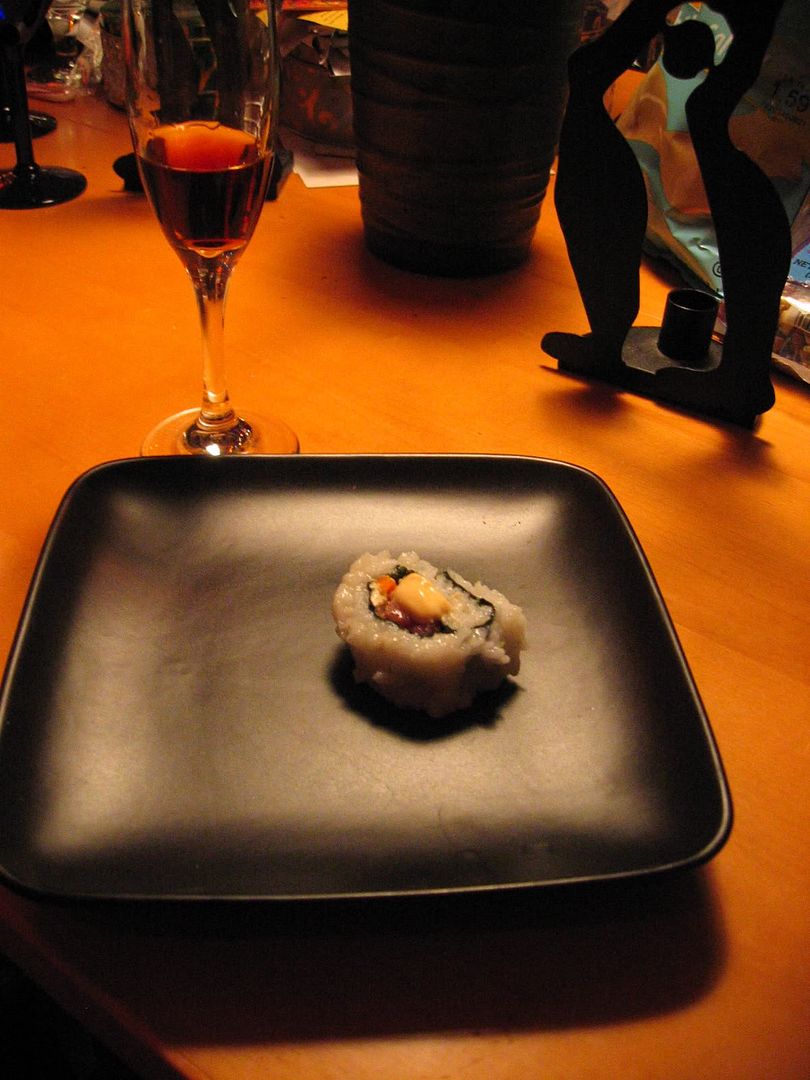 And now, in a total tease, I'm going to give you a preview of a future post about the dessert we had following the sushi, where I will talk about Darling's, a wonderful, wonderful cafe Julie and I stumbled on yesterday which is the "originator of the famous Bananas Foster Cheesecake". Since Eric is not a cheesecake fan, we bought him one of Darling's awesome homemade chocolate chunk brownies. Eric is slightly freaked out, both by how great the brownie was and that I snapped his photo while he was eating, especially as he had just taken a shower (hence the wet hair), but I love this photo because Monty dog is obviously trying to send us all telepathic messages that he would like a brownie as well. And yes, I know, it's January 6 and my Christmas tree is still up. So shoot me.