Eric Slick for some inexplicable reason pointing at guitarist Jeremy Blessing prior to the record setting Guitar Smash at the opening of Hard Rock Cafe in New York City, August 12, 2005.
So, yeah, as I say in the title of this post, I really hated to see 2005 go. What depresses me is that when the fuck am I ever going to have a year that good again? My first book published, meeting some great authors, nights out partying with rock stars, the premiere of a movie and soundtrack featuring both of my kids, a trip to Hollywood...pizza with Eddie Vedder...quitting my job (free at last, free at least)...a week in England...arghhh...I'll never top this, ever.
I hate to do this, but this calls for a month by month recap, complete with a walk down photo memory lane. So if you get bored by stuff like this, here's fair warning, go on to the next blog now.
ETA: I just realized this is a huge, huge post, so consider this part I...January-June, 2005, with part two coming tomorrow.
January, 2005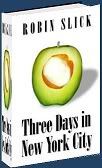 Yep, my book was published on January 1, 2005. It's a Fictionwise best-seller; was a Phaze best-seller for a while, is in paperback and in a few brick and mortar stores as well as Amazon.com, etc., got several great reviews (from people I don't even know ha ha), a nice little mention in Playgirl Magazine...and an excerpt and interview will appear in a future issue.
In music news:
My kids went into Studio 4 to record the soundtrack for Rock School, the movie. Here's Eric and the gang, chilling with Marky Ramone.
My son and daughter, Eric and Julie Slick, drummer and bassist respectively, opened for the Tony Levin California Trio, and of course there's a photo of Eric with Tony prior to the show on January 28, 2005.
*****
February, 2005
As I look over my blog entries, February was kind of tame. Eric flew down to Fort Lauderdale to do a show at the Broward Center with Rock School, both kids finished up the soundtrack...we were kind of in a holding pattern, waiting for news on the release date for the movie.
Oh, and the Philadelphia Eagles lost the Super Bowl though Julie made one of the most memorable Super Bowl meals in Slick family history:
We had "small plates" all day long and here's the first batch. Homemade blackbean salsa with cilantro, lime, chopped tomatoes; really sick homemade guacamole; little balls of fresh mozzarella that sit in basil boats drizzled with imported olive oil and topped with a grape tomato; thinly grilled salami chips, and cubes of another mild Italian cheese with walnuts.
Green and red grapes to clear the palate.
*****
March, 2005
Well, my son had fun once again:
So the photograph above is the Paris, Las Vegas, where my son stayed prior to a performance for this little
get-together
.
And on March 31, 2005, the trailer for Rock School (link to the right) officially went on line and we all almost died of excitement. Julie and Eric look so young! Well, three years in teen years is a long time...
*****
April, 2005
Got the awesome news, as confirmed on his
website
that Jon Anderson would be joining Julie and Eric and the Rock School Hall of Famers on stage at the Knitting Factory for the LA premiere of Rock School, the movie. One of my first dates with the kids' dad was to see Yes open for Emerson, Lake & Palmer and when I got the news that Julie and Eric would be performing Heart of the Sunrise with him, I pretty much lost it. (And also knew I had to be groupie Mom and tag along)
At the end of April, Eric sat in on drums with Project Object on stage at World Cafe for the final show of their twenty one day tour.
*****
May, 2005
Oh, I couldn't wait for this month. This was when we visited LA and Seattle for the Rock School premiere, and the kids hung out with/performed with Jon Anderson, Alice Cooper, Stewart Copeland, Eddie Vedder, and Ann Wilson. And yes, yes, prior to the Vedder performance, we had pizza with Eddie and after the show, he hung out with the kids for a least an hour backstage where we filmed Ed, my son, Rock School greats Joey Randazzo and Larry Allen doing a twenty minute version of the Who's A Quick One and no, no, you cannot buy that DVD from me for all the money in the world. But if you want to come over my house and see it sometime, let me know.
Actually, as I read over my post of that experience, it's just so cool that I think I'm going to copy it here verbatim...do you think I seem a little excited?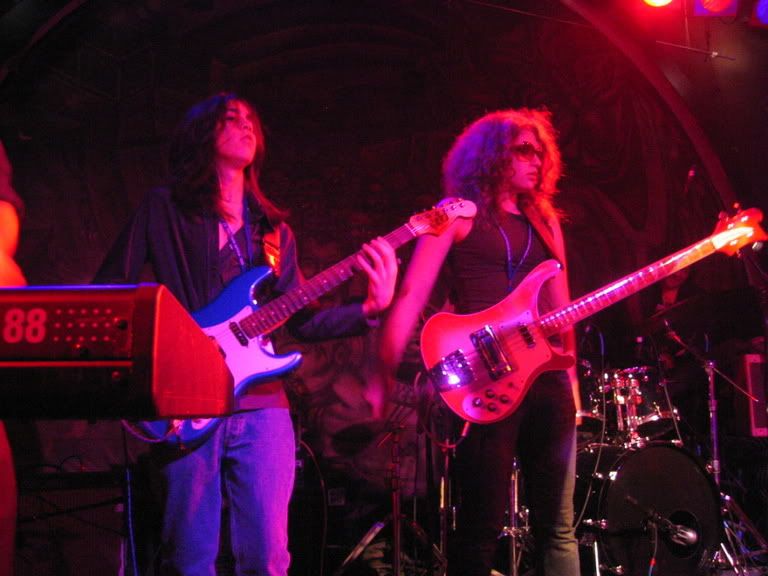 Julie and C.J. Tywoniak
Well. What can I say. I'm still speechless over the past three days - on a high from which I can't come down. As I've written, we were on a three day tour to promote the opening of Rock School.

I could talk for hours about the fantastic hotels, how terrific we were treated by the Picturehouse Films (formerly Newmarket) staff...how I fell in love with the city of Seattle...but I have much more exciting things to say. First of all, the movie.

Rock School is amazing! It's nothing like I expected. It's hilarious! Laugh out loud funny. If people are offended by the language or Paul's approach, too fucking bad. The movie portrays him exactly as he is - totally fucking brilliant, totally fucking insane, but more importantly, totally fucking in love with our kids and because of him, these kids (and me as well as some of the other parents) have gone places and experienced things which are surreal.

How's this for an example: We had pizza in Seattle with Eddie Vedder before the show at his favorite pizza restaurant. I mean, we had pizza with Eddie Vedder. WE HAD PIZZA WITH EDDIE VEDDER!

Anyway, Don Argott captured Paul, the kids, Rock School perfectly. It's one of most entertaining movies I've ever seen in my life. I literally had tears in my eyes from laughing; I was again awed by the music; I was thrilled by all of the interviews - the kids come off intelligent, funny, and really, like the great friends they all are. It's such a feel good picture, you can't help but whistle and cheer at its ending. Joe Randazzo actually jumped up on his seat in the theater. Okay, well, that's Joey, but I was extremely tempted to follow and probably will the next time I see it.

It's that amazing.

I mean, Jon Anderson and Eddie Vedder saw the movie and immediately wanted to meet Paul and perform with the kids. How fucking cool is that!

Anyway, I don't want to give away any more -- once it's released in the theater I'll talk more about it.

Oh hell. I want to start talking about the whole experience from the very beginning. There's way too much to tell. I have to wait for Julie and all of the photos from the first show so that I can write about Jon Anderson (a sweetheart!), the kids' performance, the people at Picturehouse Films, Don and Sheena...oh my god, I know I'm gushing but I don't know...when we went to Germany to see the kids perform at Zappanale, I thought that was the best time of my life, but nothing compares to this.

I don't know how I'm ever going to return to the real world next week.
Eric and Eddie Vedder at Neumo's in Seattle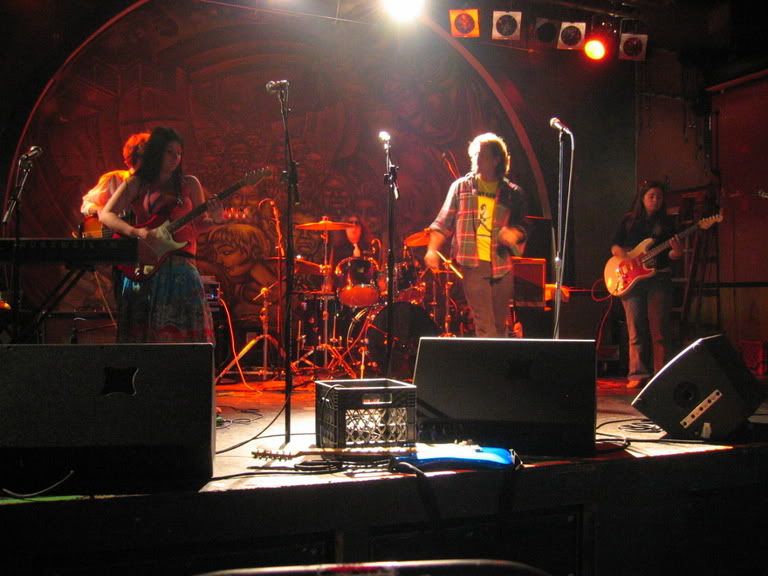 Madison Flego, Brian Purcell, Eric Slick, Eddie Vedder, and Julia Rainer
Eddie Vedder trading licks with Louis Graff...sitting on the floor in awe is our Uberlord and man responsible for the best three days of my life, Paul Green, standing watching is George, Eddie's equipment man and a great guy, and Julie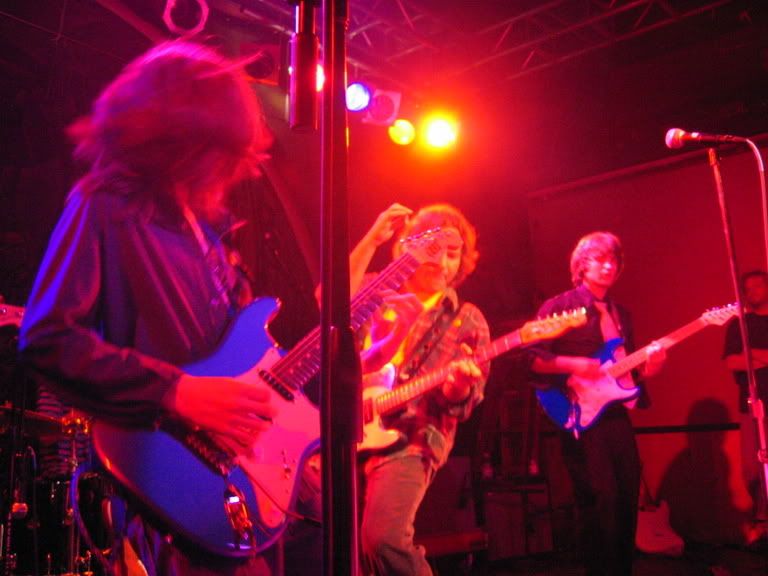 C.J., Eddie, and Louie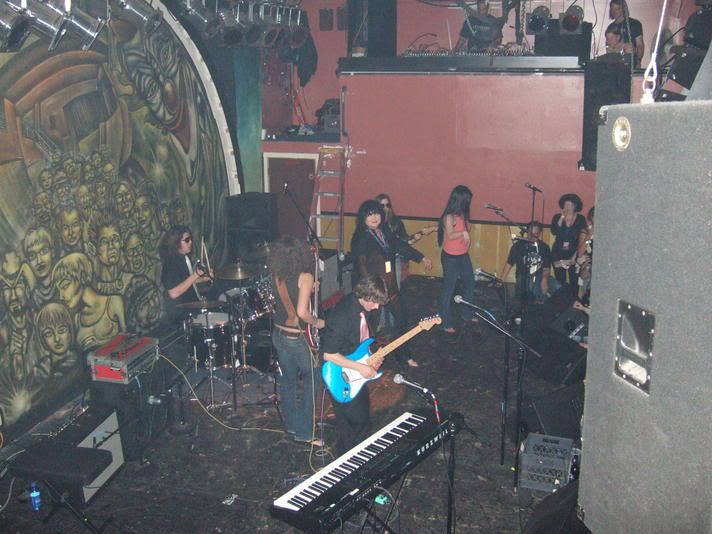 The kids performing Barracuda with Ann Wilson of Heart in Seattle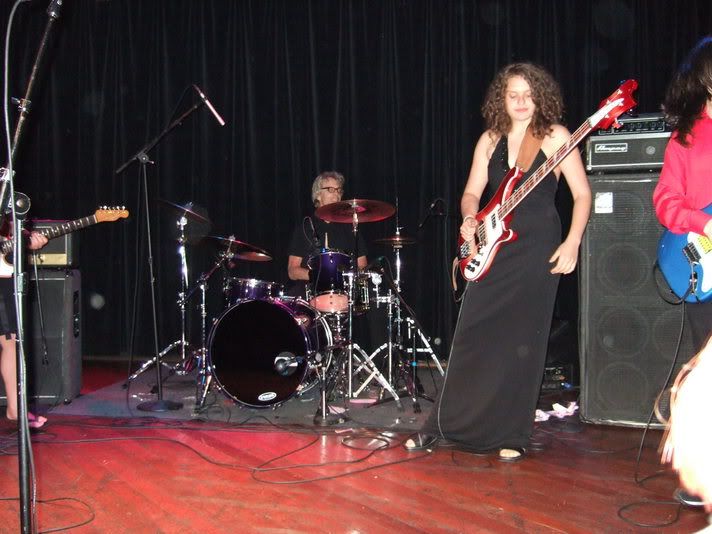 Julie performing with Stewart Copeland of the Police at the Knitting Factory in Hollywood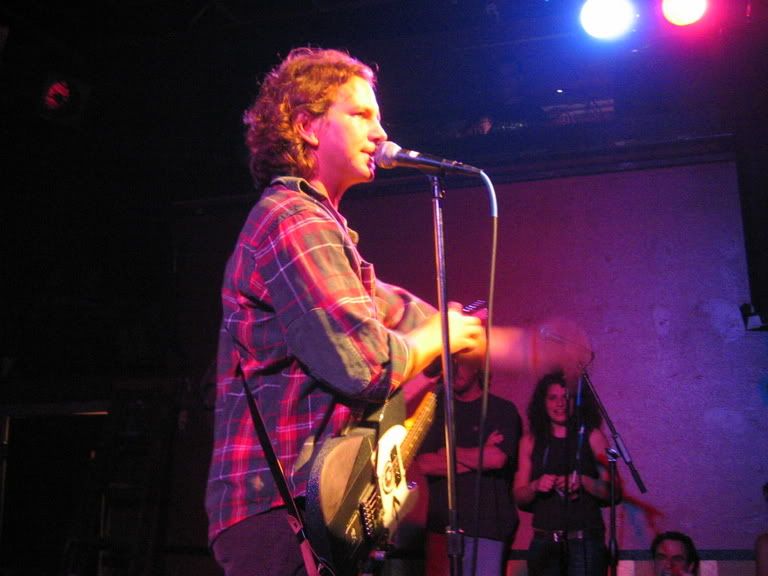 Okay, I realize that last post was just me babbling. I was really struggling uploading those pics to my new server and wanted the benefit of the photographs I took the first night in Hollywood so I could relate the story as it unfolded. But because Julie and Eric won't be home until tomorrow and I can't wait, just pretend this is that Seinfeld episode where it's all backwards...I'll start with Day 2 in Seattle and work my way back to Hollywood tomorrow.

Just as in L.A., Picturehouse Films arranged for drivers to meet us at the Seattle airport and take us to our hotel. We stayed at the W, which is just about the most gorgeous hotel ever. It's such a hip place; outrageous artwork, ultra modern decor with free standing sculpture as railings...and nice little touches like a lobby with a roaring fireplace and fresh unsweetened juice with orange, lime, lemon and grapefruit slices (and sprigs of mint) in a glass dispenser sitting on a table with a large bowl of green apples -- all complimentary. Terry cloth robes in the bathroom...and a view of the waterfront. I could live there forever.

When we pull up at the hotel, we're immediately met by staff from the Seattle Film Festival. That's where we get the news that Eddie Vedder would like to have dinner with us before the show.

You can't imagine what it's like -- as a long time fan -- to hear those words said so casually.

"Yes, you're going to meet him at one of his favorite restaurants - they have the best pizza in Seattle".

The kids were more subdued; I acted like a complete idiot practically jumping up and down and screaming "We're having pizza with Eddie Vedder; we're having pizza with Eddie Vedder!"

Anyway...

We had a bit of down time later in the afternoon and Julie and the other girls: Madison Flego, Julia Rainer, and Teddi Tarnoff - the three most talented vocalists and guitarists EVER actually asked me if I wanted to go out and see the city with them. I tried not to act too much like a dork thanking them over and over for including me (oh, it's so pathetic getting older) and I had a blast with them. They are four incredible girls - so smart and beautiful and fun to hang out with. We went into some boutiques, walked down by the water, and totally fell in love with Seattle. It's easy to see why people are so enamoured of the Pacific northwest.

We had just enough time to get back to our rooms and change. Our driver was so awesome - his name is Holden and he used to be a singer in a punk band and now he's connected with the Seattle Film Festival. He takes us to the restaurant where we are whisked upstairs to a private room. There's already two pizzas on the table and we were met by a very pretty woman named Kate Jackson who introduced herself to me as Eddie Vedder's assistant. With her was his equipment man, George, another really cool guy who sat next to Julie and asked her all about her equipment...what kind of basses does she have, what amps does she play through, etc. Kate's phone rang twice - both times it was Eddie who was running late and stuck in traffic. She said "Oh my god, Eddie is really sweating - he's so sorry he's late". In other words, he's no prima donna; this is an honestly down to earth guy, one of the nicest men I've ever met, who was worried we would think he wasn't coming.

About ten minutes later he walks in, wearing jeans, a Ramone's t-shirt, and an open plaid shirt. If you think he is beautiful in photographs, to see him in person is to die. Oh god, it was so hard not to stare at him like a crazed groupie. Anyway, he sits down, takes a piece of pizza, and immediately starts talking with the kids. He's really easy going; he didn't mind we were snapping pictures; he said he wanted to go to soundcheck/rehearsal with us after dinner and just hang out and talk and maybe sit around and play.

It was so fucking incredible.

We get to the venue and there was some trouble with the sound. It's so frustrating when that happens. But they finally straightened it out...and the kids got some rehearsal time. We heard the event totally sold out and it took so long for everyone to fill the room that the show started around 10:00 or 10:30.

The kids were amazing. They started off with Black Magic Woman as is their trademark. Eric on drums, C.J. on guitar, Brian on bass, Larry Allen on keyboards, and Madison Flego singing. It doesn't get any better. The crowd went absolutely nuts.

I can't remember the order of the songs but they did a couple by Radiohead, Pigs, City of Tiny Lights, Rebel Yell...and then Paul made an announcement there was a special guest and out walked Ann Wilson of Heart. She played Barracuda with Eric on drums, Julie on bass, and Louie and Julia Rainer on guitar. Do you think it was amazing? IT WAS!
Ann sang in her bare feet, she was so obviously wowed by the kids that it was a real sobby moment for me, and then she had to rush off because she had another gig.

It was just so, so cool of her to come and perform and she really wailed. Her voice is better than ever, and I managed to snap the following picture of Madison watching her from the wings. Madison sang Barracuda the night before in Hollywood and aced it. What's so surreal is that Heart was one of the first CDs her mom bought for her when she was five years old and she's been singing along with Barracuda for years. Ann Wilson is her hero. So can you imagine what that was like for her?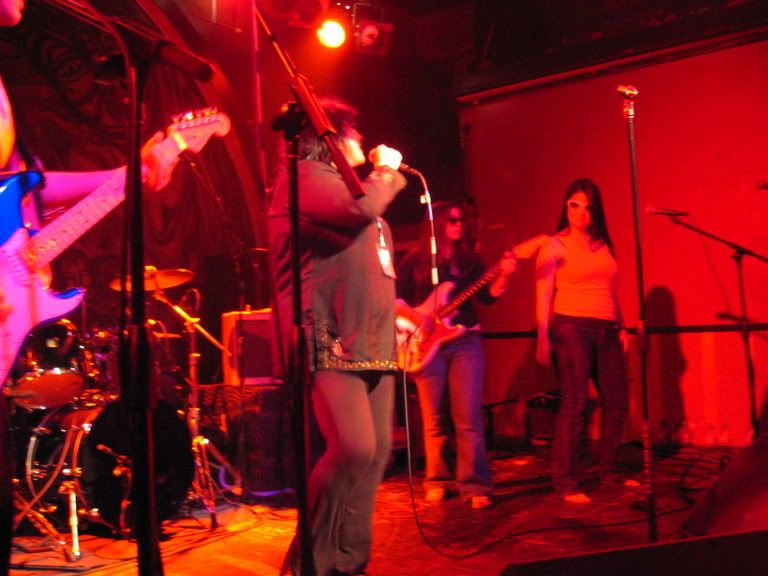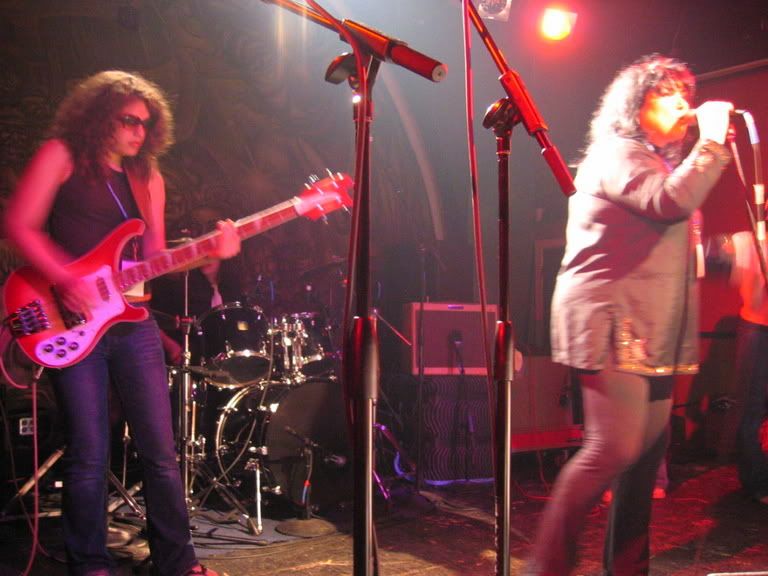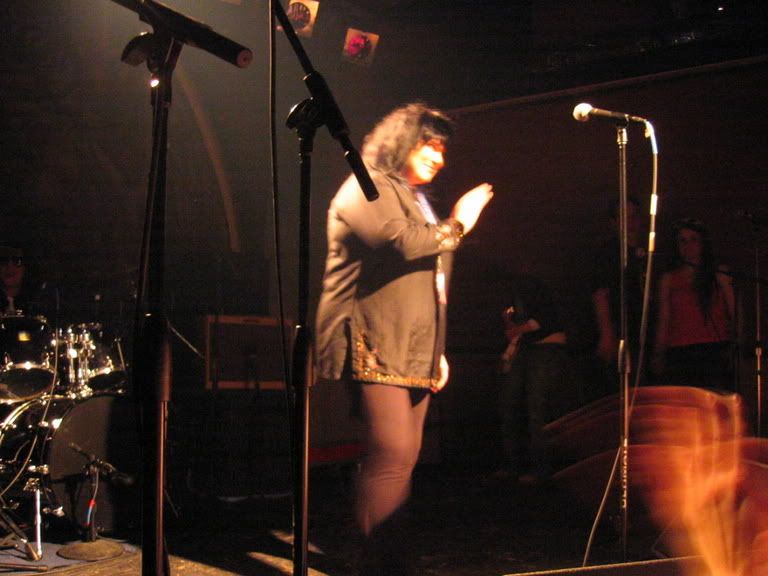 Then the kids came out and played a couple more songs and here's a few photos -- they did Heart of the Sunrise which always makes me cry, White Lines, Rock Lobster...just a really great set.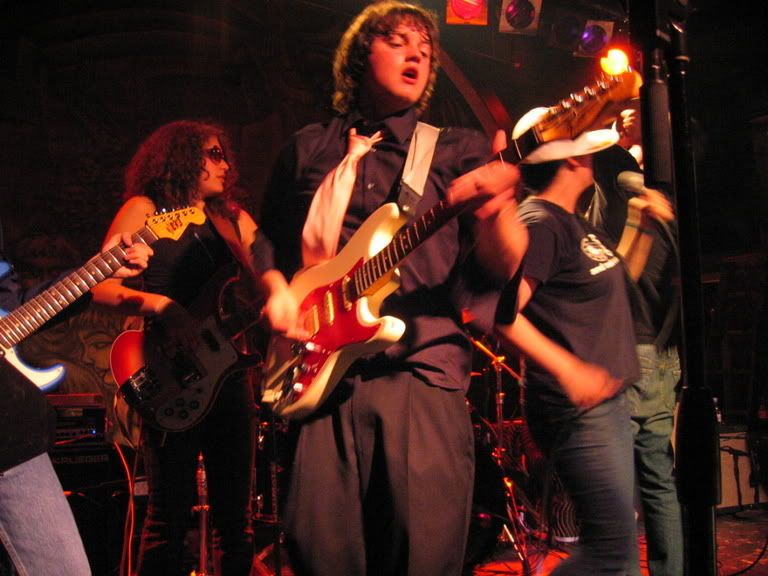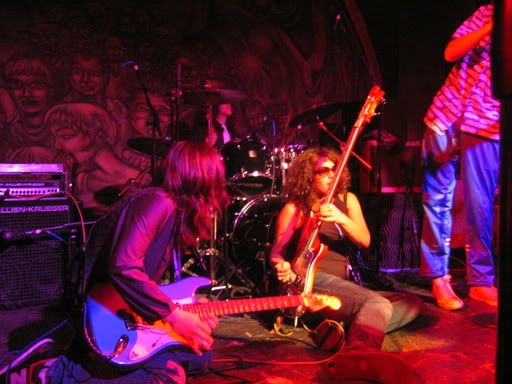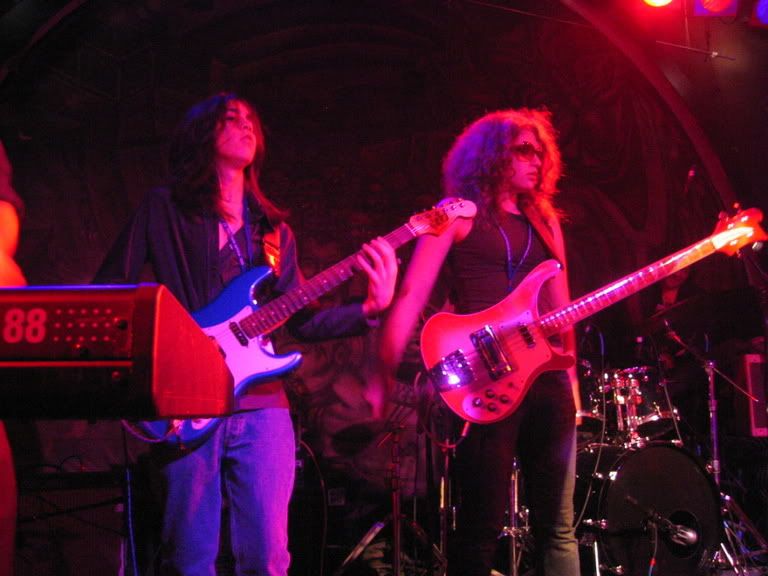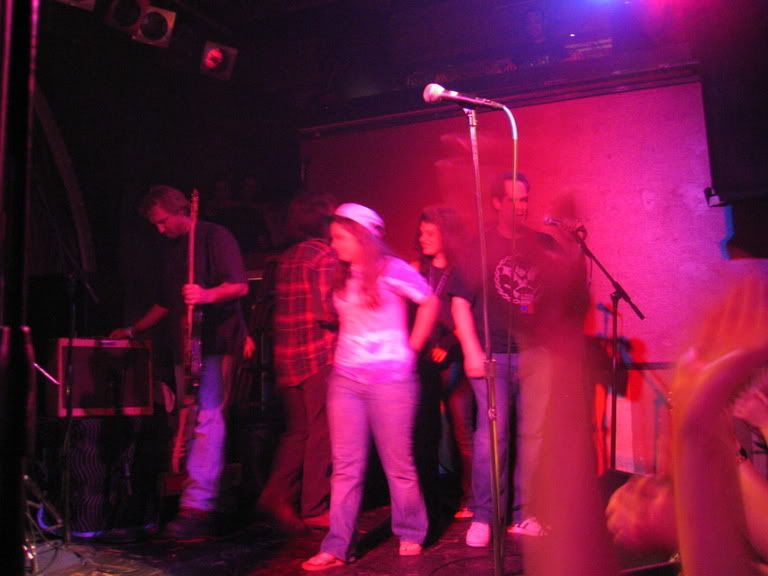 Julie and Teddi Tarnoff:
Then Paul makes the announcement that we have a special guest joining us for the last two songs, Mr. Eddie Vedder. The crowd went crazy as Eddie took the stage (hahahaha - sung to Sally Simpson by The Who) and below are my Eddie pics, which, if my kids wouldn't think I was the world's biggest freak, I would print out, frame, and hang on my bedroom wall.

Just kidding.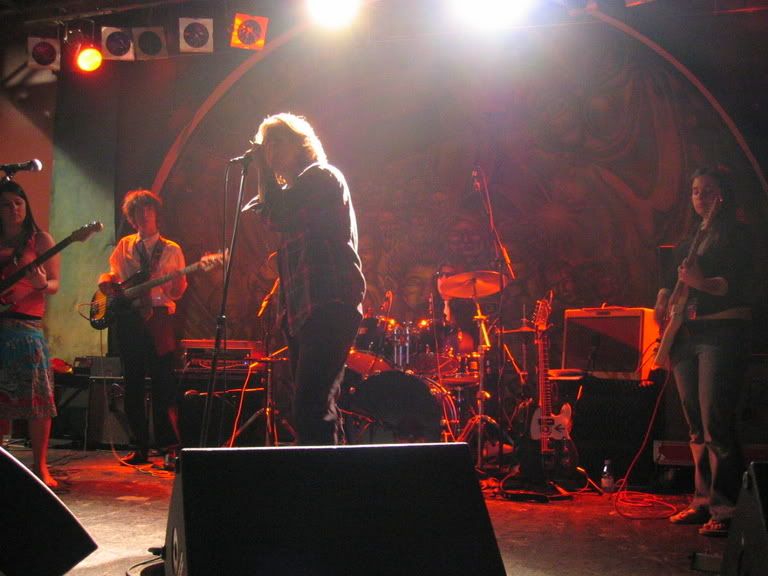 Julie and Eric watching as Eddie plays his first song, Corduroy, with Joey on drums:
Then Eric joined Eddie for I Wanna Be Sedated, and I've already posted that pic but I think I'll post it again:
Anyway, as amazing as all of this was, the show ends, people are screaming like it's the freaking Beatles at Shea Stadium; and I decide to go backstage and check on the kids. I'd assumed Eddie had already left the premises.

WRONG!

I walked in just in time to see Eddie, my son, Eric, Joey Randazzo, a/k/a Joey Reno, and Larry Allen doing an a cappella version of The Who's A Quick One While He's Away.

How lucky am I -- my daughter videotaped the whole thing. It went on for 10-15 minutes, with Eddie singing and laughing and Don Argott, director and producer of Rock School doing harmonies. I cannot believe I own this film. We watched it as soon as we got home last night and you have no idea how terrific it is. Joey and Eric, both drummers, beat out the rhythm while everyone sings. My son played his iPod with drumsticks, Joey beat on his knees and stamped his feet, Eddie was so into it...you could tell he was having a blast.

Then Kate brought out a big carton full of Pearl Jam books and EPs because Eddie wanted the kids to have a souvenier and then he stood there and autographed every one of them personally as well as let us all take our pics with him. He's the nicest guy in the entire world.

I'm not kidding; he stayed backstage with us for over an hour, just chatting...it was like he was having the best time hanging with kids who loved rock (apparently an oddity these days, huh) and didn't want it to end, either.

Oh, one other thing about Eddie which is the coolest, most touching thing. He walks around with one of those old fashioned black and white composition books and on the first page he has a picture of his beautiful one year old daughter glued in with her name written under it...he is so in love with her and so obviously thrilled to be a dad...I guess he uses the book to write down ideas and thoughts...I don't know, as a writer, I love the idea that he does that and doesn't walk around with a laptop like most people. It was old fashioned and sweet.

Okay. That's all for now. I'm still really jet lagged and need to try and upload more pics.
(Which I did and will post now...and please excuse any photos I've posted more than once...this walk down memory lane is a lot more difficult than I anticipated and I'm starting to get cross-eyed from cutting and pasting)
Here's a group shot of the Rock School All-Stars assembled inside the movie theater in Hollywood. From left to right on the first row: Brian Purcell, Joey Randazzo, C.J. Tywoniak, Louis Graff, and Larry Allen. Second row: My son Eric, Teddi Tarnoff, Our Uberlord - Paul Green; my daughter, Julie, Madison Flego, Julia Rainer, Matt Rothstein, and former Rock School student now living in L.A. and making a brief appearance in the movie as well - Ms. Kelly Crimmins.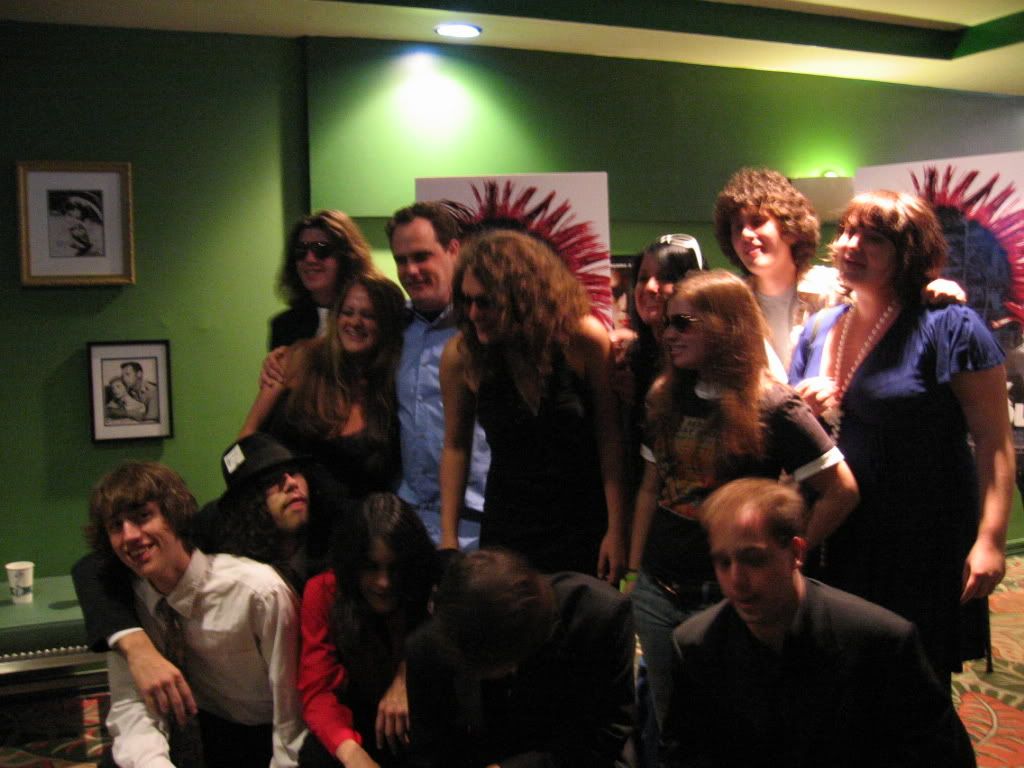 As I said, it was totally incredible - it comes out in theaters near you starting this Friday, the soundtrack comes out this Tuesday, blah blah blah, and without further ado, let me post some pics from Tuesday night at the premiere party at the LA Knitting Factory. The kids opened with the always brilliant Black Magic Woman, followed by Rebel Yell, then City of Tiny Lights, Barracuda...and then Eric gets up from the drums and out walks Alice Cooper to do an unbelievable rendition with Stewart Copeland on the drums.
Julie: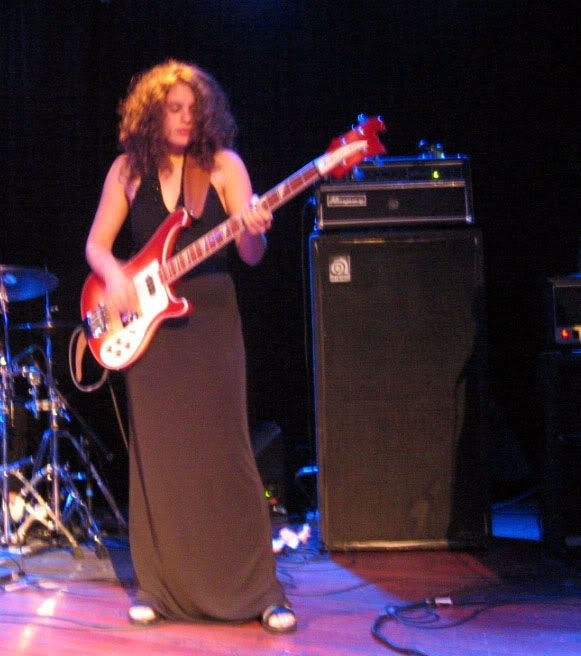 Louie: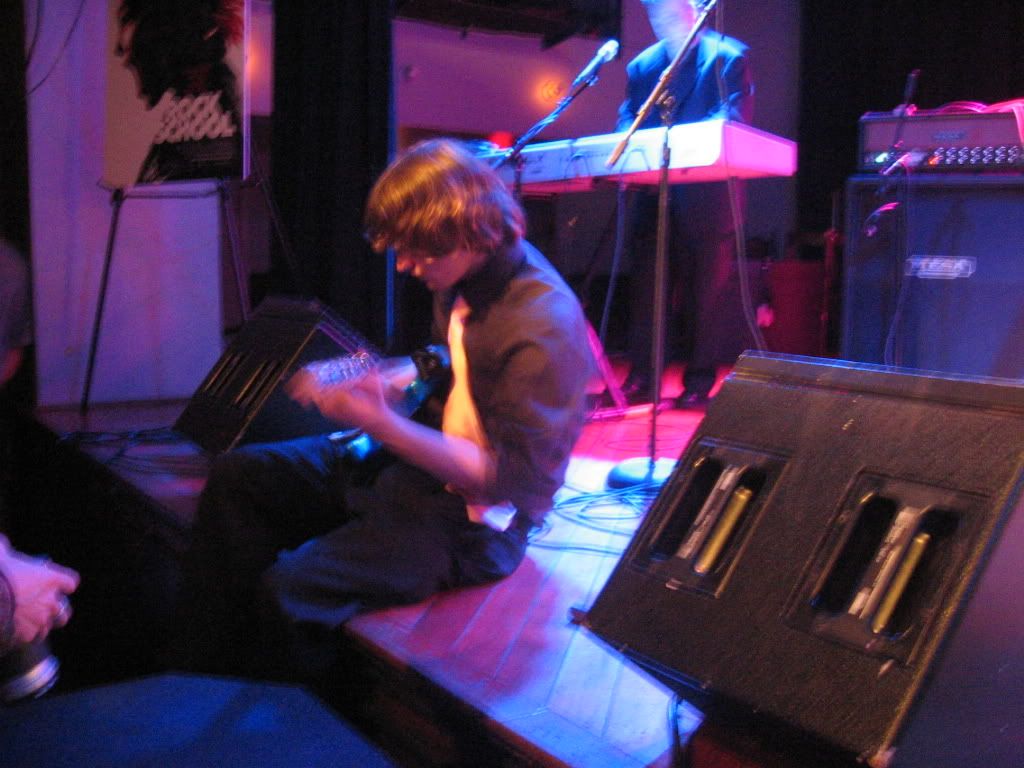 Teddi, Julie, and Julia: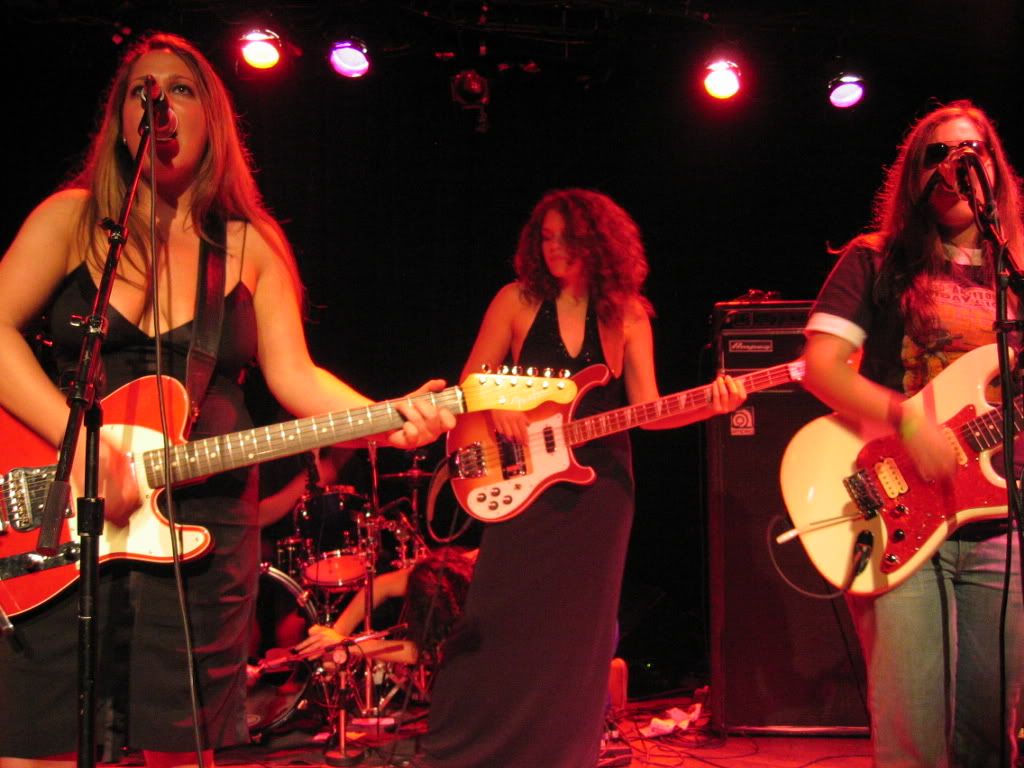 Teddi, Julia, Eric, and Julie:
Teddi, Alice Cooper, and Julie: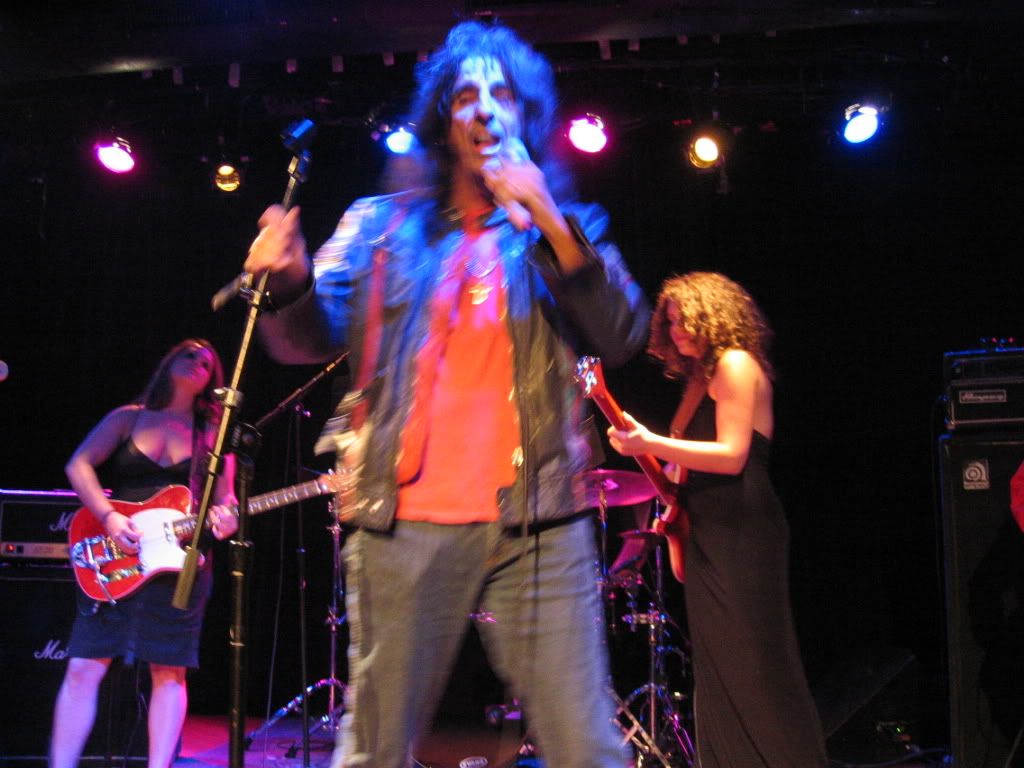 Louie and Madison:
And then Paul brings out his very special guest, Mr. Jon Anderson, who performed Heart of the Sunrise with Eric on drums, Julie on bass, Louie on guitar, and Larry on keyboards: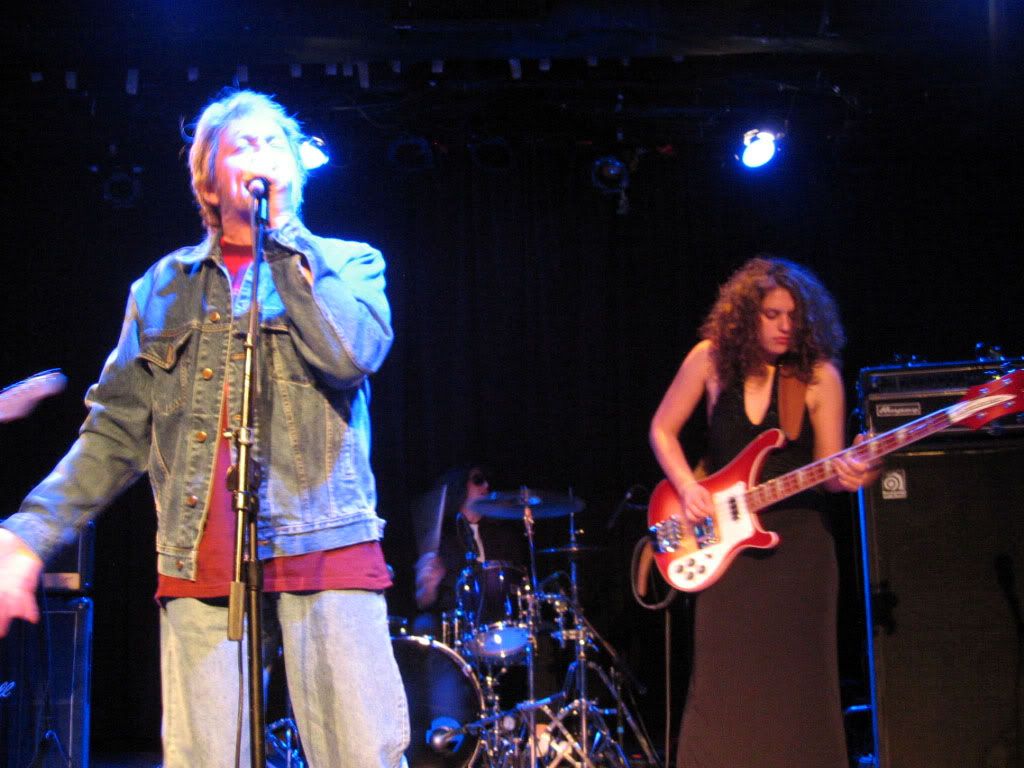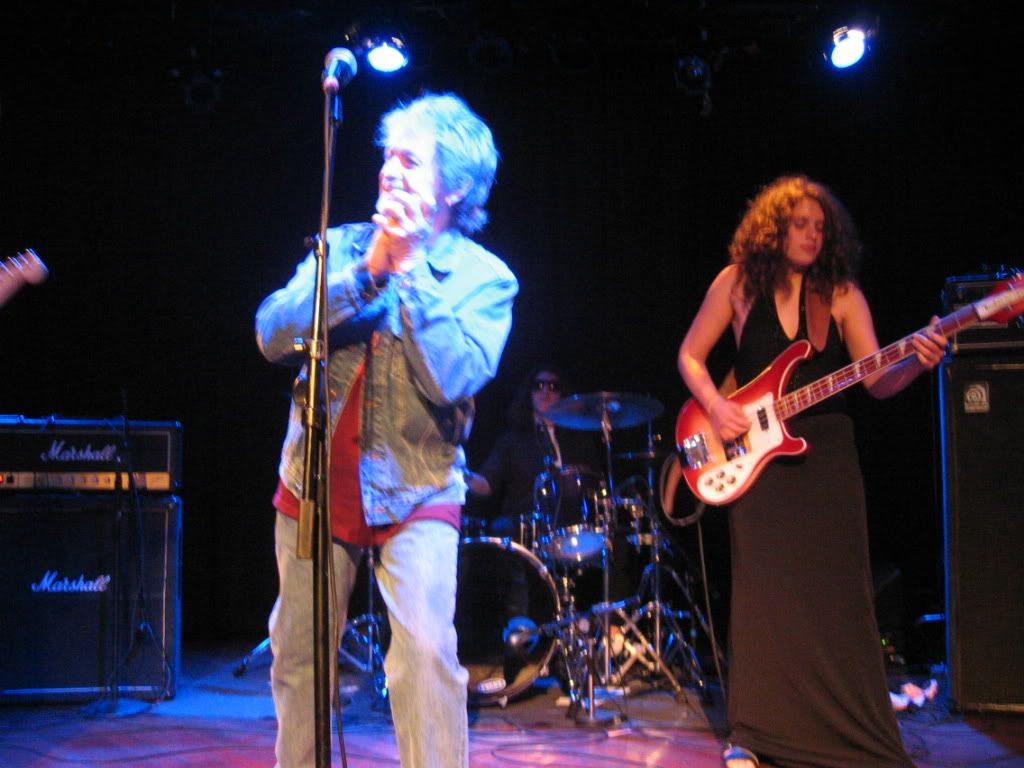 *****
So it's kind of easy to see what a fantastic time that was, and I'm getting teary eyed now just reading it back...it feels like a lifetime ago. Because May was also the last time Eric performed a regular show as a student of Rock School -- the Spring Led Zep show -- before he went out on tour and graduated with the All-Star Pink Floyd show at the World Cafe in August. It was also the very last show for Ms. Allie Hauptman, a wonderful keyboard player who, after graduating high school last June, has moved to Mexico to paint and isn't she the coolest and most wonderfully talented kid, ever? (Besides J&E, that is). Here's some photos from that final show: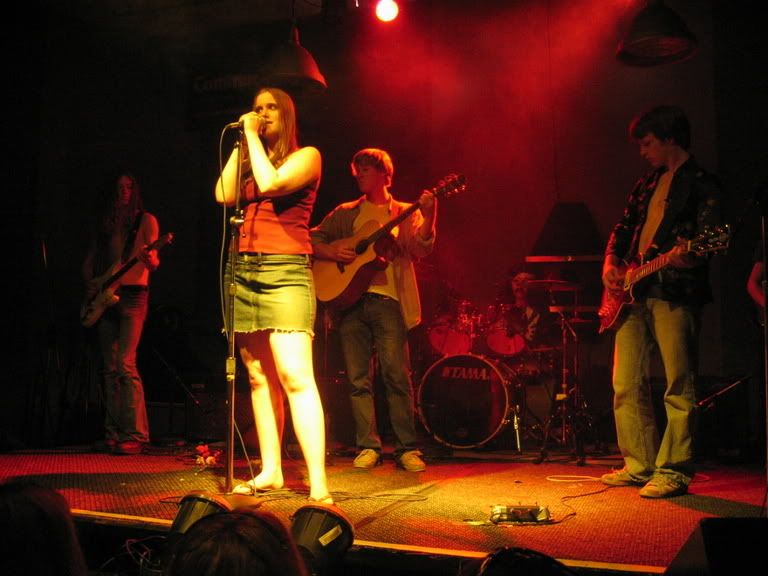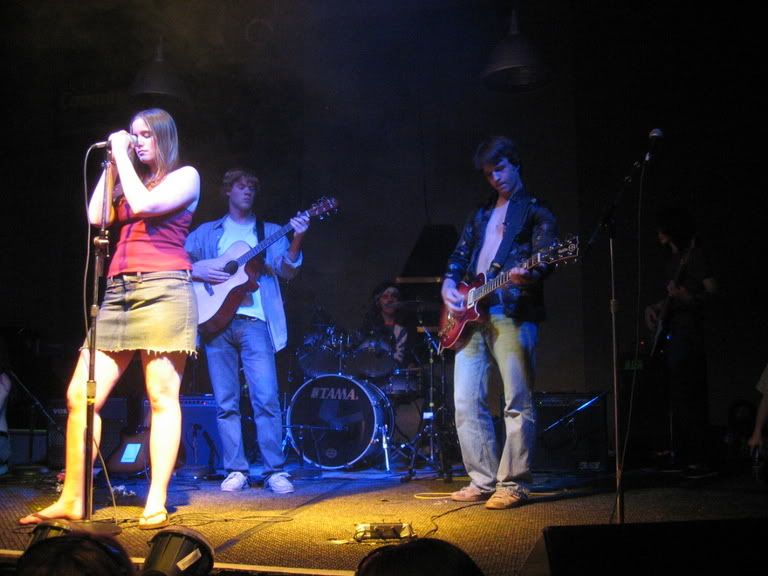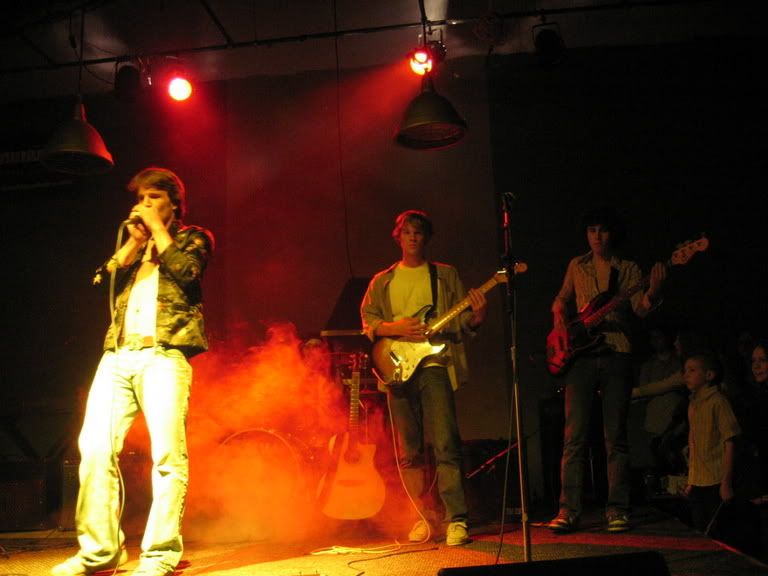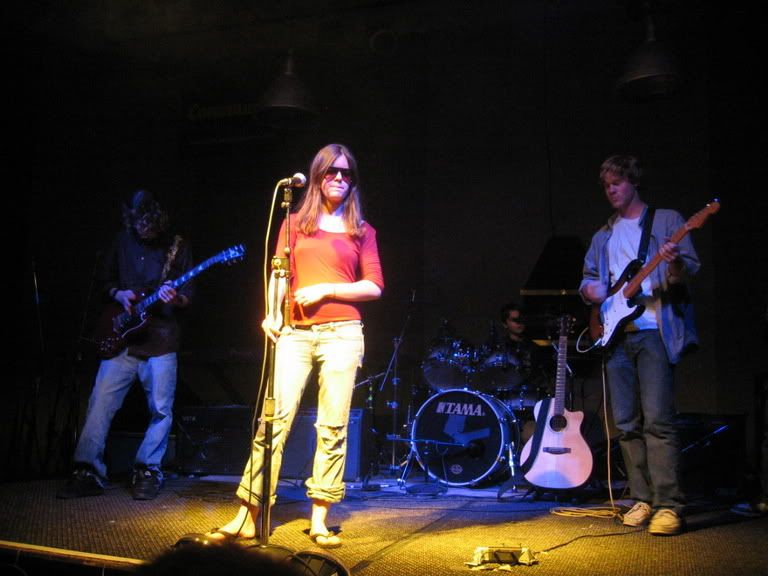 And on May 31, 2005, the Rock School soundtrack was released, and here's what I had to say about that:
Rock School
Original Soundtrack
Format: CD (84605200032)
Release Date: May 31, 2005
Original release year: 2005
Label: Calvin Records
Producer: Phil Nicolo
Stereo: Stereo
Studio/Live: Studio
Pieces in Set: 1
Catalog #: 3
Desc: Performer
Genre: Soundtracks
1. Black Magic Woman - Gregg Rolie
2. I Wanna Be Sedated - Marky Ramone/Tyson Ritter of The All American Rejects
3. School's Out - Alice Cooper
4. Barracuda - Ann Wilson
5. Highway Star - Ian Gillan
6. LA Woman - The Paul Green School of Rock Music
7. Heart Of The Sunrise - Jon Anderson
8. Rebel Yell - Billy Idol
9. Don't Stand So Close To Me - Stewart Copeland
10. Iron Man - The Paul Green School of Rock Music
11. Peace Sells - Dave Mustaine
12. Hocus Pocus - The Paul Green School of Rock Music
Original Soundtrack: Madi Diaz (vocals, guitar, keyboards); Dave Mustaine, Gregg Rolie, Ian Gillan, Jon Anderson , Alice Cooper, Ann Wilson, Billy Idol, Tyson Ritter, Chuck Flavor (vocals); CJ Tywoniak, Phillip Kingsford, Grace Hollaender, Louis Graff, Jeremy Blessing, Jim Suard, Haffy, Madison Flego, Dan Nitz (guitar); Stevie Roberts, Alie Hauptman, Lauren Pollock (keyboards); Matt Rothstein, Harry Tipper,
Julie Slick
, Peter White (bass guitar); Marky Ramone, Stewart Copeland,
Eric Slick
, Joseph Randazzo III, BK (drums); Jalea Cooner, Asa Collins, Tucker Collins, The Collins Family Singers (background vocals); The Paul Green School Of Rock Music.
Recording information: 2005.
**********************************
Okay, proud mother time here: My son, Eric, plays drums and daughter Julie plays bass on Barracuda and Heart of the Sunrise; Eric plays drums on Black Magic Woman, LA Woman, and Rebel Yell; Julie plays bass on School's Out, Don't Stand So Close to Me, and Peace Sells.
And in case you were wondering about my life as Robin Slick, writer, as opposed to that of my kids, I attended the Romantic Times Convention, which is one place I never thought I'd find myself in a million years but it was wild as hell and I can't wait to attend again this year, hopefully with a brand new book for sale. Here's a pic from that -- me doing some signing, etc. with fellow Phaze authors.
*****
June, 2005
Well, it was the offical premiere of Rock School on June 3 in NYC with a star-studded performance at CBGBs following the movie with guest stars Carlos Alomar and Marky Ramone. Here's my original post about that: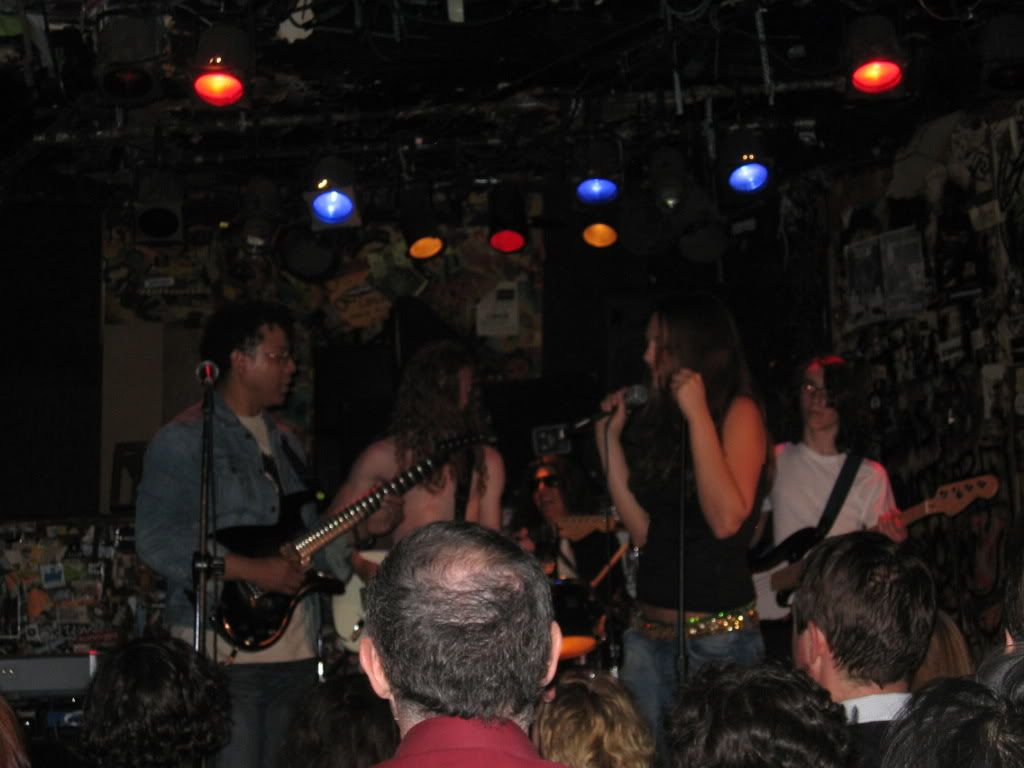 Carlos Alomar on guitar (by the way, he's now President of the NY chapter of the Grammys...see post from yesterday for his creds), Jeremy Blessing, my son Eric on drums, Madi Diaz, and Max DiMezza.
...
okay, I didn't get home until 2:00 a.m. last night, I had no sleep because I was so pumped from the NY premiere and after party at CBGBs, but a couple of things.

One, the movie Rock School is even better the second time - I saw a lot of stuff I missed at the first screening...(like I saw myself a couple of times in the audience in Germany and asleep on the plane next to my daughter, who looks like an angel while my mouth is wide open...yikes...)

Two, the after party was amazing. Performing were Madi Diaz on vocals, guitars and keyboards, my son Eric did all the drumming with the exception of I Wanna Be Sedated which brought out Marky Ramone on drums...and I know this is really going to embarrass Eric but Liz from Picturehouse Films told us that Marky did not shut up about Eric...he kept going on and on backstage that Eric is the best drummer he's ever heard in his life...and then ditto Carlos Alomar...Eric spent the night in NYC and we left him a message on his cell phone to tell him so I'm waiting for more news in that regard; also on stage and absolutely amazing: Guitarists Jeremy Blessing and C.J. Tywoniak; bass player Max DiMezza; vocalist and sax player Dom Malandro; and back up vocalists Madison Flego, Teddi Tarnoff, and the Collins family.

The NYC crowd went insane over both the movie and the concert. CBGBs was completely packed...the New York Grammy people issued invites, Newmarket issued invites, and everyone took them up on their offers and you couldn't even move in there.
*****
Also in June...
Yes, it's true. A small group of Rock School All-Stars and Hall of Famers, namely, my son Eric and daughter Julie, Teddi Tarnoff, Madison Flego, Stevie Roberts, and C.J. Tywoniak were in New York City last night to play a gig for Queer Eye for the Straight Guy which will be seen later this year on the Bravo Network. The show's makeover contestant was someone from Donald Trump's Apprentice.
ETA: That show aired a few months ago and it's great! Bravo reruns it all the time, it's the episode called "Danny".
Also in June, Julie, Eric, and the Rock School Hall of Famers played Guitarmageddon on behalf of Guitar Center at the Wiltern Theater in LA:
June saw (finally) the limited national Release of Rock School, the movie, and although given two thumbs up by everyone from Roger Ebert to the New York Times, the movie was not a box office success. I actually should not be calling it a movie; it was in fact a documentary, and well, blame those damn PENGUINS. Anyway, it's doing very well in DVD sales and right now you can catch the movie on pay per view if you have Comcast. I understand it will be shown on the A&E network sometime in 2006 as well. I personally love the DVD because there's a lot of extra footage of Julie and Eric and Don Argott, director/producer makes a comment about Eric being insanely talented.
*********
Whew, I'm exhausted from this post. And there's so much I'm leaving out. But these were the definite greatest hits of the first six months of 2005, and if you can believe it, it actually got even better. Stay tuned...