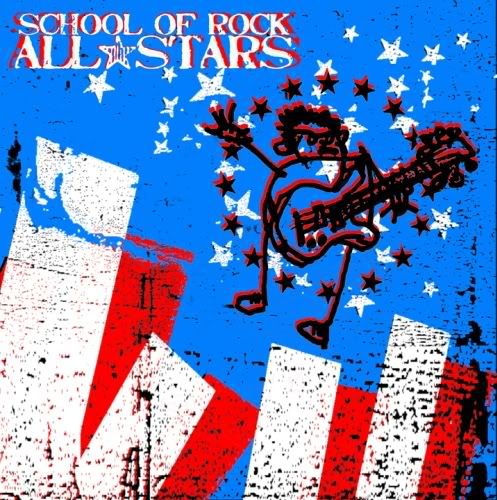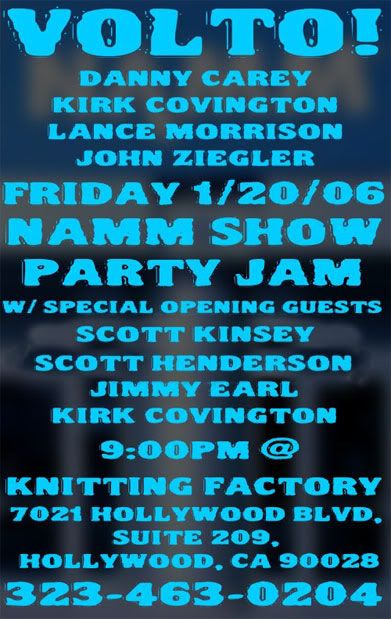 So Eric leaves for
NAMM
among other things in California early tomorrow morning. The above is the poster for the LA Knitting Factory show this Friday night - Eric and the Rock School All-Stars are opening for Volto, which is Danny Carey's band. (Danny Carey is the drummer from
Tool
).
Anyway, I'm so jealous. Take a look at Eric's schedule for the next few days:
WED JAN 18
6AM- Meet at Rock School
8:45AM- In the air to LA
12:10PM- Arrive in LA
2PM- Go to NAMM
4PM- Sound Check for Digitech Show
7PM- Start of show
?- End, and back to hotel
THUR 19
EARLY- NAMM
4PM- Guitar Center Sound Check
7PM- Show at LA Guitar Center
8:30PM- End of show
FRI 20
7:30AM- Set Up for the
Mark and Brian
KLOS radio show
9AM- Live on AIR
9:30AM- Approximate end for radio show
1AM- At NAMM
4/5PM- Load-In/Sound Check at Knitting Factory
7PM- Doors
8PM- Show
SAT 21
1-1:30PM- Show at the Lennon School Bus
SUN 22
5:30AM- Arrive at LAX airport
4:10PM- Back in Philly
Now with each one of these events, there are pretty exciting details and I could do some serious name dropping here as concerns various rock stars/legends in attendance wih whom my son will be hanging out, but Eric is like, Mom, don't post anything yet, wait until they happen, I'll call you or email you every day. (I won't hold my breath but yep, you guessed it, when I don't hear from him, I'll ring him up and threaten him with sanctions (ha) if I get his voicemail.)
So I'm off to help Eric pack and then oh yeah, out to dinner!!