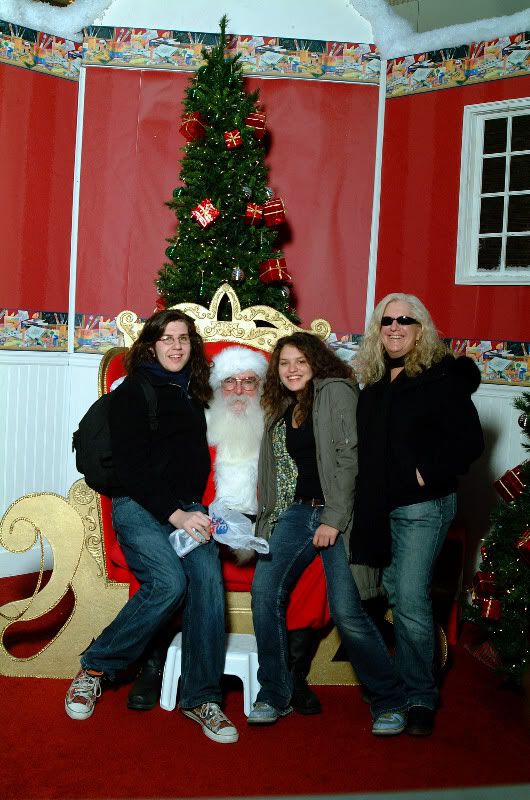 Don't ask.
Okay, I'll tell you anyway. Julie, Eric, and I went to see Santa yesterday to put in our Christmas requests.
We had so much fun! We went to the Dickens Christmas at Strawbridges Department Store and it was empty (what's this about our ecomony doing so well, Dubya-you- illegally-spying-on-Americans idiot liar?) so we all took turns reading the story out loud. The tale is inscribed on these lovely wooden scrolls throughout the exhibit. Eric played Scrooge, Julie was the narrator, and I played all of the ghosts and the nephew, Fred. We were laughing our asses off but it's really a very beautiful and well done display and of course half way through I started crying because I remember taking them every year when they were babies and reading it to them...and then I started thinking this is the last Christmas we'll be together (even though that's probably not true and now I suddenly learn that not only will Julie and Matt be here another year, if Eric's girlfriend Carolyn gets into Temple University, she wants to live here, too? Ho ho ho, the more the merrier, what do I care. I think Eric was teasing me, but who knows. It's all good.)
When I saw Santa sitting there all by himself -- not even a line to see him! -- I begged the kids to have their photo taken and even though I'm pretty sure they wanted to shoot me, they're good sports and it ended up that all three of us did it -- and yes, I agree, that's a horrific picture of yours truly, half sitting so that I look like I'm only five feet tall and with my scarf pulled so tight my face looks like it's going to explode and what the hell kind of hair day was I having but nonetheless a very good one of the kids and I doubt I'll ever be able to look at that photo in the future without bursting into tears.
In other news, this you can't believe. The Chicago Tribune talked about the ten best films of 2005 -- said there were none -- so instead named the ten best performances by an actor. Take a look at this list and try not to faint:
Some favorite performances of the year, in no particular order:
Amy Adams in "Junebug," Sarah Silverman in "The Aristocrats" and "Jesus Is Magic," Terrence Howard in "Hustle & Flow," Matthew Goode in "Match Point," Will O'Connor as himself in "Rock School," John Pierson as himself in "Reel Paradise," Ed Harris in "A History of Violence," Kevin Costner in "Rumor Has It . . . ," Claire Danes in "Shopgirl."
Yep, that's right. There it is in black and white. Will O'Connor, as himself, in "Rock School".
Hahahahahahahahahaha - that's great.
If you don't believe me, here's the
link
so you can see it for yourselves.
Okay, I will be in New York City all day today hanging out with Julie, doing some shopping...we're eating at this incredible restaurant in the East Village which of course I will review in a future post...we're gonna go see the tree at Rockefeller Center...maybe ice skate, who knows..
ETA: Oh god, I just heard on the news there is New York City transit strike. And Julie wants to go everywhere from the upper West side to Tribeca. It's like forty below zero outside. Ah well, there's no getting out of this. I'm going to be doing the polar bear thing and walking for miles through throngs of tourists in the city for the holiday...at least fifty per cent of whom would normally be on subways and busses. You can't walk down Seventh Avenue as it is without getting crushed...I can't even imagine what today is going to be like.
But of course I will tell you tomorrow...
(Wait: I think I may have talked Julie out of going. Being the calm, non-paranoid person I am, when just watching CNN, seeing the streets mobbed already at 6:00 a.m., and hearing about 150 pounds of dangerous commercial explosives being stolen in New Mexico, you can just imagine what I'm thinking right now about the crowded streets in New York. It's really unbelievable. Bush is so busy spying on people "for our own good" he's completely neglected protecting places like, oh, those which house commercial explosives, nuclear power plants....arghhhh.....WHY ISN'T THIS ASSHOLE BEING IMPEACHED? Oh. Right. "Dick" Cheney is VP.)
*********
Breaking news:
Yes! We are not going to NYC after all. Of course I'm going to make it up to Julie bigtime by taking her to lunch at one of Philly's best restaurants today and then out for some more shopping -- arghhh, isn't that what the internet is for -- and after that, we're gonna spend the rest of the afternoon baking some more cookies. Then Gary, Julie's dad, is picking her up and taking her out for some more shopping tonight, after which she is sleeping at her boyfriend's parents' home in the suburbs. And Eric is spending the night at Carolyn's, because it's her father's office Christmas party tonight and he's invited and I guess that means I'm gonna be all alone with the dog this evening and I will try not to be too unhappy about
that
!
*********
Mark your calendars!
Eric and Julie have an upcoming show at the Troc from 2:00-7:00 p.m. on New Years Eve where they will be joined by several local bands and the Rock School All-Stars. Eric and Julie will be performing together with Sweatheart, and Eric will be on drums with Flamingo. Look for two future shows in January when Eric will be with the Shannon Penn Band at World Cafe Live and Grape Street Pub.