Ha ha - Eric seems freaked by the amount of presents under the tree.
Every Christmas, it's the same thing. Julie and Eric haven't changed since they were five years old. They wait until a respectable hour -- in this case -- they gave me until 8:00 a.m., before they opened my bedroom door and got the dog to wake me.
"Monty - Mommy has presents for you," I heard them whisper. Next thing I know, I'm getting hit in the face with the dog's over-enthusiastic tail. I pretended to be unconscious but then when Monty started head butting me and licking me, I started giggling and there's my two grown-up kids, acting like two toddlers who still believe in Santa.
"Okay, okay," I yawned. "Let me go downstairs first so I can get the camera ready. (Hence the above photo where I captured the look on Eric's face)
This is poor Eric looking puzzled after I KNOW he thought he was ripped off this Christmas but I pulled a joke on him. I made him open his gifts in order, and I gave him the "boring" stuff first, like, clothes (which he does not consider boring but I do), snow boots (that was his gag gift but seriously, he walks everywhere, and when it snows, he still wears his Chuck Taylor Converse sneakers, which are not exactly winter shoes to begin with)...then I made him save what he thought was his last present for last, which was Logic Pro 7. He freaked out when he opened it, but I could see he was thinking...Hmmm...Julie got a lot more than I did. By the way, for those who don't know,
Logic Pro 7
"is the industry-leading application for music creation and audio production which dramatically broadens the capabilities of computer-based studio environments. It's the first choice of many prominent musicians and producers, and provides the most comprehensive collection of music creation tools".
But you need something to go with Logic Pro 7, and after Eric thought he was done opening his gifts, I handed him the one he is opening in that photo, saying to him rather nonchalantly,"Oh, Er, here's one more I forgot to give you."
Heh -- it was a Mac laptop to go with the Logic Pro 7. (What, you thought I was going to let him use MY computer for that? Ha ha ha. You're joking, right?)
Anyway, to say he freaked out is putting it mildly. He ran around the room, jumping up and down, hugging me...it was awesome.
For those of you who might care, Julie got some big assed bass amp she's lusted over, clothes, a very cool handmade necklace made of bass strings (more on that and a photo in a future post), tons of "equipment" for her new hobby which of course is cooking so she got everything from a professional waffle maker to a stainless steel whipped cream dispenser (Jesus Christ, I actually need to go out today and buy her nitrous oxide for that thing. I have to keep reminding myself I'm not sixteen and it's perfectly respectable for me to visit a restaurant supply house and not feel like a junkie asking for whippets -- wait, is that how you spell the drug or the dog -- oh, whatever -- but yeah, you need nitrous oxide to make the dispenser push out that great homemade whipped cream she's gonna make us)...but the most fun I had was visiting an Asian market because Julie's been saying for months that she wants to make sushi. So I went to a great store and had a woman take me under her wing. She filled my shopping cart with everything from sushi mats to seaweed things for handrolls to sticky rice...wasabi paste, black and white sesame seeds...then I went really nuts and let her put things in my cart like a bamboo steamer, a professional wok, gorgeous hand painted chopsticks, etc. Anyway, when I got home, I packed all this stuff together in a huge carton and it was so much fun watching Julie open it and go through it all because it was so up her alley. I do not have a photo of her doing this because she was the official family photographer at that point and by the time I could locate where she set down the camera, she was already done going through her box.
Both kids also got a some really cool art supplies as both are talented artists who sort of stopped drawing for a while when they were touring so much but now they're back into it bigtime and some of the stuff they're coming up with is AWESOME.
Eric's girlfriend, Carolyn, gave him a saxophone! And Eric being Eric, has already mastered it and I haven't heard one squeak, just gorgeous, mellow notes. I want him to figure out "Baker Street" but he's busy learning John Coltrane.
Matt gave Julie an incredible mic that -- get this -- was actually once owned by the Captain and Tenille. Their names and telephone number are on it! He bought it off of Ebay, and what's so insane about this is that it's the same mic used by Zappa great saxophonist Napoleon Murphy Brock, and as I said, Carolyn just happened to give Eric a sax and Julie just happened to get a mic that's incredible for recording a sax, so it's an awesome coincidence. In keeping with Julie's food fetish, Matt also bought her these ridiculously expensive and sharp Japanese knives (she used them at dinner and I didn't shut up. "Watch your fingers! Tuck them underneath when you cut...you know, like a professional chef! Please don't make me spend Christmas Day in the emergency room at Jefferson Hospital). He also bought her an immersion blender (I have visions of her splattering soups all over my kitchen walls ha ha...nah, I'm just kidding about all of this, she's an amazing, talented and very cautious cook)...and totally cool, a pair of ice skates.
I gave Julie and Matt and Carolyn and Eric gift certificates to the Stephen Starr Restaurant of their choice (and I'm jealous I can't go).
Eric gave Carolyn an iPod and a bracelet and even better, he wrote her a song which, if I could post it here, I would, and I know there's a way to do it because Pete Townshend is posting MP3s in his blog so if anyone knows how, drop me an email.
Julie gave Matt an incredible guitar (oh, I could write a book on that story but I'll spare you the details), a hard drive, the Band's new box set, and this amazing charcoal drawing of George Harrison.
Funny story about that. They exchanged gifts at Matt's dad's house Friday evening. Matt's dad came home after a Christmas party in rather a "festive" condition, went into Matt's room and saw the drawing and remarked "Hey! What's a picture of Jesus Christ doing in your room?"
If you knew Matt's dad, you'd laugh, because he's hilarious and I can just picture the whole scene.
There's my poor dog, Monty, with whom I struggled bigtime with that Santa hat while Julie frantically tried to take his photo before he ripped it off himself. Man, he hated that hat. But you get the idea. I didn't want to keep torturing him so I gave up.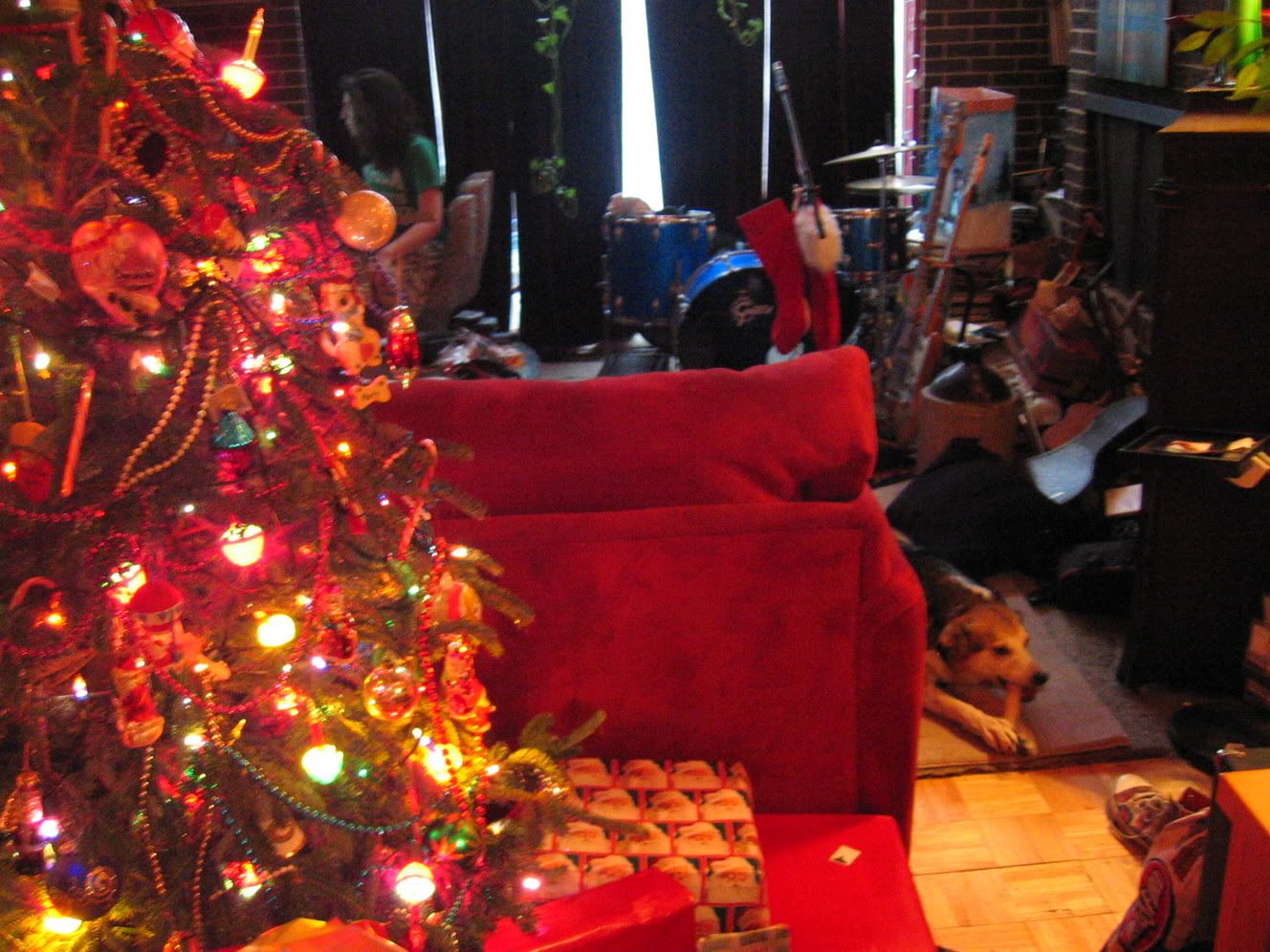 There's my house, totally trashed before even half the presents are opened. You will notice that Eric simply had to take a break and check his e-mail on my computer, (not having the benefit of his yet), and that the dog has already opened one of his gifts which he is busy eating and thus no longer cares about the embarrassment of the Santa hat.
As for me, I got tons of cool stuff, but my favorite gift was that my family chipped in and gave me a gift certificate for a new upstairs bathroom. I'm serious! I've been bitching that I want to replace the fixtures up there for like five years but I never get around to it and it's one thing I would not expect the kids to go out and do for me so I'm totally psyched and will probably spend this week doing girly stuff like looking through catalogues of vanities and medicine chests and do I want a stall shower or a whirlpool?
Because I know there's no way I'm writing this week. I'm wiped out. Totally and completely. So I've decided I'm officially on vacation until January 2, when it's time to get serious about finishing my book. I'm gonna just chill for the next couple of days, hang with the kiddies, do some thinking, and well, try and enjoy myself.
Hope you all had/have a holiday as cool as I did.
xo