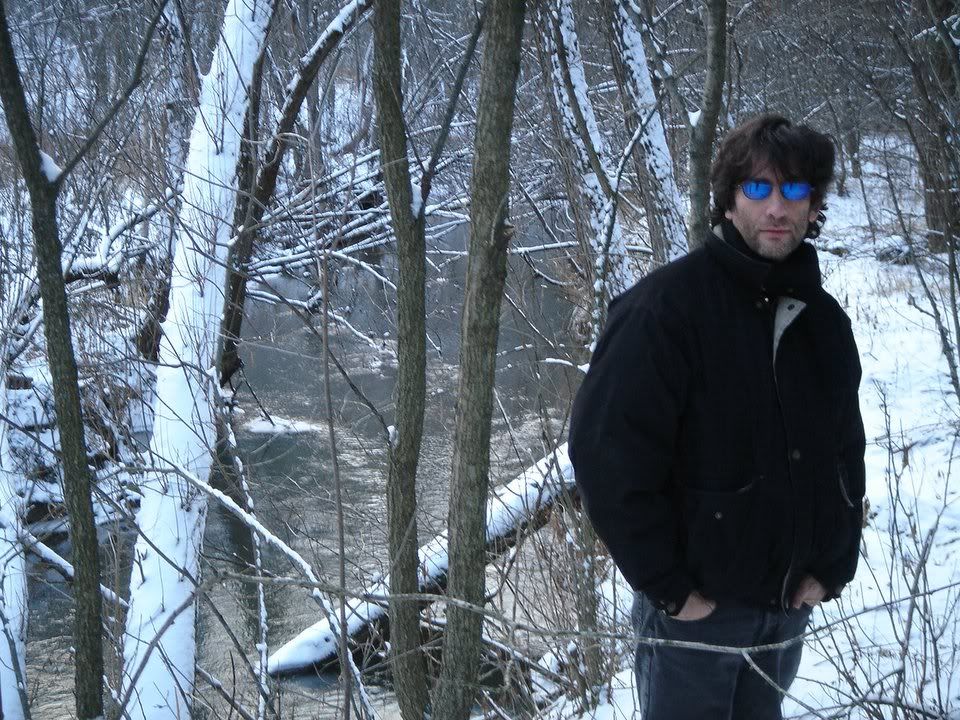 Christ, he posts this pic of himself and what's a girl to do...not topple off her chair? Sheesh. This photo is of
Neil
taking a stroll yesterday on the grounds of his home in Minnesota.
I have a sudden urge to relocate across the country...sigh...
Nah. But I'm normal and admit it: I appreciate a good looking man and Neil, you've already captured my brain with your incredible writing but now, having woken up first thing to that photo, I'm completely lost. Lost, I tell you.
Har har.
So Eric jammed all last night with the Control Freaks and it's so great to see him so psyched.
Meanwhile, their manager just called Eric. Rather than even wait until the end of the month, they're going into the
studio
all day this coming Thursday and Friday -- that's how fast this band clicked together.
Julie played a gig with McRad last night at a college bar in West Chester. She's also playing with Sweatheart at 1026 Arch Street, Philadelphia, PA next Friday night, December 9. So she's pretty happy and trust me, when she's happy, the whole family is happy. Conversely, when she's miserable...arghhh....
So I visited my
Publishers Marketplace
webpage yesterday for the first time in literally months and was shocked to see I'm in the top ten most visited pages, especially as over 30,000 people visit that site every day. The reason I went to the site was to change my information, because it was my old news from last year which promoted my book, The Tour, and since the book has totally been revised/rewritten, the title changed to Baby Boomer, and really, the focus entirely shifted, I thought it wise (d'oh) to amend the page though I'm still tweaking a few things -- oh, and still re-writing the novel, too, but I'm starting to feel way pumped about it. Finally. Anyway, while I was on the site, I checked out pages of some pals of mine, and they're really cool. Go have a look at
Susan Henderson's
and
Ellen Meister's
.
Anyway, speaking of writing, that's the plan for today. I've been really depressed over a few things happening with some people in my online writers' group if you can believe
that
insanity on my part (yeah, like how about living in the real world now, Rob...take this as a divine message of sorts), so speaking of Neil Gaiman, I'm going to take his advice. When you're down and out and miserable, MAKE ART! Eric is out teaching drums all day and then is going straight from that to spending the evening with the lovely Carolyn out in the suburbs. Julie is working a double shift at the restaurant and most likely sleeping at Matt's tonight, so I've got no distractions other than my own crazy brain.
And tomorrow Eric is rehearsing with the Control Freaks and Julie is again working a double shift, so that's double writing time in solitude!
Hey, one thing I do have that's nice are gorgeous Christmas lights all over the house and the promise of snow both tomorrow and Monday! Yay! See, now that I stay home and write full time and no longer have to walk to a miserable nine to five job, I can really appreciate things like snow and can actually spend Monday playing outside in it with my dog. Ah...maybe I shouldn't be depressed after all.
Okay. Let me go then.