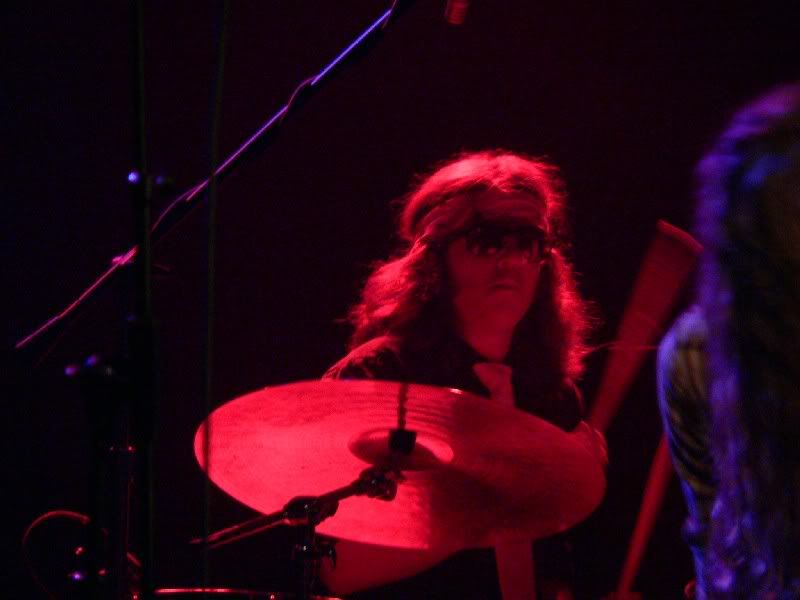 Eric Slick reminding me scarily of the late John Bonham
It must be twenty below zero here today. I'm sitting at the computer wearing a black turteneck, jeans, and a huge zip up black sweatshirt over the whole mess. I'm tempted to add a black wool cap to the mix. I mean, I have a fire roaring in the fireplace, the heat turned up to high, and I'm still freezing. I'm not used to this in Philadelphia! Not on December 14, anyway. My poor son just left for the day -- he's got hours of rehearsal ahead of him and a long walk to the train and back. I don't expect him home until late tonight, when it will probably be like an ice skating rink out there. Oh the life of a musician. I am pretty sure he's got a gig this weekend but I know better from past experience than to advertise it here too early because these things change all the time. I will, however, strongly advise you to attend the Rock School Beatle show at
Indre Studios
in Philadelphia either this Friday or Saturday night because I hear first hand from the assistant music director of the show (ha -- Gary, Eric's dad) that it's unbelievable. It's one of those shows where every kid is enthused about the music; everyone's learned their songs; the harmonies are beautiful...Gary loaned them his sitar for a song or two as well as a couple other of his vintage axes...so I'm really psyched to attend. Also, following the Friday night show, there's a CD release party for Jukebox Zeros (hey, that's an awesome name) at the
Pontiac Grille
(okay, actually, it starts at 9:00 p.m., I'll just get there late) which is my friend Joe Ankenbrand's new band. I've known Joe since high school - he's been drumming for decades with musicians all over the city and had some success in Europe several years ago with a band called Bunnydrums. I think
Kenn Kweder
is in this latest band, but I'm not sure. Speaking of Kenn, he's got the world's greatest collection of names for his collaborations: Over the years he's founded:
# The Nasty Cookies 1969
# Wasted Lunch 1970
# The Band Aids 1971
# Franny and Kenny Band 1971-1974
# Kenn Kweder and his Secret Kidds 1975-1981
# The Tom and Jim show 1977-1986
# Kenn Kweder and the Electric Kwede Orchestra 1981
# Men from K.W.E.D.E.R. 1981-1984
# Men From P.O.V.I.C.H. 1984-1985
# Kenn Kweder and the Radio Church of God 1986
# Kenn Kweder and the Radio Church of KWEDER 1987
# Kenn Kweder and The Employees 1988
# Kenn Kweder and the Indian Guides 1988
# Kenn Kweder and the Memory Banks 1988-1989
# Kenn Kweder and the Few 1989
# Kenn Kweder and the Couch Dancers 1990
# Kenn Kweder and the Enablers featuring the Co-dependents 1991
# The Elvis Presley Tribute Show (20 piece band) 1989
# Kenn Kweder and the Rolling Blackouts 1992
# Kenn Kweder and the Greedy Little Miser Weasals 1993-1994
# Kenn Kweder and the Trustafarians 1995-1999
# Kenn Kweder and the Mechanical Athiests 2000
# Kenn Kweder and the Men From WaWa 2002
Cool, huh.
So how about this news I found last night on Yahoo and which I'm sure you probably all saw but I'm posting it anyway because it excites me...
NEW YORK (Reuters) - Legendary folk rocker Bob Dylan to host weekly radio music show
Bob Dylan will start a new career as a radio DJ when he launches a new weekly music show on XM Satellite Radio next March.
The station said on Tuesday the show would feature music hand-picked by Dylan, writer of some of the enduring classics of popular music since the 1960s such as "Mr Tambourine Man," "Like a Rolling Stone" and "The Times They Are A-Changin'."
"Dylan will offer regular commentary on music and other topics, host and interview special guests including other artists and will take emails from XM subscribers," XM said.
************
You know, I wasn't going to do the satellite radio thing, but hmmm...
Jake from Jake's Pens came to my rescue again and forwarded me a
link
for wonderful journals, ink, etc. that work best with fountain pens. The name of the site is Pendemonium, and I do believe, after giving it much consideration, that I will order either a Fabriano or an Exacompta. (Click on stationary, that will take you to journals, click on that...and help me decide!). The Exacompta has more pages inside, but I'm tempted to just buy the leather journal itself with refill pages because that would seem to make more sense. And as I was embarrassed to admit yesterday, yeah, yeah, I do want a pretty cover, too. So...help! Which one should I buy? (Of course, me being me, wants to buy all of them, see them in person, and whichever I reject I'll regift or use for other projects).
Okay. Julie's at Drexel University taking her finals all day; Eric is out practicing the drums until tonight; the dog is sleeping on my foot...I should just end the blog post now and do some actual writing, right?
Right.