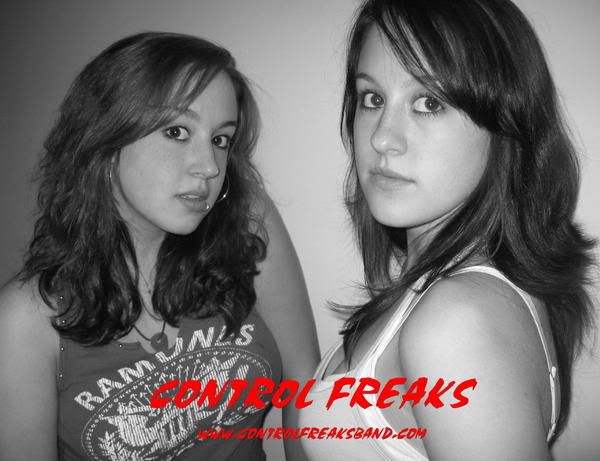 Okay, so here's some of the news I'm sitting on. Eric Slick is now a Control Freak. Ha ha -- for those of you who know my family, I know you'd all have thought that it would have been Julie who would have gotten that title, but I'm just joking...here's what's really going on.
The Control Freaks
, featured above, are an awesome band and as they say on their website, are proud to announce that Eric Slick is their new drummer and they were cool enough to post his resume, too. They're amazing songwriters -- have a listen to the tunes on their site. They played over 150 shows last year; opened for Neal Schon, and even better, go into the studio with award winning producer
David Ivory
to cut some demo tracks at the end of this month. There's major, major plans and news in connection with this band, but like, you know, I don't want to jinx anything so for now let me just say that they're playing a gig on Saturday, December 17, 2005 at 8:00 p.m. at Coyote's in Seaford, Delaware, and have a television appearance on December 21, 2005 on the Tim Qualls show.
All I know is, my son is really psyched and extremely happy about being their drummer and when he's happy, I'm happy.
So thank you once again to
Chuck Treece
for introducing Eric to David Ivory and The Control Freaks, and of course to
Paul Green at Rock School
for introducing both Julie and Eric to Chuck, and well, for everything, really.
Speaking of Chuck and his band, McRad, Ms. Julie Slick will be performing with them tomorrow night at
Rex's Bar
, 344 West Gay Street, West Chester, PA. Go check them out!
And let me add that when I made that crack about Eric probably touring Europe or having a mansion in LA this time next year, I wasn't kidding. But hopefully he'll also get apartments in New York City and London where dear old Mom can crash.