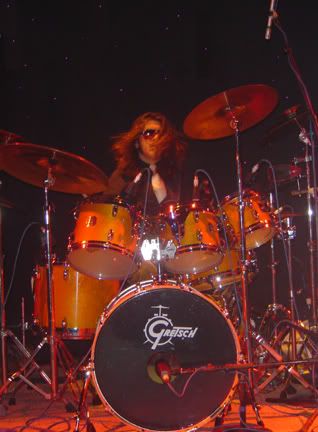 Eric Slick at Toad's Place in New Haven, Connecticut
So, here's some cool news. I got an e-mail today from Playgirl, and they want to publish an excerpt from Three Days in New York City! Do you think I'm a little bit excited about that? They are also planning an author profile in the magazine, so they asked that I send my bio and bibliography. Woo hoo!
And as I said, I'll be in Virginia tomorrow doing a reading from Three Days in New York City and then being fed by submissives -- which I still can't get over though an insanely funny writer pal of mine had to make me crazy by joking that's it's going to be grown men crawling around on their hands and knees serving canapes from between clenched buttocks which kind of ruined the moment for me (ha ha, not really, but his remark was hilarious, what can I say?) -- and then I have the actual book signing on Saturday, but in the meantime, here's what else is going on.
Eric will be sitting in on a song or two with
Project Object
tomorrow night at World Cafe Live in Philadelphia. Read all about it and order tickets
here
.
Also, Eric is officially listed as drummer for
Doctor Dark
on his website so that's pretty cool. I see a sound clip of their show at Toad's Place will be up on the site soon which is awesome because these are some top class musicians. Check back from time to time...I also see the "about Eric" feature is under construction so all the more reason to visit the site again.
But look for some possible brand new and potentially mind blowing music news out of the Eric Slick camp next week...
Julie's got some exciting stuff in the works as well but of course I'm too superstitious to say anything further about that, either, until it actually materializes. Right now she's having a blast recording official Paul Green School of Rock Music poster artist extraordinaire
Thom Lessner
who has a fun music project on the side.
Anyway, in closing, below is a photo of my daughter, son, and their dad two months ago on an amusement ride which looked more like a death wish to me, but I love this picture because it pretty much captures them as they are -- INSANE! And beneath that photo, is one I absolutely adore of the whole Slick clan (minus me, the wussy photographer) about to risk their lives on yet another roller coaster from hell.
*******************
So I'm currently waiting on some other breaking news, and if anything should happen between now and my flight tomorrow morning, I'll be back! (Oh god, that sounded like the terminator. Kill me now, please)
Later...xoxo