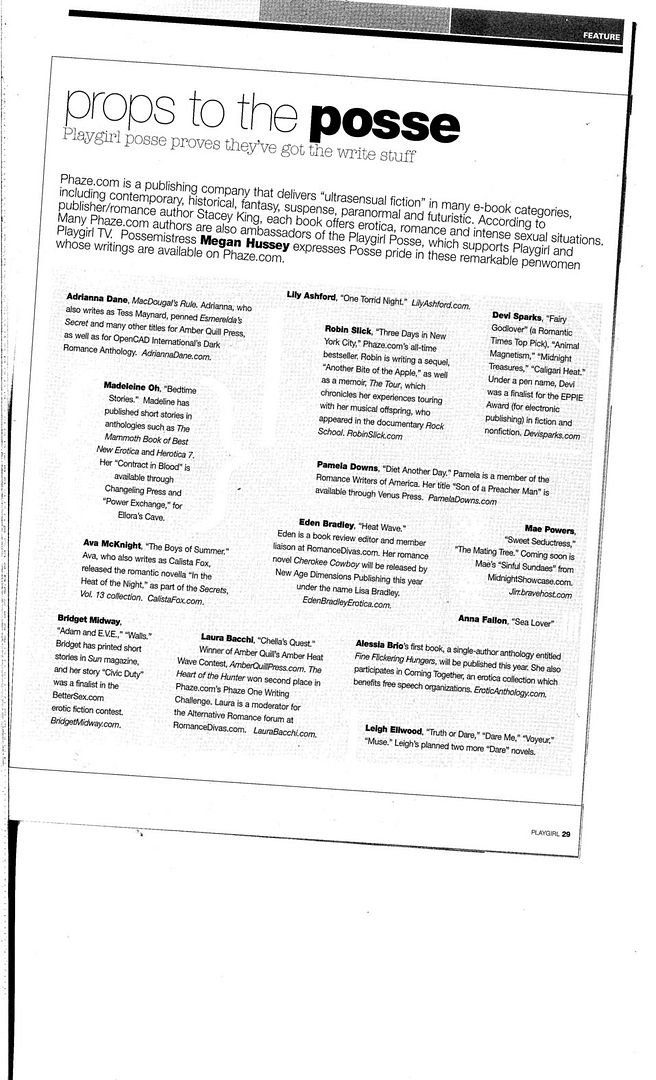 Ha ha - yeah, it's true, I'm on page 29 of the December issue of Playgirl Magazine, already available to subscribers and in a bookstore/newsstand near you this Monday, November 7. And in real life, it's huge, it takes up an entire page! I know this surprises you all, you probably thought Robin Slick in Playgirl meant me dressed as a dominatrix with a nasty whip, forcing some poor guy I have shackled by the ankles to read my book.
Nah...
So that's very cool, though I should mention that Phaze is not strictly ebook as Three Days in New York City is in fact a paperback, and if you are a Philly resident and should you wish to avoid ordering it online, it will be available next week at Voices and Visions Bookstore, 4th Street between Market and Chestnut, which is very, very cool. One, because they are like one of the last independent book sellers, and two, because they have a wonderful room solely devoted to local writers. I just happened on it by chance when I went to the
Philadelphia Stories
reading Tuesday night to hear a brilliant series of vignettes read by just an incredible local writer,
Randall Brown
. Also in the crowd was another extraordinary writer/artist pal of mine,
Joseph Young
.
Anyway, I know the above Playgirl article is kind of hard to read so use a magnifying glass. Ha! Just kidding, though I should also mention that it's not entirely accurate because obviously, Playgirl Magazine was furnished with that info a few months ago prior to publication. So to bring you up to speed, the sequel to Three Days in New York City is already finished, and it's called Another Bite of the Apple and Phaze already has it in their possession. Additionally, The Tour is no more, it's been retitled Babyboomer and it does not focus on Rock School, it focuses on a hipster babyboomer who struggles to come to terms with middle age and the fact that she's no longer considered cool while she tries to live vicariously through her rock star kids. So yeah, okay, it's creative non-fiction and the Rock School tour is merely a vehicle for my character to go through certain changes...Paul Green and other kids are not even mentioned. Sorry if this disappoints anyone.
So I know I promised to write about the bands with whom Julie toured in England, the beautiful and talented
Leiana
and the fucking genius that is
Chuck Treece
, but as I did some preliminary research, I realized there is just way too much material to put here now without further picking their brains, as well as gathering more info about the other musicians who accompanied them. So watch this space for updates as concerns print articles and interviews I intend to put together on this very cool, unique group of local musicians.
In the meantime, should you wish to catch Julie playing bass with McRad, she's gigging with them tomorrow as follows:
The Boils, McRad, Cranked Up!, Low Budgets, Kids United @ The Bungalow, 111 Cotton Street, Philadelphia, PA 5:00 PM. All Ages.
I believe 111 Cotton Street is in Manayunk. (calling the Atlas House, calling the Atlas House...hahahahaha....Atlas is a band of Rock School grads and those lucky bastards all share a house together in Manayunk, which is one of the coolest sections of Philly. Ah to be young and free...)
Oh actually, in just talking with Julie and Eric, I learned that Branden King, drummer for Atlas, will be sitting in as drummer for McRad for the Bungalow gig...so I'm gonna assume said Atlas will be out in force to support him. Branden is my second most favorite drummer in the world, next to Eric of course, and as I said, another Paul Green School of Rock Hall of Famer.
And you know Eric is gigging as well - he'll be at the
Pontiac Grille
on November 13, 2005 with his band,
Flamingo
, opening for another fantastic band,
722
. I will of course be reminding everyone of that again next week.
Soo...I think that's the news for now but one can never be sure and if anything else comes to mind, I'll pop on for another post.
I'm currently doing that insane 50,000 word novel thing in 30 days during the month of November so it's kind of hard for me to keep up with the blog on a daily basis, but I'm trying, I'm trying.
Later xoxo