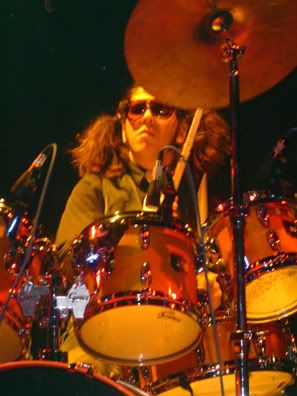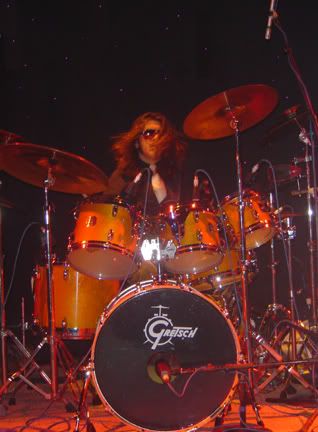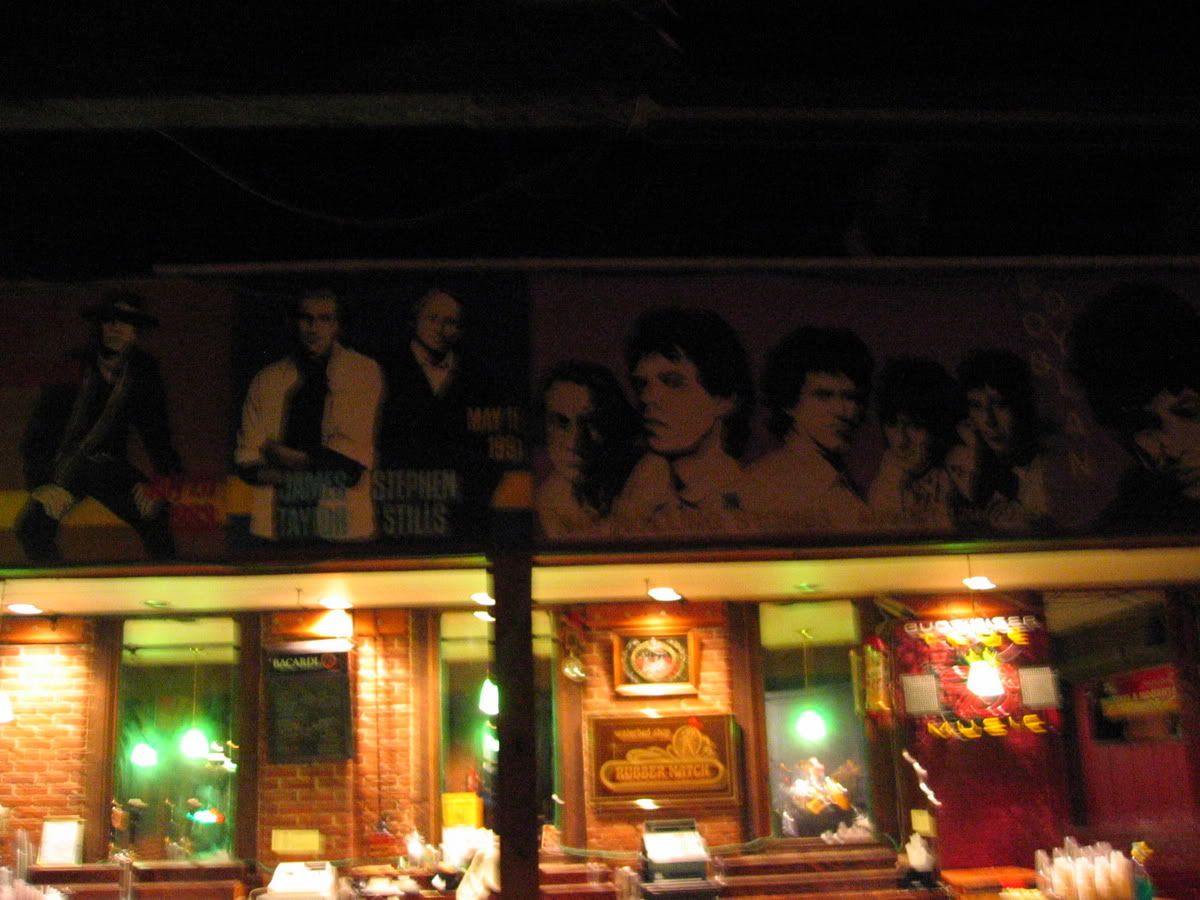 So the above photographs -- and oh my god, yes, Eric is in pigtails in a few of them -- are from Sunday's concert at Toad's Place in New Haven, Connecticut where he gigged with yet another band he's joined, Doctor Dark. In the last photo, where the pigtails were mercifully removed, Eric sat in with Project Object where he drummed on Peaches en Regalia (thank you, Glenn Leonard, for being kind enough to give up both the song (which of course Eric can play blindfolded with one hand tied behind his back) and your seat behind your new set of drums...which you were also kind enough to let Eric play during his Doctor Dark stint.)
The last shot is a pic of Toad's Place, where, as you can see, everyone from Stevie Ray Vaughan to the Rolling Stones have performed. It's a very, very cool venue.
Well, what can I say about Sunday's show? It was fucking awesome. But I don't want to skip ahead, so let me start at the beginning.
We drove to Connecticut, which is about a four hour drive in traffic, on a gorgeous fall day. Unfortunately, the trees are all still green -- stupid global warming -- so I didn't get to experience the changing of the leaves in New England. But it was still a lovely ride and for once, we didn't get lost; no one yelled at anyone, and we arrived at our destination pretty much on time -- the destination being the New Haven home of Bill Saunders, front man for the Beefheart tribute band,
Doctor Dark
.
First of all, let me say this. I love Bill! He's one of "us", meaning, an old hippie who loves music and hates what's become of this world. He's extremely political and as it turns out, his knocked out beautiful Victorian home is actually a commune of sorts -- seven people live there, all artists of some type (musicians, a poet, and a couple painters).
Bill himself is an incredible artist; in fact, I want to buy one of his paintings. I wrote to his significant other, the lovely Nancy, this morning and asked that she send me a few digital pics so that I can post them here. I understand there are also great music stories connected with each painting, and I will share that information as well. By the way, Nancy is the one who sent me the very first photo of Eric in pigtails as well as the second to the last when his hair is back to "normal" for the Project Object set.
Anyway, Bill's house was full of great vibes. He's turned his basement into a soundproof practice room and apparently all kinds of bands play there nightly. Gary and I sat in his backyard while Eric and the band jammed in preparation for the concert. Oh my god, the weather was so magnificent, and the yard was an extension of the house, meaning, there was incredible artwork propped up against the wooden fence; and even better, naked mannequin legs planted like trees so that the toes point toward the clouds. (A fabric store went out of business in the neighborhood, Bill told us, so he inherited the mannequin legs. They looked so cool! Now I have a new goal in life -- to find me some legs and plant them in my yard, too!)
So we sat outside for a while and listened to the band jam, and they are all incredible musicians. On guitar are Travis Moody and Joe Nolan. On bass, is Warren and I'm so sorry, I didn't catch his last name but will insert it here when I get it. But trust me on this, you will know his name in the future -- he's that good, and I loved his axe, which is an old Vox.
We had a couple of hours to kill before showtime so Gary and I went for a walk into town, which, as it turns out, is Yale's campus. Hahahahaha - not to repeat a comment I've been making non-stop since Sunday, but if there's one place I never expected to ever see Gary (who, by the way, is Eric's dad in case you are new to this blog) is Yale's campus. Gary is a musician who is not at all enamoured by anything related to the world of academia; add that to the fact that Yale is Dubya's alma mater, and well, I just kept laughing because it was so NOT a place for Gary to be. Actually, the city itself is charming but you won't see anything like a GAP or Dunkin' Donuts on Yale's campus...nope, the stores were high end boutiques; the restaurants extremely pricey, and the Yalies quite entertaining.
We ended up having coffee and panninis at Atticus Books, which of course pleased me to no end, because I of course am extremely enamoured by the world of academia and couldn't get enough of it. But sadly, no, no, Atticus Books does not carry my novel.
I checked.
Anyway, the concert itself was just terrific. Doctor Dark, as I said, really has some fine musicians and they ended the set with a favorite of mine, Beefheart's collaboration with Frank Zappa, The Torture Never Stops. They did a kick ass version and Eric as usual ruled on the drums.
Project Object
was the headliner, and to say they are amazing would be putting it mildly. They're on tour right now and if they come to a city near you, you really need to check them out. Musicianship like that doesn't come around often. The guitars and keyboard were other worldly -- that's Rock School's Downingtown music director, Berklee graduate extraordinaire Eric Svalgard on keys -- Dave Johnsen on bass is brilliant, Napoleon Murphy Brock (sax, flute, and vocals) was his usual awesome self (and he rapped a Grandmaster Flash Song at the end of a Zappa song, Pygmy Twylyte! This is the first time, ever, that I could honestly say I LOVE RAP!), and I was happy to see guitarist/vocalist Ike Willis looking and sounding really, really happy both up on stage and prior to when we spoke at length. Ike is an amazing musician and it sounds like he's going to be involved with Rock School when they open their LA branch. But I guess my favorite in the band would have to be Andre Cholmondeley, who is not only a kick ass guitarist but a political activist who urged the audience to do something about the current administration and took several shots at Bush which I adored. He said some things to me about Eric which left me teary eyed, and I'd repeat them here, but I don't want to embarrass him, my son, or cheapen the moment by broadcasting it internationally. But let me just say this: Andre, as special as you think Eric is, well, Gary and I think you are on an equal playing field and we are really thrilled to have you be even a small part of our world.
*************
Oh, and P.S. My biopsy was negative! I'm going to live after all and in five days I leave for England! More on that, and the Rock School Music Player Live event this weekend, tomorrow.
*************
Finally, I leave you with what I think is just a beautiful photograph of Eric and his significant other, Carolyn Pagnotta, taken at Carolyn's house prior to a night out on the town. Aren't they just the most gorgeous couple?