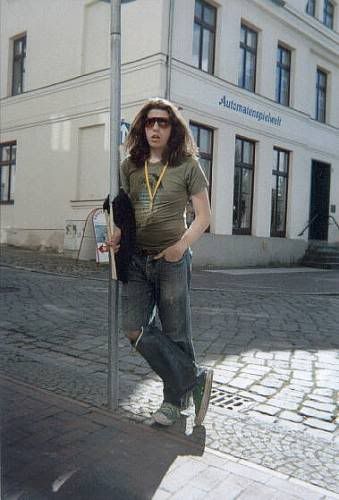 Photo of Eric taken by Maureen Hayes mom, Ann, in Bad Doberan, Germany, during the All-Stars participation at Zappanale 16
Wow, last night was AMAZING! Eric was in his element musically last night, playing drums in a band where the other musicians were all on his level and as Eric laughingly told me, Shannon (vocalist) and Dave Young (keyboard/guitar) both have perfect pitch "just like me".
The songs were fantastic; it was impossible to believe it was their first gig and they'd only had maybe 3-4 rehearsals together as a complete band; Shannon has just an incredible voice and stage presence and she's drop dead gorgeous...wait...let me post a pic:
They played as part of the Independent Music Festival at the River Deck on Columbus Boulevard. Julie and Matt came along, and the reason I'm using the Bad Doberan pic above instead of any I took of Eric last night is because, well, I didn't bring the camera; I didn't want to embarass Eric on his first gig with the band. But oh my god, I'm kicking myself for leaving it home.
First of all, I've never been part of any "club" scene, so the whole 2-3 mile Delaware Avenue/Columbus Boulevard strip was never part of my itinerary, ever. Not during the disco years (I wore a DISCO SUCKS t-shirt during that entire dismal period of music history), and not even when I first began hearing they'd built mini beach resorts there with volleyball (I'm sorry, I just could not get excited over a man made beach with plastic palm trees watching drunk 20 somethings pretend they were...I don't even know where...when they were really in Philadelphia on the murky polluted Delaware River with a scenic view of Camden, New Jersey). So this was my very first venture into any such place.
Ha! Well, let me say that I'll be the first to admit I was wrong. View wise, it was awesome. The bridge was all lit up, we watched tour boats glide across the waters; we saw a spectacular sunset. Of course we got there at 7:30 p.m., when tourists were there, eating dinner. It was in fact made to look like a beach hut in Jamaica; there were palm trees and colored lights everywhere, the menu contained things like crab dip and ahi tuna or lobster wraps, and of course there were big colorful drinks with umbrellas (I didn't even know they still did that anywhere...it's so, so fifties). The restaurant was actually situated on a wooden deck over the river and the weather last night was so freaking amazing, cool breezes, low humidity...I thought wow, this isn't half bad.
Like I said, this was at 7:30 p.m. By 10:00 p.m., the first of the weird clubbers started arriving. (I say weird clubbers because even though I am so not part of that scene, even I know the real hipsters don't come out until midnight). They were, um, all for some reason very well endowed women...okay, really really big gals, all dressed in sparkly clothes.
I looked around confused.
Was this a nurse's convention?
Weight Watchers?
Where were the men?
Anyway, whoever these women were, they were having the time of their lives; you could tell they weren't from Philly - the clothes looked right off the Home Shopping Network (cocktail dresses to wear in the big city, our "cosmo line"...polyester with sequins which sadly fell off and fluttered in the wind as they danced).
Luckily for Eric, the throngs rushed the place just as his band finished playing; all of us sitting at tables were there as part of the indie music fest and it was like all of these wackos were waiting at the many thatched roof bars within the complex for the real music to end so that Wild Bill the D.J. (oh yeah, I kid you not) could take over and play I WILL (FUCKING) SURVIVE. They stormed the deck and started dancing en masse.
I was horrified. Oh why oh why did I leave my camera home?
I was also extremely worried the deck would collapse under their weight and we'd all end up in the Delaware River.
Also on the bill and performing right before the Shannon Penn band was a singer song writer from New Orleans (ack) named
Ravi
, who has a very interesting background, which is why I included the link to his site. He simply mentioned he lives in New Orleans but didn't ask for our prayers or do anything dramatic, but toward the end of his set, he said "I don't usually do covers, but I'm going to do one now, and I sing this song because in my opinion, it's one of the most important...I mean it IS the most important, song ever written."
I of course turned to Julie and Matt and said "Imagine" by John Lennon.
They shrugged; they didn't think I was right in a million years.
Ha! I know my music and I know people and damn if he didn't launch right into that song. And with that he became my hero. He saw my reaction and after his gig, came over to our table and said "Thank you for being here and smiling and cheering me on" because I think he felt the weird vibes in the place and really, the crowd of us facing the stage from the indie festival was pretty small in comparison to all the disco weirdos waiting at the bars for their chance to dance.
Anyway, we talked with Shannon and Dave and the rest of the band and they have huge plans...tours, more shows, etc. and I really think Eric has a chance of going somewhere major with them fame and fortune wise. They are in love with him and repeated several times "I cannot believe this kid is 18. It's impossible. Where did he learn to play like that?" (Hi, Paul, Hi, Tim, HI ROCK SCHOOL!!!!) It's just so fucking cool to watch his career begin to take off like this...Shannon, Chris Opperman, Flamingo...now I don't feel like such a bad mother for letting him defer college. This is the way it is meant to be and if I know Eric, his quest for knowledge is so great that he'll find his way back to school without any prodding from me. Of course he may be 35 by then, but hey, he'll be rich and famous enough to go to any school he wants without taking a Sallie Mae loan. Ha.
***********
Anyway, today is crazy for me. Not to talk about my new furniture again, but it's being delivered Tuesday, which means I have a house full of my stuff to get rid of. Since a lot of it is still nice, I didn't want to trash it, so I had Eric and Julie ask all of their friends who just moved into apartments, etc. but no one needed a thing so I called
Uhuru
, a non profit agency which picks up your furniture for resale and puts the money to incredible use as you will see from the link. Much to my surprise, they are sending a truck to my house today, a Sunday, on Labor Day weekend! While this is very cool, it means I will have a house without furniture for two days. It dawned on me late last night that it meant eating dinner crossed legged on the floor. This would not be a problem normally but tonight and tomorrow night we're having Matt and Carolyn for dinner and we'd planned on steak and corn on the cob tonight and burgers and fries tomorrow. Okay, tomorrow will be easy but I'm wondering how we're going to swing eating steak on the floor. Anyway, I finally decided that we'll grill it as planned but then I'll cut everyone's steak into slices before serving it...oh god...I can't believe I'm boring you with this stuff. Just forget I said anything; I spent too much time typing it to erase it. Har har.
But it's going to be weird watching a truck pull up today and remove my belongings for the past several years and it's going to be ultra strange living even for two days in a house without furniture. Wait, actually, let me rephrase that. The living room will not be totally empty; there will still be a set of drums, several amps and guitars, the computer and desk, and my bookcases. I will definitely post a pic of that later today or tomorrow.
***********
Speaking of pics, here's a few more from Ann Hayes' Germany collection:
Sara Neidorf, Larry Allen, and Kenny Luu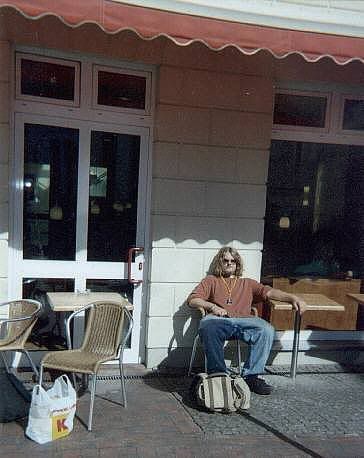 Andrew Haff