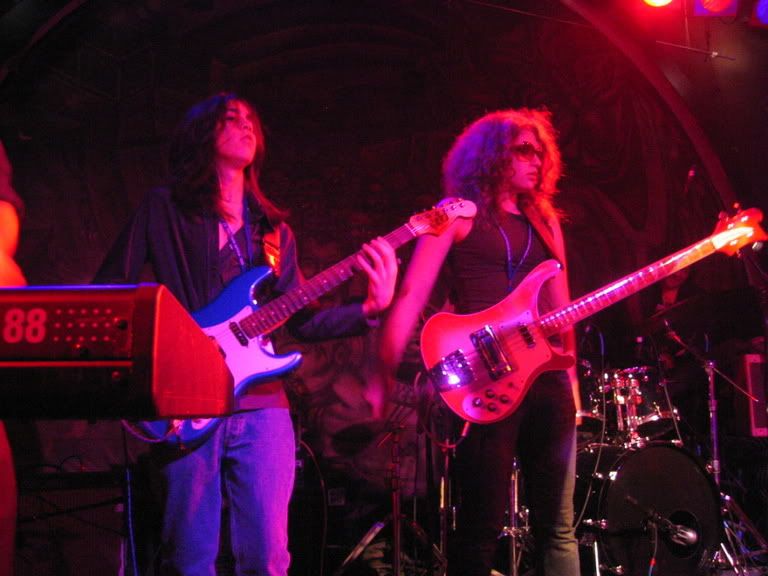 Julie and C.J. Tywoniak
Well. What can I say. I'm still speechless over the past three days - on a high from which I can't come down. As I've written, we were on a three day tour to promote the opening of Rock School.
I could talk for hours about the fantastic hotels, how terrific we were treated by the Picturehouse Films (formerly Newmarket) staff...how I fell in love with the city of Seattle...but I have much more exciting things to say. First of all, the movie.
Rock School is amazing! It's nothing like I expected. It's hilarious! Laugh out loud funny. If people are offended by the language or Paul's approach, too fucking bad. The movie portrays him exactly as he is - totally fucking brilliant, totally fucking insane, but more importantly, totally fucking in love with our kids and because of him, these kids (and me as well as some of the other parents) have gone places and experienced things which are surreal.
How's this for an example: We had pizza in Seattle with Eddie Vedder before the show at his favorite pizza restaurant. I mean, we had pizza with Eddie Vedder. WE HAD PIZZA WITH EDDIE VEDDER!
Anyway, Don Argott captured Paul, the kids, Rock School perfectly. It's one of most entertaining movies I've ever seen in my life. I literally had tears in my eyes from laughing; I was again awed by the music; I was thrilled by all of the interviews - the kids come off intelligent, funny, and really, like the great friends they all are. It's such a feel good picture, you can't help but whistle and cheer at its ending. Joe Randazzo actually jumped up on his seat in the theater. Okay, well, that's Joey, but I was extremely tempted to follow and probably will the next time I see it.
It's that amazing.
I mean, Jon Anderson and Eddie Vedder saw the movie and immediately wanted to meet Paul and perform with the kids. How fucking cool is that!
Anyway, I don't want to give away any more -- once it's released in the theater I'll talk more about it.
Oh hell. I want to start talking about the whole experience from the very beginning. There's way too much to tell. I have to wait for Julie and all of the photos from the first show so that I can write about Jon Anderson (a sweetheart!), the kids' performance, the people at Picturehouse Films, Don and Sheena...oh my god, I know I'm gushing but I don't know...when we went to Germany to see the kids perform at Zappanale, I thought that was the best time of my life, but nothing compares to this.
I don't know how I'm ever going to return to the real world next week.
Eric and Eddie Vedder at Neumo's in Seattle
I need to drop down a few lines here because the next photo is very large and the stuff I have in the right hand margin blocks it if I don't make space)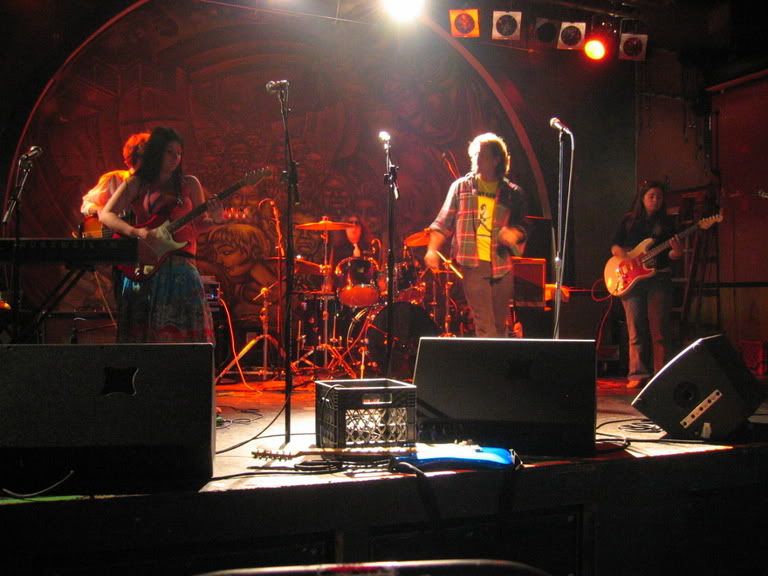 Madison Flego, Brian Purcell, Eric Slick, Eddie Vedder, and Julia Rainer
Eddie Vedder trading licks with Louis Graff...sitting on the floor in awe is our Uberlord and man responsible for the best three days of my life, Paul Green, standing watching is George, Eddie's equipment man and a great guy, and Julie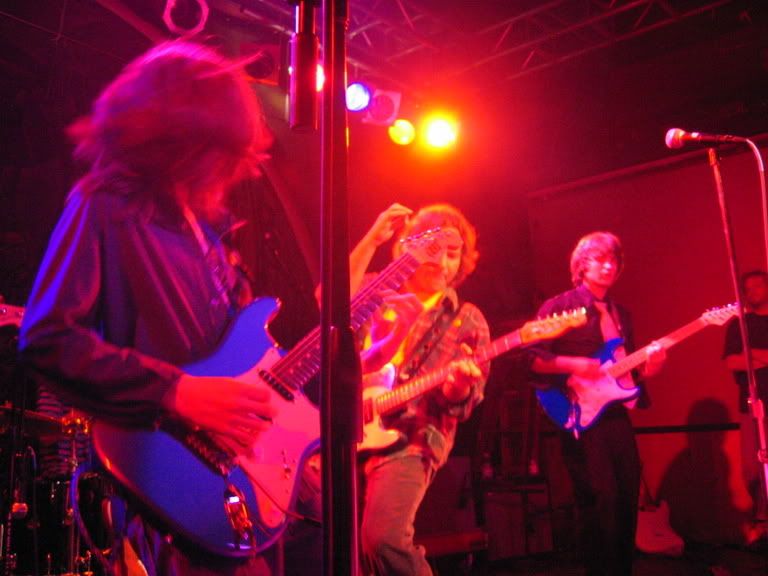 C.J., Eddie, and Louie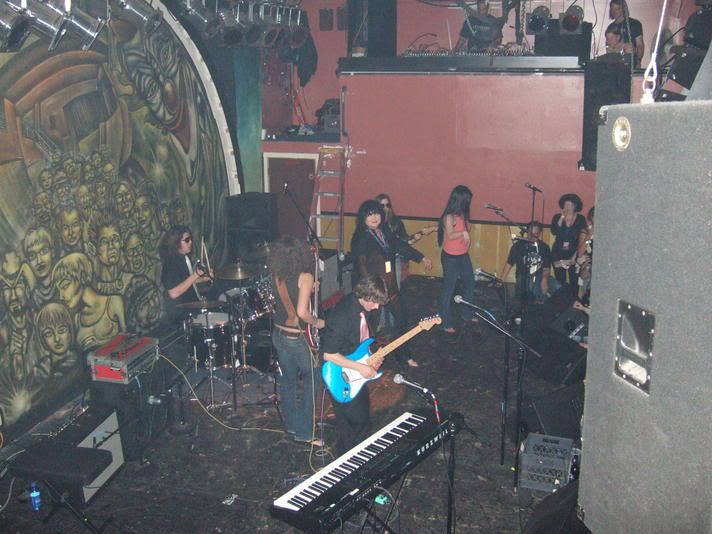 The kids performing Barracuda with Ann Wilson of Heart in Seattle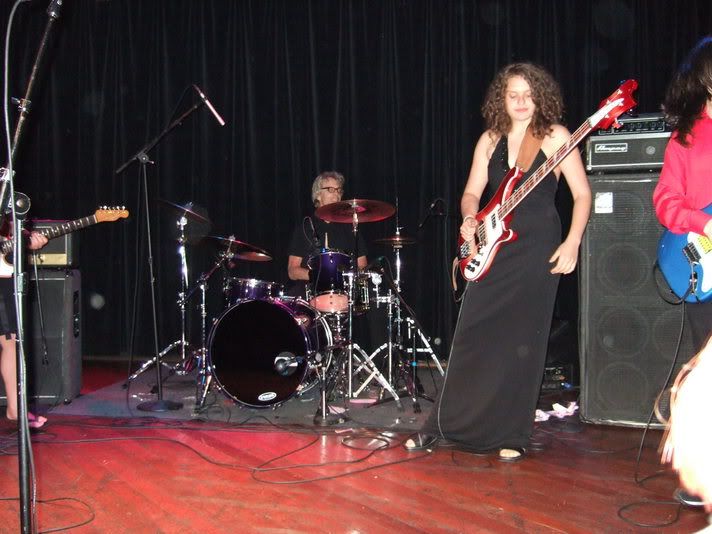 Julie performing with Stewart Copeland of the Police at the Knitting Factory in Hollywood
(I have a ton of pictures and I want to post them in order; unfortunately, Julie downloaded the ones from the first night on her computer and is at school with it now so I only have the ones from the second night...but I don't think anyone will mind a few pics of Eddie Vedder and Ann Wilson. Rest assured that I have tons of pics of all of the Rock School kids, not just my own, but because I have a new computer (a Mac as opposed to a PC) and haven't mastered uploading yet, I obviously did my own kids first. But thanks to Monique Lampson, C.J.'s mom, who sent me the pic of the kids with Ann Wilson and Julie with Stewart Copeland)
...MORE TO FOLLOW...MUCH MUCH MORE