Yeah! I'm starting to find stuff on line from fans in Australia witnessing the Adrian Belew Power Trio for the first time: (Uh oh - new review just added - see *ETA below)
Like
this
:
"
adrian belew was amazing. it was freakin' great to see one of my biggest influences right there on stage, jumping around with a smile on his face. the loop pedal stuff he did was excellent as well. eric and julie slick were great as well. and so young!

prog rock woo!
"
Judging by my photobucket account, it appears Julie is the sole photographer right now so all I have are pictures of food -- being used for her own
blog
which she updated again today (!) and if you are into food porn, it's a must read...but there a few pics of Eric and here's one that I love: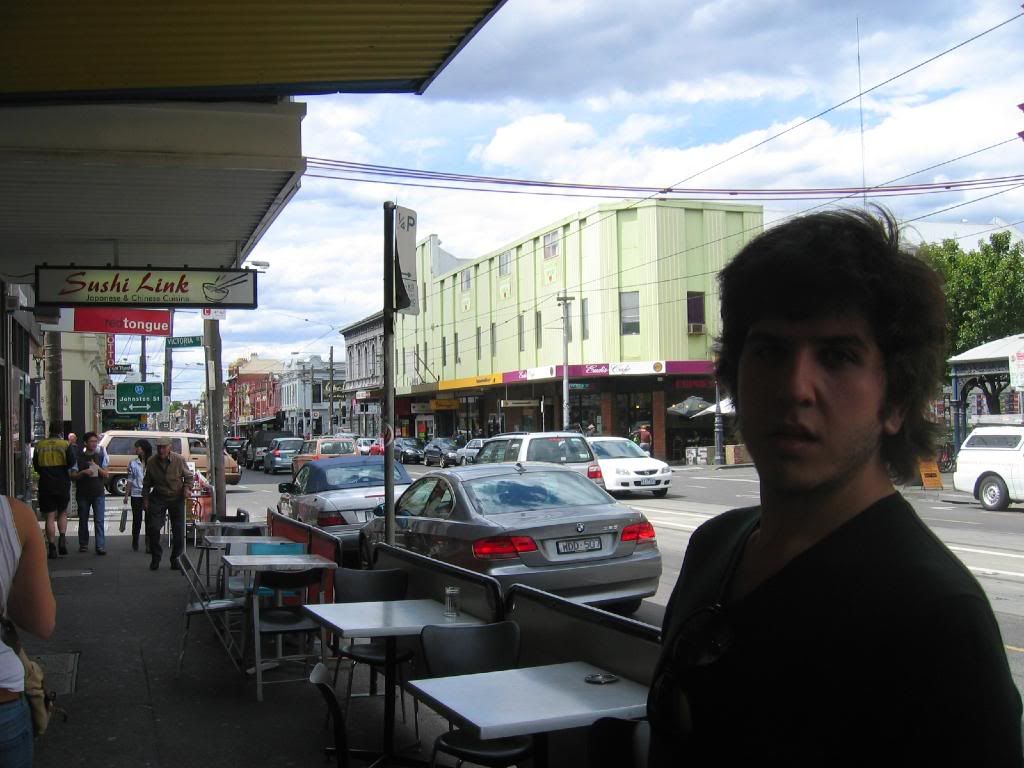 *ETA2:


"Sydney gig was amazing, surpassed all my expectations. The band gel together excellently and were peeling the paint off the walls. Eric Slick has got to be one of the most amazing drummers I've had the privilege of seeing live. This is not Belew with backup but a proper functioning band that clearly have respect for one another's chops and bounce off each other well. Adrian also continues to enjoy a true love of playing his music which is writ large all over his face. Thanks very much guys!"
*ETA: Oh wow, look at this
review
- and you need to click on it because there are awesome, awesome photos of Ade being moshed!
The assorted middle aged prog rock enthusiasts, bogans, Bowie obsessives, King Crimson fans, avant guarde jazz purists, metalheads and younger fans who know guitar legend Adrian Belew through his work on NIN recordings make a strange composite gig audience, but together they are incredibly enthusiastic about loud guitar histrionics. Adrian Belew's Power Trio (Belew on guitar, Julie Slick on bass and her brother Eric Slick on drums - no relation to Bowie guitarist Earl Slick as far as I know) performed an amazing show at the Corner Hotel in Richmond, Melbourne on Wednesday night to open his 2008 Australian tour.

During his first visit to Australia as a headline musician in 2006 (King Crimson have never played in Australia, and Belew played for Bowie here in 1978) he played quite a different show with two local musicians (Al Slavik on bass guitar and stick and John Prior on drums) featuring his solo songs and King Crimson songs with only minor improvisations. In 2008, with the Power Trio having played together for two years around the world, the show featured more Belew material, less King Crimson material and a lot of extended improvisations.

Belew is one of the most amiable musicians I have ever seen on stage. It's obvious that he loves playing live and sharing his music with his audience. He has played with giants like David Bowie and Talking Heads and has a loyal cult following for his solo and King Crimson work, and he continues with his solo career touring the world playing in intimate venues like the Corner Hotel in Melbourne. It is wonderful to be able to see such a great musician up so close. The highlight for me was my favourite King Crimson song, Three of a perfect pair, which closed the main set.

Belew performed one completely new piece called E. He commented humorously that as it has not yet been recorded by the band or recorded at any other show, if people recorded it and posted it on the web it would save him the trouble of recording and releasing it himself. Sounds like he has been adopting Trent Reznor's business model as well as playing on Ghosts. Like Reznor, Belew has strongly embraced the internet and has a comprehensive website, online store and blog. He really understands how he can use the internet to communicate with his audience.

Belew's music attracts mostly a male audience. I'd estimate that the gender ratio was at least 10 men to every woman at the show, maybe as many as 20 to 1. Compared to 2006, however, there did seem to be more younger people at this show and in particular I was impressed to see some young women (not obviously associated with the metal scene at least in terms of how they dressed) in the audience. At the 2006 show I was almost the youngest in the crowd at 34, and this was definitely not true this time. This means that Belew is successful in building a new younger audience. Respect."

Continuing on, from the
Yes Fans forum board
:
"
I am one day away from going to the Adrian Belew gig with Anne.
What should I expect
?"
*****
"POWER!!!!!
You will be blown away!!
...enjoy the show, the Power Trio was one of my favorite shows this year"
*****

"Finesse!
Drummer Eric Slick is just a joy to watch. So much skill and energy and willingness to go further. His sister Julie Slick and he know each other as brothers and sisters do yes, but they've played music together as they grew up and it shows. I've followed Eric's career for five years since I saw them open up for Project/Object when then drummer, Glenn Leonard invited me to see these 'kids' for myself. I was blown away THEN. Now Eric Slick is their drummer! You guys are in for a real treat. I would put versions of King Crimson songs played by Adrian Belews Power Trio up again live King Crimson itself. Expectations high? Not high enough.

Steve, you recently posted an interview with Adrian Belew. Thanks so much for posting that. It was the best interview Adrian has done, you are right. What a guy Adrian Belew is. He has played with so many musical personalities that we are familier with. David Bowie, Talking Heads, King Crimson and Frank Zappa to name a few. Stunt guitarist, indeed. I wish I was seeing them tomorrow night! Have fun guys!"
(Note from our author: The interview to which he refers is the fabulous
All About Jazz article
I posted last month written by the brilliant writer Justin M. Smith)
*****
"
I've seen this group four times and each performance was better than the last. You are in for a real treat!

BTW, for anyone that doesn't know yet, Julie and Eric Slick are graduates of the Paul Green School of Rock Music. I have followed their short careers since 2003. Eric is an absolute monster on the drums. Julie Slick can cut it with the best of them even in her barefeet! Cute girl, but don't let that fool you. She is a powerhouse bass player. Ade struck gold when he brought them on board for his power trio."
*****


"You guys are in for a real TREAT - hearing the Power Trio - Wow!"
*****
And I can't wait to hear from this fan, who posted this right before he left for the show...which, I believe, he is witnessing right now as I type since it's currently 10:07 p.m. in Sydney, Australia:

"It is a special night , not just because it is the first of three Belew gigs either. Belew has been a big part of my musical life for many years from Frank Zappa, Bowie , Talking Heads and of course the mighty monster King Crimson . His solo work is always really cool to as you know.

To take a line out that clip I posted here of Little Gordon Ramsay , Fccckkkk Me.

So it's special because I get to see over three different nights one of the greatest prog musos in the world.

Yes this is special, cannot wait till tonight.
"
From the comments section of Ade's own
blog
:
Fitzroyalty said...
"
And we surfed you again last night at the Corner Hotel! Another awesome show with a strong setlist, lots more improvs than your last visit to the Corner Hotel in Melbourne and the Power Trio are amazing!
"
Tony said...
"
Buzzing still after last night @ the Corner, The Power Trio rocked, and we were left in awe, and a little bit of tinitus, worth every moment.
"
minkichof said...

"Mr. Belew you have a wildness and energy that is invigorating. brother and sister rhythm section were as tight as if they'd been playing bass and drums from the cradle, great!!!!!!! you gathered extra momentum together. Eric and Julie Slick, fantastic.
"
Anonymous said...

"The Sydney Gig is in a few hours - my 19 year old son and I will be there. Adrian your music transcends age barriers. Looking forward to a great night - Neil.
"
*****
So I'm thinking, based on these fan posts, that some reviews will be popping up as today goes on and yes, yes, yes, I will come in and add them. Stay tuned!
Finally, Side Four Live is still garnering fantastic reviews, one full year after its release. Here's the latest over at
Prog Archives
:

"4 stars **** After the great musical success Adrian Belew got with his latest solo projects, it was time to leave the studio and perform the new material live. And after some disappointments with rhytm sections, he finally discovered who were going to be their perfect side workers for what he has called "The Adrian Belew Power Trio".

It all started in Paul Green´s School of Rock in Philadelphia, were Adrian Belew was invited for a seminar, where he could listen for the first time this incredible pair of siblings, two highly talented young musicians, Julie (bass) and Eric Slick (drums). After some rehearsals together, they finally joined Adrian Belew for touring together presenting Adrian Belew´s new material, along with some of his classic repertoire and some King Crimson tracks. The selection on the CD edition covers mainly the "Side One" album, in my opinion a bit overrepresented, provided that "Side Two" and "Side Three" offer a great amount of excellent music.

The powerful start with "Writing on the Wall" gives you an idea of what´s coming next, a refreshed Adrian Belew rediscovering himself, bringing high energy to his music. It is quite interesting realizing the great effort to sound like a live band, staying apart from the overlooped studio arrangements, specially on "Drive". I really enjoy the middle section of the record, with the superb extended (almost 11 minutes) improvised version of "Beat Box Guitar", where the band reaches the peak of their creativity and originality, far from what you would expect from a King Crimson improvisation and that shows the great personality of the ensemble.

The other points of interest are the new versions of the classic hits by Adrian Belew. "Young Lions" is maybe a little conservative, but "Of Bow and Drum", quite different from the original, and "Big Electric Cat" are provided with a new energy that really updates them.

Of course, King Crimson had to be represented on a show like this, due to the great involvement of Adrian Belew with the band. You are missed in your expectations if you want to listen to King Crimson, because it is an Adrian Belew concert, leading on guitar without the continuous supervision of Robert Fripp from behind, and with the rhytm section trying to do something new, not only remaking Tony Levin's and Bill Bruford's sections. And they succeed on their efforts.

So then, although the record doesn´t offer the complete show (I had the great pleasure to see them live, and the setlist was larger), it brings you the opportunity to discover the new "side" of Adrian Belew with greater ideas than ever, far from the pop songs he was used to, and exploring new musical directions, accompanied by two great musicians who have a great career in front of them. I can´t rate this record with no less than 4 stars, but it should be essential for crimheads."
Yep, I agree, and I'm already starting to notice that even though Side Four Live debuted in November, 2007, it's already on many lists as "favorite CD of 2008"...I will write more about that in a future post along with a link for you to post your vote as well.
I think that's it for now but like I said, I'll be back because I have a strong feeling some of these fans are going to come back from tonight's show all wired and ready to write. And maybe some will even post photos of the band! Ha ha - at least that's what I'm hoping.
Later,
xo