A bubbly Julie Slick arrived home from Australia late last night (well, Eric did, too, but he went straight to his digs and I haven't seen him yet...and from what I understand...Julie will soon have new digs as well so...sob...empty nest syndrome, here we come!)...anyway, she came bearing vast quantities of
Tim Tams
and oh my God, it's a good thing we don't have them here in the U.S.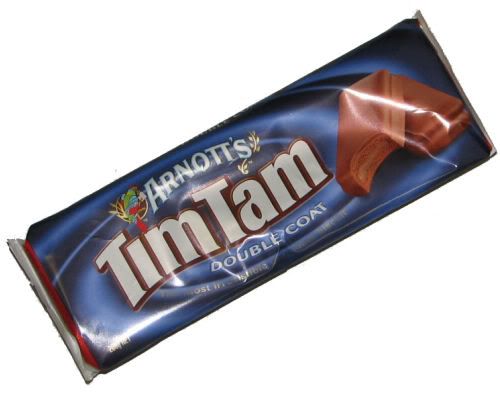 Anyway, the bottom line is, the ABPT had an amazing, amazing time in the Land Down Under, the weather was warm and beautiful; the fans friendly and incredibly supportive, and basically was a fantastic way to end what has truly been one hell of a year for these three talented musicians. And to think it can only get better in 2009...
Here's a way cool
radio review
Adrian did whilst in Sydney - he touches on everything from the Adrian Belew Power Trio to Frank Zappa, David Bowie, Talking Heads, and King Crimson. You don't have to download anything - just click on the play button.
And of course my life would not be complete if I didn't come downstairs this morning to yet another fabbo email and review from a fan who just saw them play in the Land of Oz:

Mrs Slick,

My name is Sam, I am from Wollongong, Australia, I saw the power trio a few nights ago on their last stop of the Australian tour, and I have to say how amazing it was, your son and daughter blew me away with their musical skills, and their hospitality when I met them, I typed a review, it's a bit long, but I hope you enjoy my opinion on it, it might not be grammatically perfect, but it's true and 100% honest.

"Adrian Belew Power Trio – Heritage Hotel, Bulli NSW Australia - December 11, 2008

Gigs come and go, musical revelations come once in a life time, well that was one of those, that's for sure….

It was probably one of the most amazing gigs I have ever seen in my life.




Arriving with my good friend John at this lovely venue which was an amazing small pub, with heaps of gig posters up, I just felt the atmosphere as I walked in. Lovely staff, really friendly, one was nice enough to give me and John a poster each of the show, we hung around for a while, went and sat down at a table and about 20 mins later, the Trio walks in to the venue, now call me a fanboy, I admit it 100%, but I was extremely nervous to meet a man whose music has inspired me and touched me in a lot of ways, walking up to him, he had a big smile on his face and I handed him the poster and he graciously signed it, he said to me would you like the other members to sign it, I said "yes, that would be great", as they were signing it, I said hello and remarked to the Slicks - Julie (the bassist) and Eric (the drummer) on how much I appreciated their work on Side Four, and they were extremely friendly and introduced themselves which made me at ease. I then went on my way back to the table with a huge smile, still trying to get a grip what had just happened. Yet, the best was yet to come.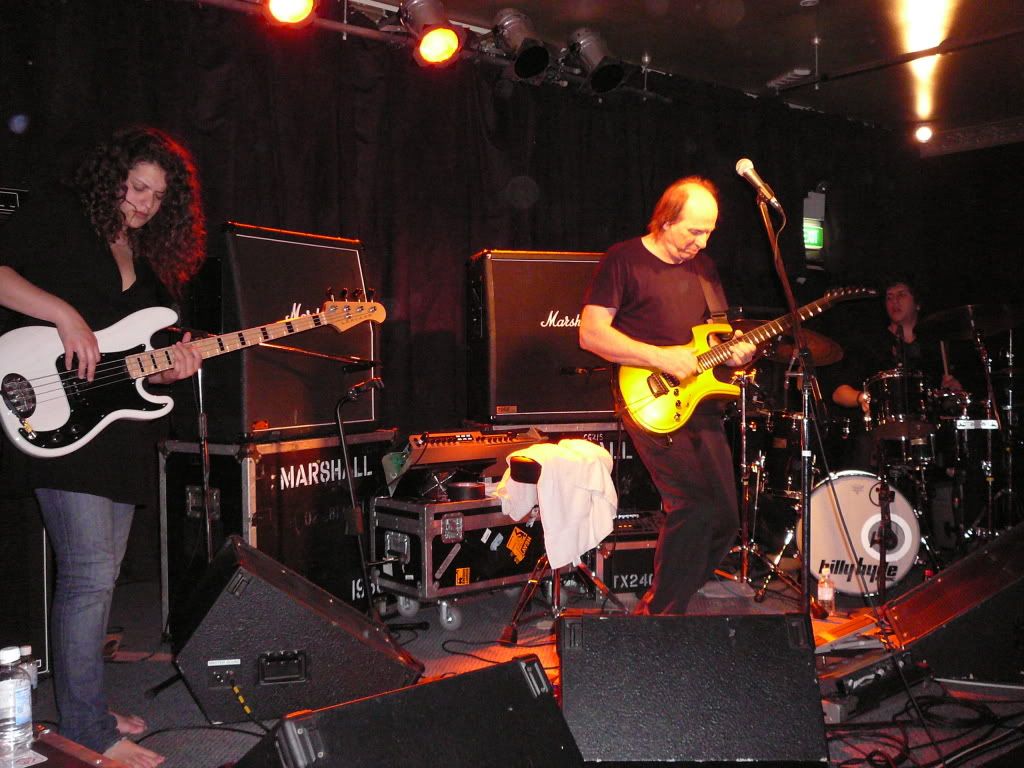 Time passed by and more and more people arrived into the venue, was a bit strange being at a venue with tables as I am normally jammed down in the moshpit, but it made for the atmosphere.

8:45, the show started with Writing's On The Wall, and you could not wipe the smile from my face, I was singing, smiling, air guitaring - drumming along with the music, just getting to see Adrian Belew for the first time especially in a venue not that far away from my home really made me happier than a pig in, well you know the rest.

The 1st set blazed along with so many aweome songs, Dinosaur, Young Lions (with a breathtaking drum solo from Eric), Beat Box Guitar, A Little Madness and then ending with the most awesome version of Elephant Talk I have ever heard, Julie owned this song, nailing chapman stick parts on a 4 string bass, simply stunning.

There was a half hour break, I spent most of that time talking to John and my other friend Richard on how amazing that was, we all decided to go down to the front of the stage and catch the rest from there.

Set 2 came, and the first blew me away, the second just knocked me down, they really got into it so much more, you could not wipe the smile from Adrian's face, Eric was going like a madman, beating the life out of the drums, Julie was in her zone, chilling back, going in and out of the pocket.

Songs like Neurotica, Of Bow and Drum, Futurevision et al were absolutely amazing, their newest piece E was like a musical rollercoaster, up and down, side to side, I was astounded.

But the fun really came with the last few songs, classic Crim with 3 Of A Perfect Pair, made my night, really hit home that I am seeing Adrian Belew with the last band he ever needs, big call, but it all came together.

The Australian national anthem was next, and what better than Back In Black, with Andre Cholmondeley, road manager, technician and nice dude extrordinaire doing an excellent Brian Johnson impression, hit it out of the park hands down.




Last song was Thela Hun Ginjeet, great song to end the night, and the end of their last show of their Australian tour in style.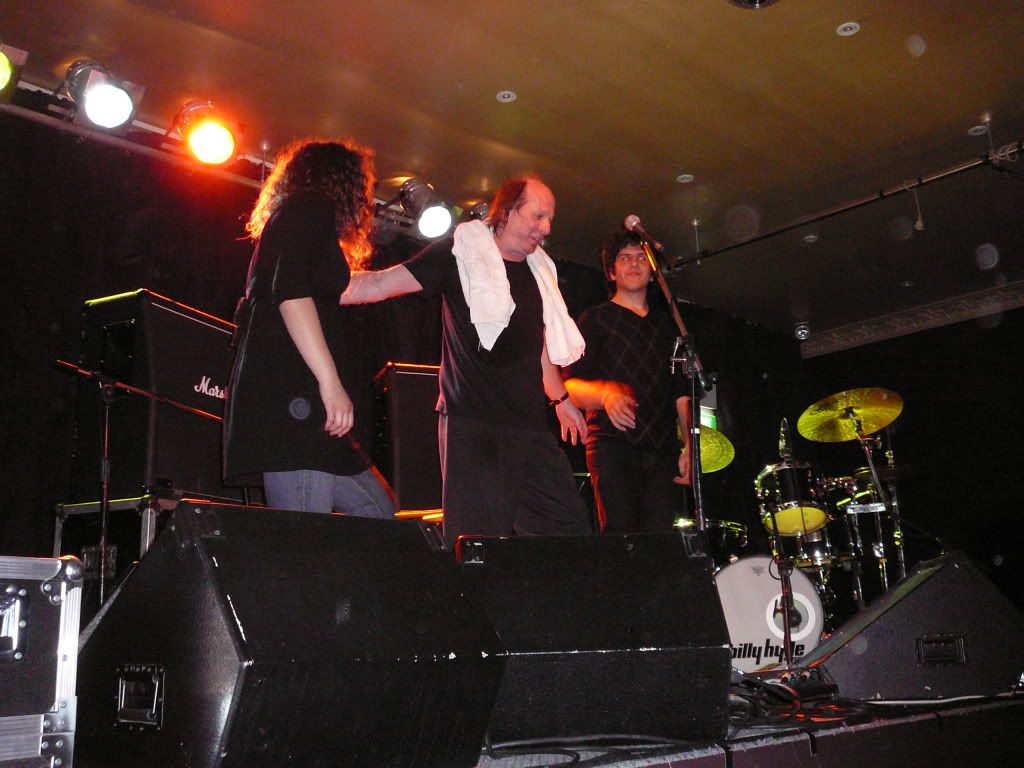 A little bit after, the Trio came out and signed cd's, took photos and took the time to meet the people, I got to talk to Eric and Julie a bit more, they are so nice and deserve every bit of exposure and success they get. Thanks for the photos and the signatures.




Adrian, what can I say, getting to meet a legend that has been there and done that, yet will still play little clubs for the love of music in a little town in Australia, thank you for taking the time to talk with me, take photos and play one of the greatest gigs I have ever seen in my life.

Andre, thank you for having a chat, you are a really nice dude (wish I had got a photo with you…)

Thank you Adrian, Eric and Julie, I hope to see you all back in Australia very soon, now I just gotta wait for that to happen…."
Thank you for your time, if you would like some photos, please let me know and if you decide to put this in your blog, please feel free to, I would love to see it there!

Regards,

Sam Radojcin"
Of course I wrote back to Sam immediately, thanking him and asking for those pics! So other than the Tim Tams, all of the photos in today's post are from him. When Sam wrote back to me with the official "okay" and pics, here's what else he had to say, and he included a link (which I asked him for) to his MySpace site:

"...Once again, thank Eric and Julie for me, I hope I get to run into them again one day over here. I guess because I am a similar age and a musician myself, I really had a great time, a friend of mine who had not heard Adrian or KC before was blown away, he said Eric was the best drummer he has ever seen live.

No other blogs, I have a MySpace (doesn't everyone? LOL) (I don't know why I chose that as a handle as I am a bit more eclectic in my tastes although I love the heavy stuff.
)(Note from our author: Ha ha - Sam is known as "Aussie Metalhead")

Anyway, thanks for the reply!

Sam"
So that was extremely cool and gracious of Sam, and I'm really starting to think I want to write a non-fiction book about the trio which will include all of the incredible photos, reviews, and emails I've received from fans in the past two and a half years since the inception of this wondrous band. What do you guys think about that idea?
I know I like it!
Enjoy your day, everyone. My family is home; we're going out to buy our Christmas tree and start celebrating the holiday in style. And here's the answer to the question I know you are all dying to ask: Yes, the internationally famous Slick Christmas cookies will start going out in the mail this coming week. I cannot accommodate everyone, but if you want in, shoot me an email and I'll see what I can do. If you were on the list in 2007, please do me a HUGE favor and email me your addresses again. I had the official recipient list all typed up but damn if I can find it. What can I say? It's been one hell of a year.
Oh! One final thing. Cool new You Tube up of the Adrian Belew Power Trio performing at The Basement in Sydney, Australia. Enjoy!
This was posted courtesy of my pal, Gerard, who also sent me some lovely photos which I previously "lifted" and a review which you can read if you scroll down a few posts. I totally forgot to put up a link to his photosite for an amazing, complete set of pics of the trio, so here it is now:
Link!
Oh, and here's the
link
for the rest of Sam's photos, too.
Later,
xo