Life is oh so insane and great right now. I talked to Julie around 9:00 p.m. last night. She called me from the Detroit airport - the
Adrian Belew Power Trio
were en route to
Budapest, Hungary
via Amsterdam...it was an eight hour flight and I guess by now, they have arrived and all I can say is after speaking with her, you can tell how incredibly stoked the three of them are about this four week European tour and even more excited about the last four days In Nashville working on the new material...right now the tentative plan is to return to Studio Belew after the Australian gigs in December and record in January/February, 2009. Okay, I cannot tell a lie - they sent me some MP3s of their rehearsals for the new CD the other day. I still haven't recovered. It's unbelievable. Amazing. Brilliant.
So not only do I have that to look forward to, how about this. Finally, after four years of blood, sweat and tears, Daddy Left Me Alone with God will be released in early 2009. Have a look at the book cover. Is that amazing or what?
Here's the blurb that will appear on the back cover:
"Annie loathes middle age because in her mind, as long as she avoids mirrors in brightly lit rooms, she is still a cool, cutting edge hipster with a scandalous secret she has kept for almost three decades.

At age seventeen, Annie had a love affair with a man ten years her senior -- legendary British rock guitarist Mick Saunders. Now, feeling stuck in a boring, faltering marriage and desperate to change her life, she is unexpectedly given the chance to reconnect with Mick while chaperoning her fledgling rock star teenagers on a tour across America. To Annie, this opportunity to recapture her past is a dream come true. But will she and Mick be able to pick up where they left off?"
Sooo...the book is part memoir, part fiction...it touches on the music scene in New York City in the 1970s interwoven with my insane experiences as groupie mom while Julie and Eric were students at the
School of Rock
(scroll down to read about J&E). I'll be talking a lot more about the fabulous artist who designed the cover, my new publisher, and the book itself a lot more in a future post.
But I hope I've tempted you a bit for now.
And for those who haven't seen it yet, here's a
good quality version
of the indie film based on a chapter in the book, which is currently up for yet another award in Italy. It still blows me away to hear words I've written spoken by actors. Whew.
So Gary and I had a weird bit of synchronicity with
Robert Fripp
as evidenced by clicking on his name -- a link to his recently posted diary entry which I read early Friday morning with my mouth kind of hanging open.
Here's an excerpt:
"Around the corner is the former Poole Music Stores, now the right half of the Coral betting shop. The entrance through the black & white doorway was an entry to the world of early rock 'n' roll records; the threshold Sister Patricia & I crossed, beginning in 1957, and where I discovered the early Elvis & Scotty Moore, Chuck Berry,

Charlie Gracie

, Jerry Lee Lewis et al. Buddy Holly came from Holman's on King Street, on the far left of the photo."
Here's where the crazy coincidence comes in.
On Thursday night, Gary walked about a half block down our street to the restaurant on the corner (and where Julie works when she's not on tour)...they've introduced live music on Thursday nights. So who did Gary go to see?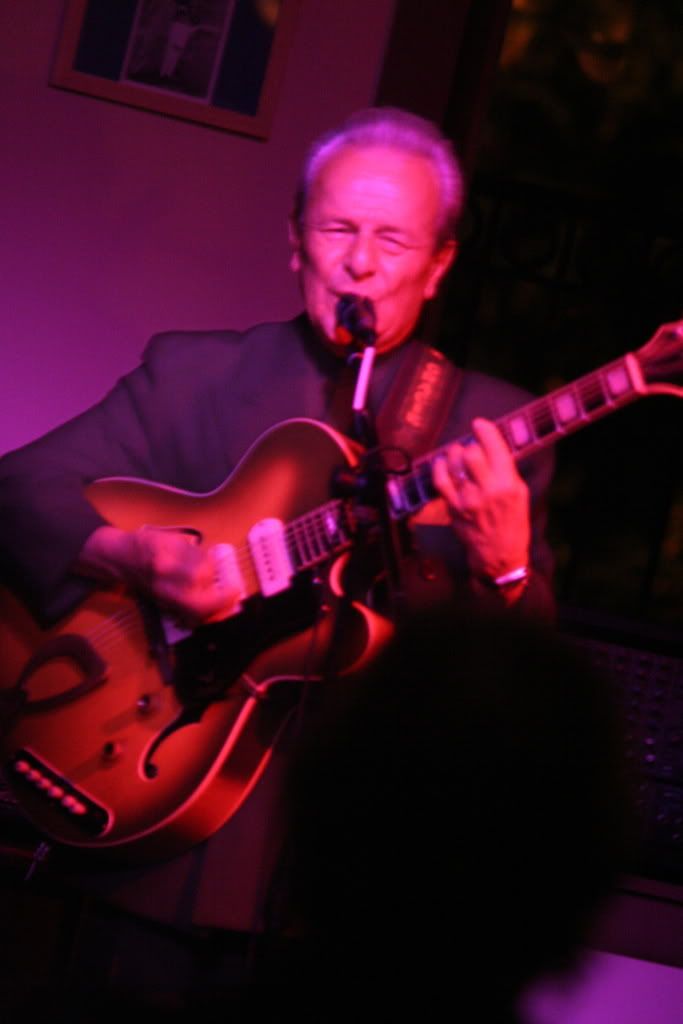 That would be the great
Charlie Gracie
himself.
Is that freaky or what? I mean, really. How many people know who Charlie Gracie is...and to read Robert's diary the morning after Gary went to the show...it just boggles my mind. And there's another bit of weirdness in that same post, but I'll get to that in a minute. Anyway, Gary had a total blast at the show and because it was a small, intimate setting, he got to mingle with Charlie, his wife, and son and talk extensively with him.
Let me tell you a little bit about him. He was born in Philadelphia (yay!), and at age 15, starting in 1951, "
Charlie Gracie was experimenting with many types of music, years before many rock heroes had ever set foot inside a recording studio.

By 1956, Philadelphia had given birth to the new Cameo record label. Its founders, in search of a strong talent signed Charlie later that year. With a $600 budget, this new union went into the studio to record a single that would forever change their lives. The record, Butterfly backed with Ninety Nine Ways became a monster hit, reaching the number one position all across America. Charlie received a gold disc for the two million plus sales and became the first native Philadelphia rock star to achieve international success. His only other Top 40 hit was Fabulous the same year, which reached number sixteen. Other substantial sellers followed: Fabulous, Wandering Eyes, and Cool Baby. The financial success of these hits bankrolled the Cameo label, which became a dominant force in the recording industry for several years.

Charlie's personal appearances grew until he performed and headlined some of the biggest venues of that time: Alan Freed's rock and roll shows at the Brooklyn Paramount, The Ed Sullivan Show, Dick Clark's "American Bandstand" and the 500 Club in Atlantic City. He appeared in the 1957 film Jamboree[1], and toured with the likes of Chuck Berry, The Everly Brothers, Bo Diddley and his close friend, Eddie Cochran.

Charlie became only the second American, guitar-toting rock and roller to bring this new art form to the British concert stage. His two extensive tours in 1957 and 58 were a whirlwind, topped off by headlining the Palladium and the Hippodrome in London. He played to packed houses and drew rave reviews.

In the audiences, among Charlie's fans and admirers, were future rock greats: Graham Nash, members of the Beatles and Rolling Stones, Joe Cocker and Van Morrison. These performers and many other well-known acts have credited Charlie as an influence. George Harrison referred to Charlie's guitar technique as "brilliant" in a March 1996 interview with Billboard Magazine; Paul McCartney invited Charlie to the premiere party of his 1999 release which paid tribute to the early pioneers of rock music.
"
So understandably, Charlie's got some wild stories, and he tells then in between songs. He spoke of his great friend and contemporary at the time, Eddie Cochran, and being in his car when he got the news of his untimely death in 1960 at age 22...he was so shook up he had to pull over to the side of the road.
Naturally he spoke a lot about Paul McCartney, too.
And that he was all set to do some more recording with Bo Diddley this year but then Bo went died on him in June.
Anyway, here's some more awesome shots Gary took of Charlie...and for your tech nerds out there, have a look at that guitar!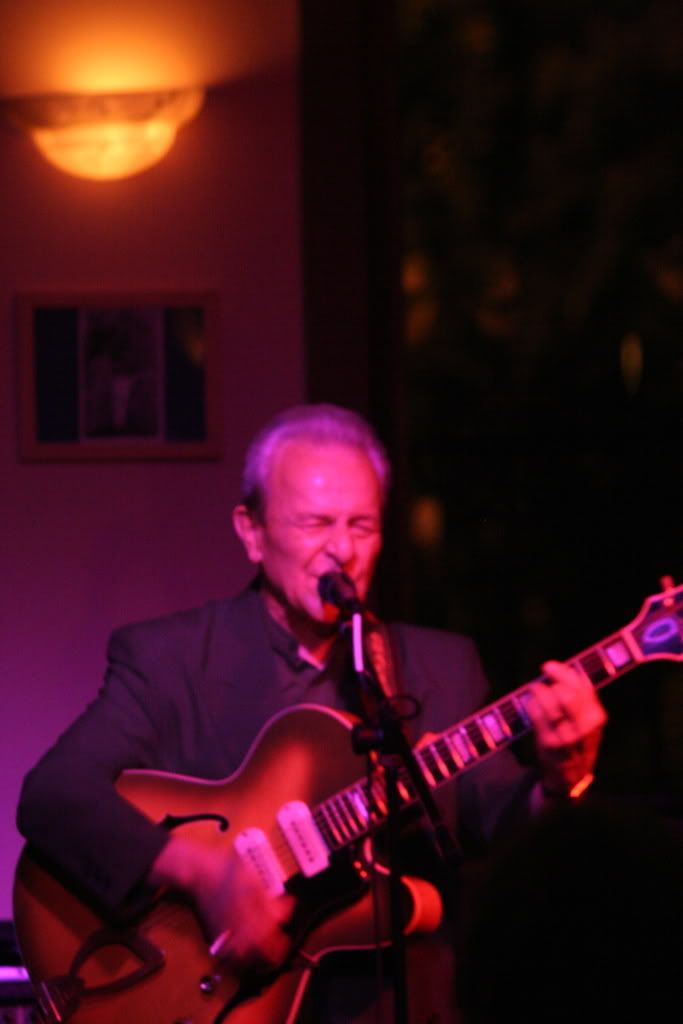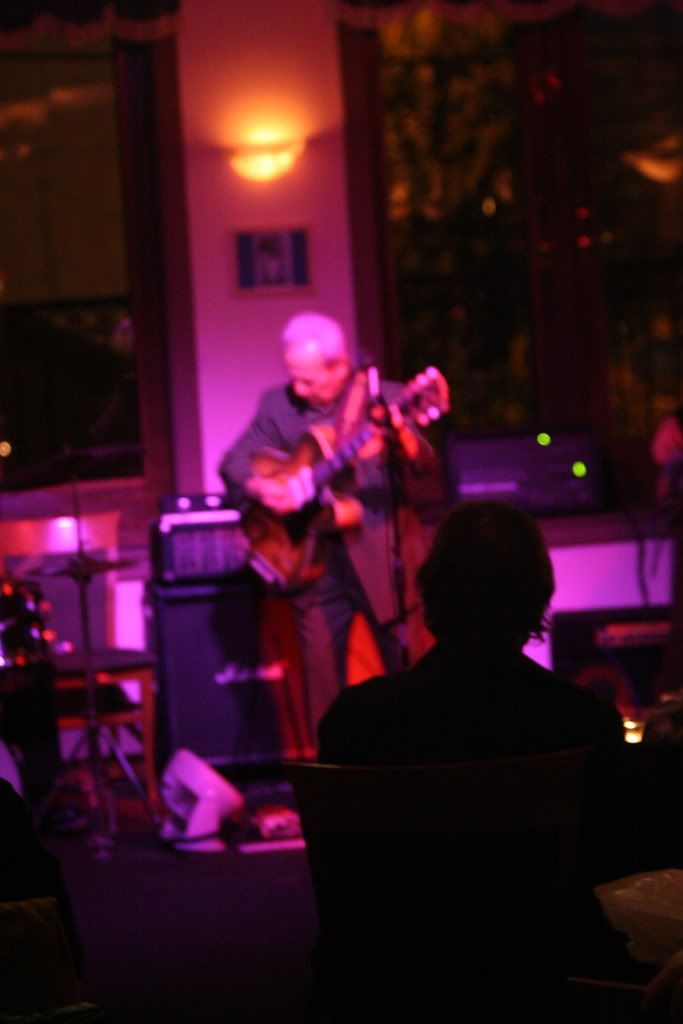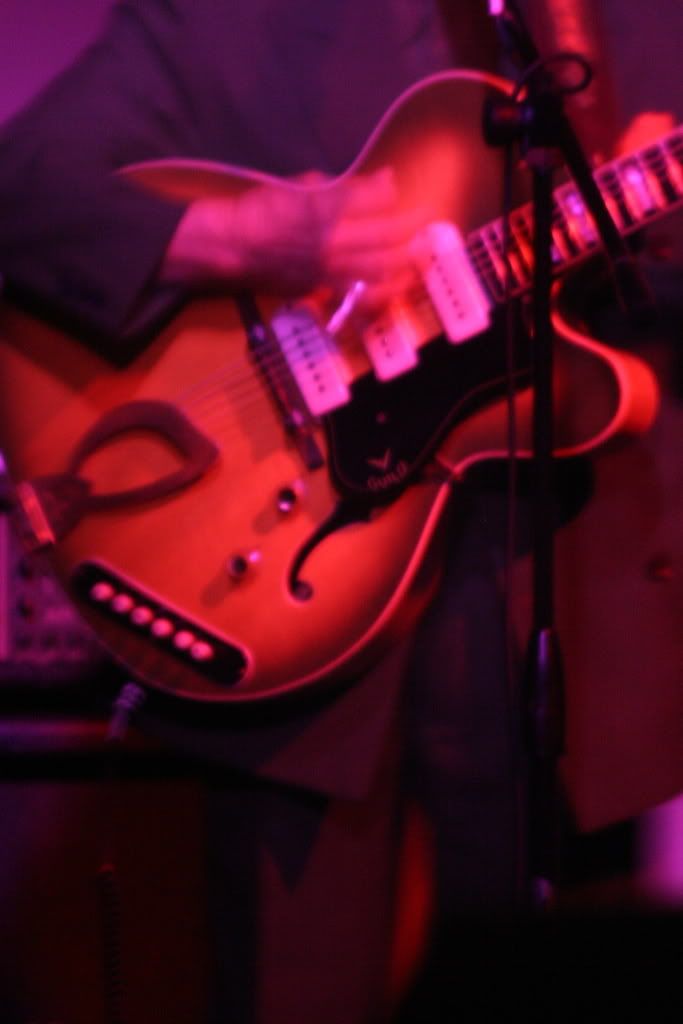 Okay, moving on, still not believing what I was seeing, I continued to read Robert's diary post and it went on to say:
"
Upon returning to DGM HQ Butcher Fry, our Landlord, appeared from the back door of the Village Shop to show me a picture taken on his recent holidaying in Germany…

The photo depicts the memorial to The Fifty from Stalag Luft III. Of 78 escapers in The Great Escape, 73 were recaptured & 50 of those were shot. My Uncle Bill, who is often mentioned in this Diary, was a prisoner in Stalag Luft III at the time of the escape (1943). Bill was the navigator of an RAF reconnaissance flight shot down over Germany in October 1939 and held in a dozen different POW camps during the 5 years 7 months of his imprisonment. Although not a Great Escaper, Bill's pilot was; recaptured & shot; and one of those commemorated on the memorial."
Why is this odd?
Because incredibly enough, a few days prior, I watched the
Great Escape
on television with Gary and it was the first time I'd ever seen it, even though it was released in 1963 and has been on television countless times since. Gary actually saw it as a young boy in the movie theater -- about the same time my Mom was taking me to Rock Hudson/Doris Day romantic comedies which I totally did not understand at my (heh) tender age but enjoyed mostly for the malted milk balls and super large packages of Reese's peanut butter cups purchased at the concession stand for fifteen cents each....sigh. Ah, I can still see/smell the interior of those old movie houses...the red velvet drapes, the aroma of real popcorn, the scratchy seats...I'm gonna cry. As Gary pointed out as we were watching the Great Escape, the art of subtlety is gone from cinema today which is why we hardly ever watch a flick these days...truth to tell, the last movie I remember seeing in an actual theater was
"Something About Mary"
back in 1998 and I was so horrified...because a few years prior, the last movie I'd seen was the equally atrocious
"Sleepless in Seattle"
which just about ruined me for life it was so awful...that we just stopped going to the movies altogether. But yeah, getting back to the subtlety as opposed to the in-your-face garbage out now, as we were watching the Great Escape, at the scene toward the end where the captured officers are told to get out of the truck in the field to "stretch their legs", Gary said "Uh-oh!"
"What? What?" asked innocent me.
"You'll see," he replied grimly.
My eyes fixed on the television, I watched the characters I'd grown fond of during this film get out and stretch...and then I saw the Nazi officer load up a high powered gun...all you heard was an ominous "click"...and then the scene changed.
So yes, that was how they portrayed fifty men losing their lives, as mentioned in Robert's diary.
You know damn well in today's world, they would have shown each and every man getting his head violently blown off - we would have been spared no gore or bloody detail.
I'll take the 1963 version, please. That awful sound of the gun about to go off was way more gruesome and left a far greater impact than actually seeing what happened in gross, living color.
Anyway, that's our weird "close encounter" with Mr. Fripp - I'm still kind of freaked out by it.
Other than that, tomorrow begins the first night of the Adrian Belew Power Trio tour in Hungary so you know I'll be in blog heaven...and um, Go Phillies! I cannot believe they won last night (and as stated in my prior post, yep, they did in fact also win when Gary attended the game Friday night)...and it looks like they are going to go to the World Series, which is highly ironic because poor Julie, who was voted MVP of her softball team in 1998 (she both pitched and had the winning hit) has been waiting all of her life for the Phillies to be in/possibly win the championship and party it up in the big parade, etc....will be, oh, probably in Spain or Switzerland when and if it happens.
All things considered, I'd rather be in Philadelphia.
Yeah, right. You know damn well I'd rather be tagging along with the trio on tour, but you know, someone has to stay home and walk the dog and eat Gary's incredible gourmet meals.
Later,
xo