"I don't know, Tony. What do you think?"
"I think it looks pretty interesting. You should try it out."
Ho-hum,
Queen Crimson
Julie Slick goes shopping at a cool little music store in Moscow this morning with legendary bassist
Tony Levin
. When the photo arrived from
Andre
in an email this morning, the caption said "Your favorite picture this week?"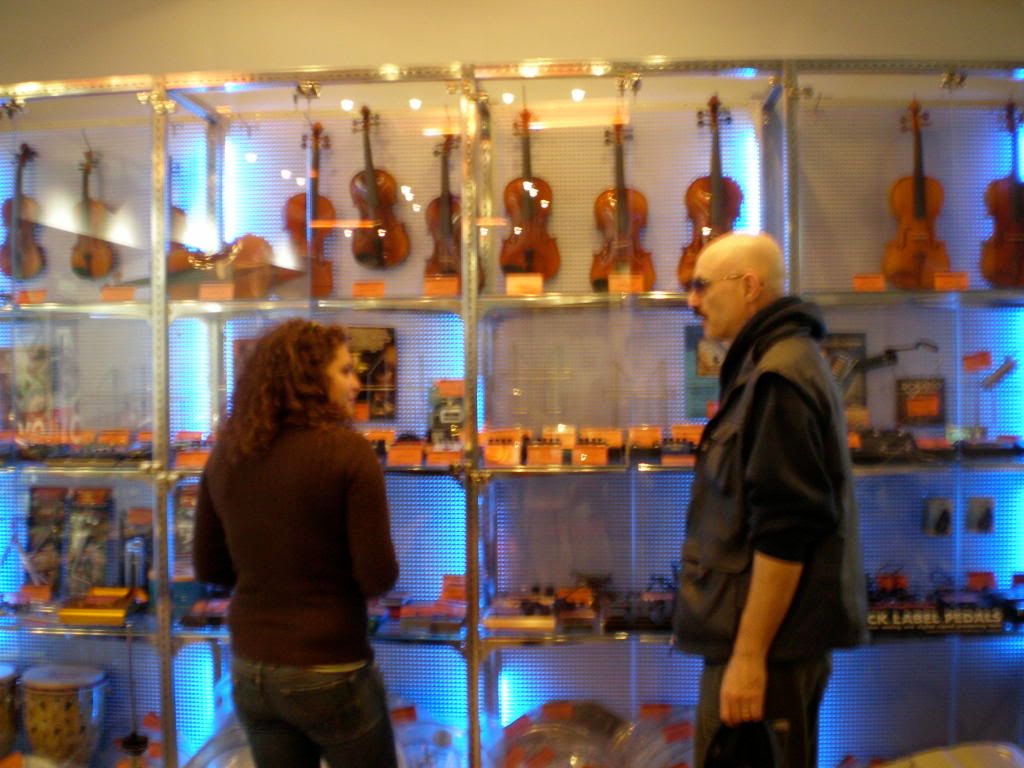 Yep.
"Hey, Tony, can you please help me?"
"Why sure, Julie. Your every wish is my command."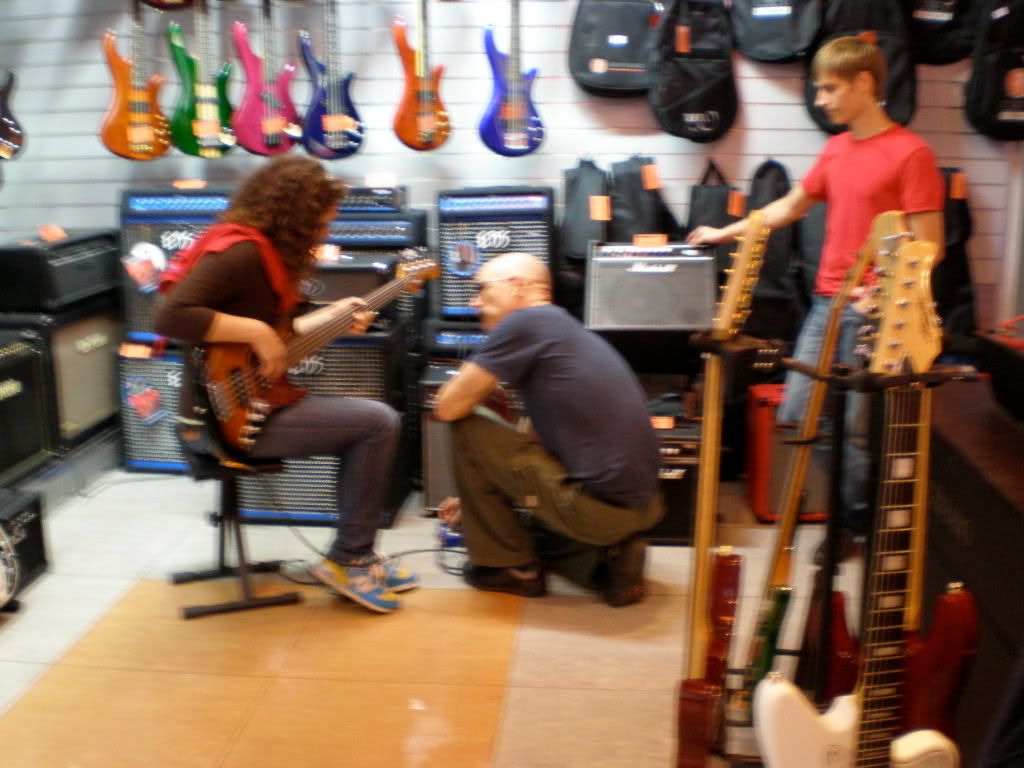 Oh, I'm kidding. But as I've said here many times, ever since Julie first graced this world on January 30, 1986, every single one of her wishes has become our command and we wouldn't have it any other way.
And the same could be said for our young lad, Eric Slick, who was over in the drum department, checking out their stock: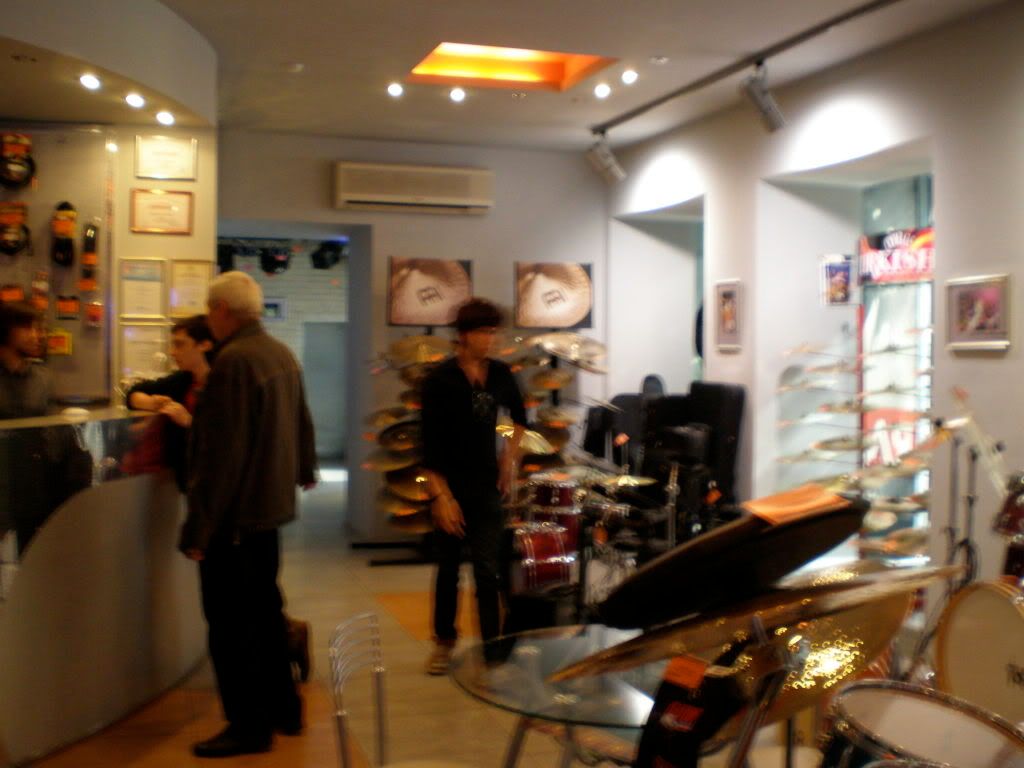 First review out of Russia came from this
website
and I apologize in advance for using a free internet translater...but this seems to be pretty fantastic. It's both a little difficult and a little amusing to read. But hey, if anyone stops by this blog and can do a better job of interpreting it, please shoot me an email.
"When I came to the square, on a stage played a guitarist once in three guitars. His I have not been identified. But he played well, so rhythmically. With the lights. shouted something about Kazan. Local probably.

Then came the leading - and Xenia Strizh Seva Novogorodtsev impressive, and so unobtrusively announced that are saying, here are these guys also agreed to take part in our show. And these guys are called "Adrian Belew Power Trio", Adrian Belew and actually played some time ago in the group King Crimson. And these guys in my opinion immediately reduced to half of all the negative impressions of the festival, which might by then postponed from spectators. These guys have a real drive! Magnificent al guitar prozhzhenogo Adrian Belew, a girl on bass, drummer and a young winding. It was a very simple and very cool! I hope that attended bystanders something for themselves made this speech. At least, I at this time, moving Thoughts on the area, poglyadyvaya it on people, the city, the sky, just physically felt the atmosphere is changing as this is not the most fun places on earth. There is a unity of the world, the greatness of the human mind and other good things ... At this point, my majestic idiliyu interrupted an old friend, who spoke of how he recently Hoya to work in local PTDC № 2 for the post smetchika that life, he gradually developed, that he almost did not drink recently, and today are quite sober, and that even something that you want to listen to music with a solid stack of pocket money, and that after five years, he certainly can imagine it with a clear conscience allow. I politely agreed that the idea is not bad, in the secret hope that they are here not long delayed. And so it happened...

It was Adrian Belew with their kids who looked to be pretty much!"
So I just emailed with J&E - it's around 3:00 a.m.; they went to see Patti Smith tonight, partied backstage with the band, and are having an amazing, amazing time. I ask them silly groupie Mom questions like, "So are you hanging out with Eddie Jobson?" and Eric replies, "Oh, we just had dinner with Eddie. We love Eddie!"
I dunno. In a band with Adrian Belew. Shopping for effects pedals with Tony Levin. Dinner with Eddie Jobson. Hanging out with the Patti Smith Band...as I said before, ho hum, just another day in the life of Julie and Eric Slick.
Tomorrow is the big show. KTU/Tony Levin; then Eddie Jobson does a solo thing, after which the Adrian Belew Power Trio ends it with a seventy-five minute set...and then the grand finale...four King Crimson songs with everyone on stage (and one more song for the encore) and nope nope nope, I am not telling which ones but I repeat: Why oh why oh why am I not on this tour?
Later,
xo