So after we finished stuffing our faces it was time for some music. Now here is where photographer extraordinaire Gary Slick takes over...and taking the stage is Matt's amazing band,
Cheers Elephant
...and look who is on drums...
Eric Slick
, who sat in for Cheers' regular drummer, Brandon King, who unfortunately had to work yesterday. By the way, for those in the Philadelphia area, Cheers Elephant will be playing the
XPoNential Music Festival
on Saturday, July 12 and I'm really looking forward to that.
Lead guitarist/vocalist Jordan del Rosario, bassist Matt Rothstein, and on guitar and lead vocals, Derek Krzywicki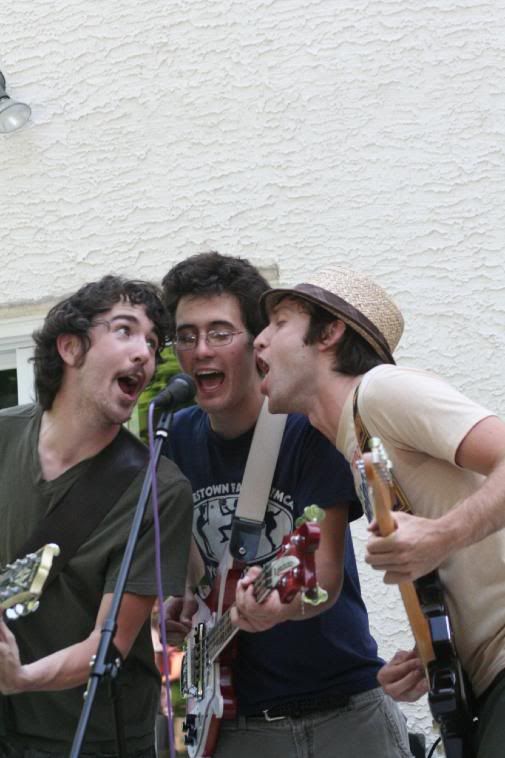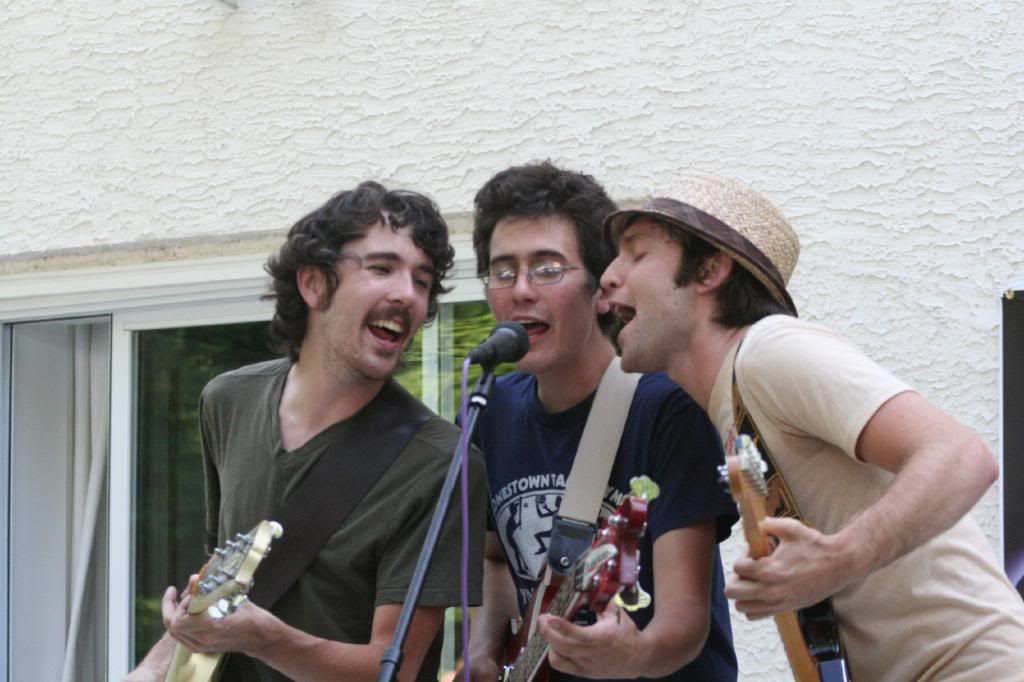 Matt doing a little more singing...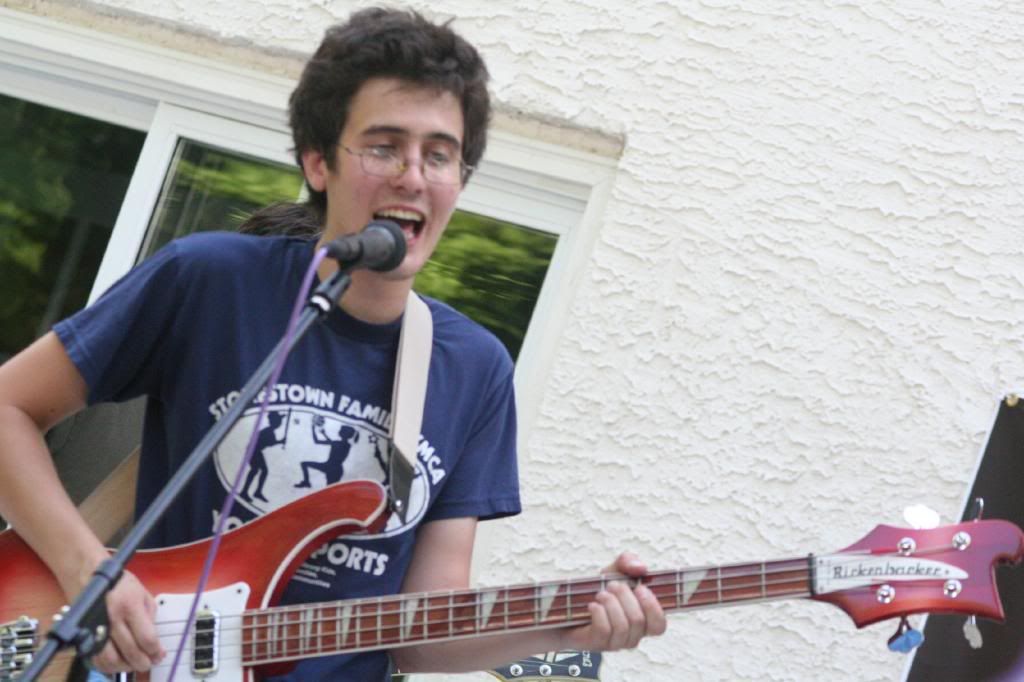 Jordan, who Gary remarked to me "reminds him of members of the band
Traffic
" and I agree but it somehow looks better on Jordan...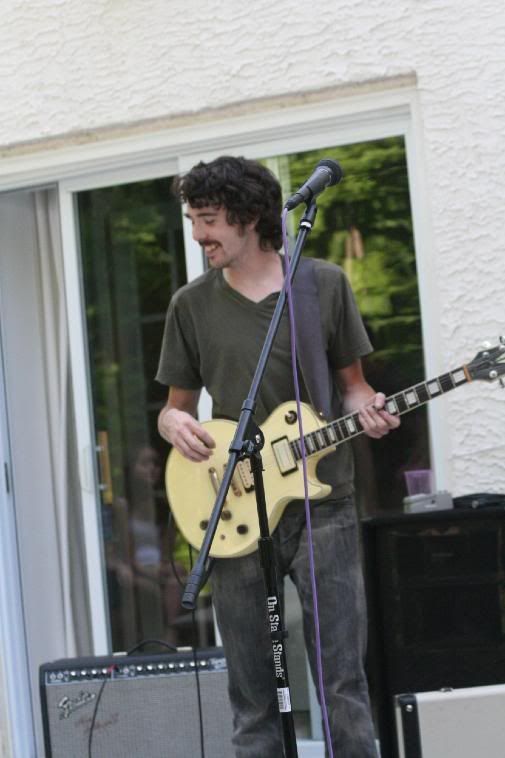 Derek...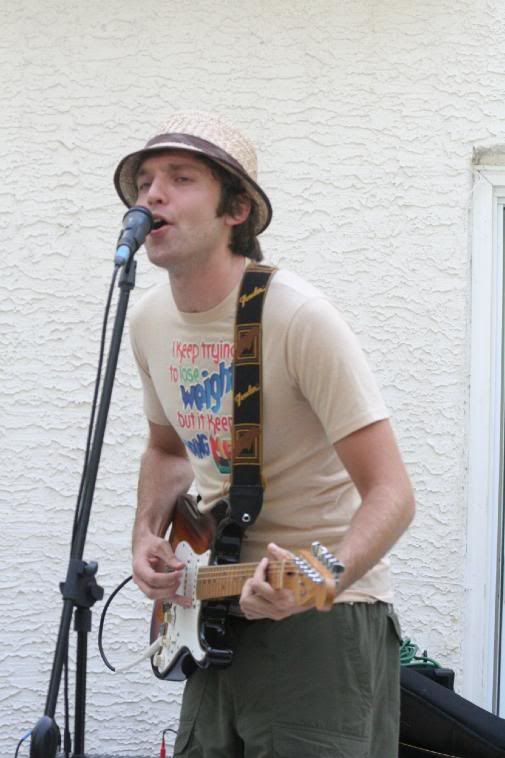 Which rhymes with...Eric...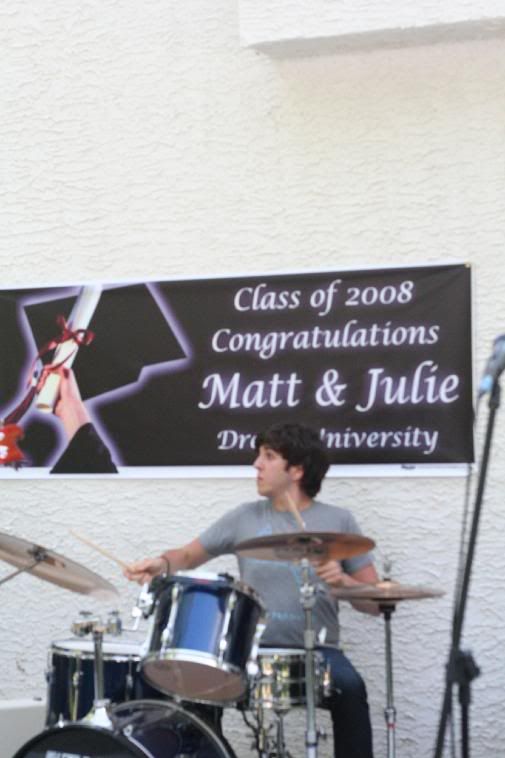 Naturally Cheers Elephant's engineer/producer, Ms. Julie Slick, had to play with the sound...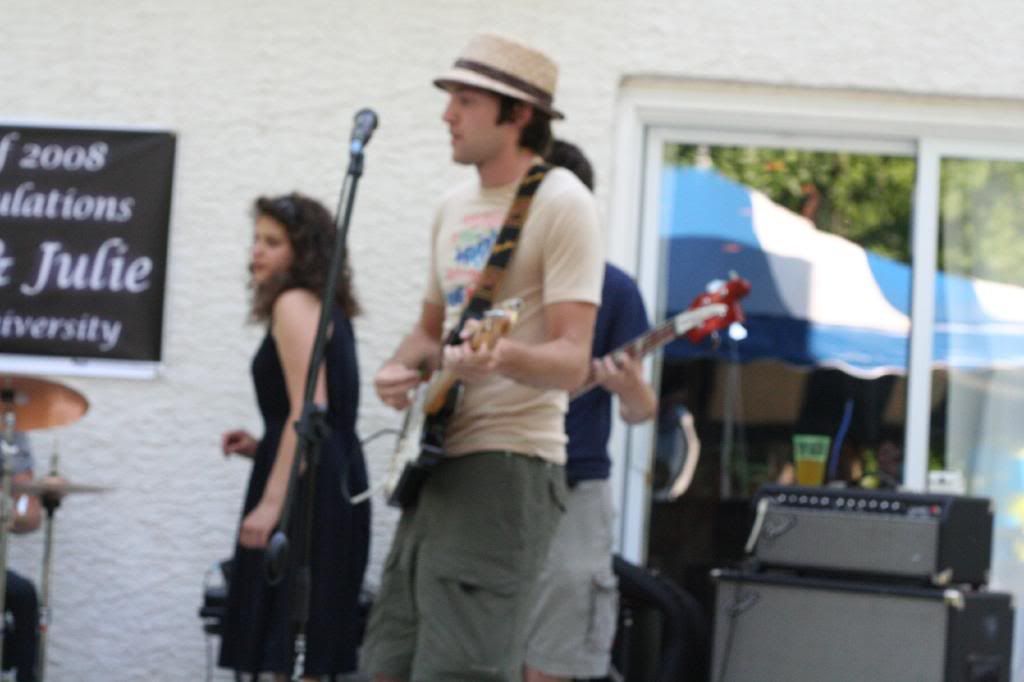 Matt and Derek...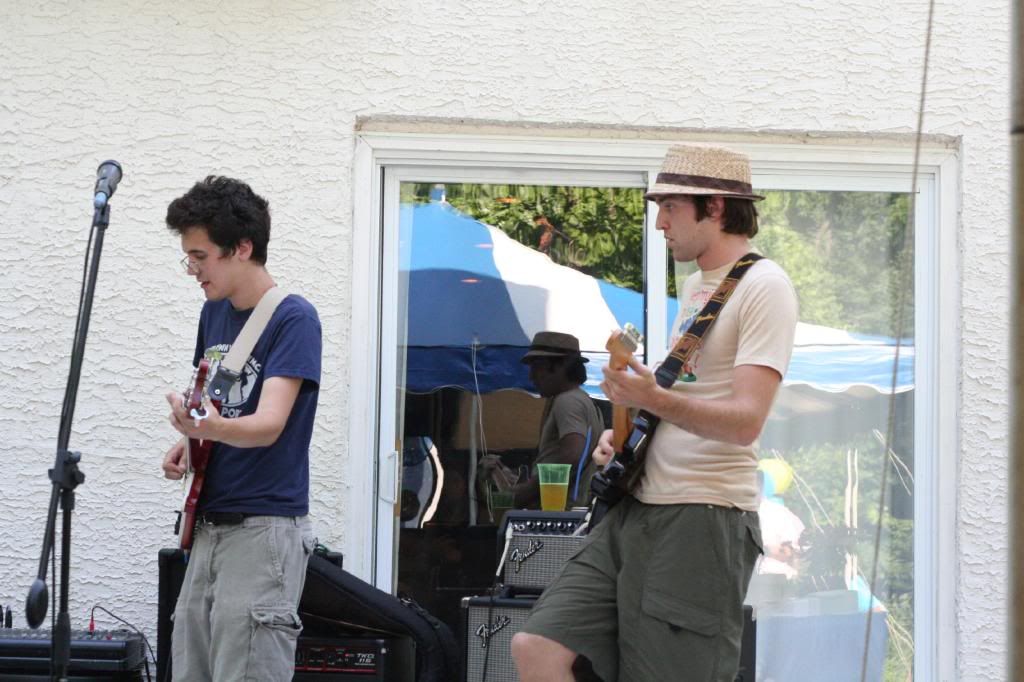 Jordan, Matt and Derek...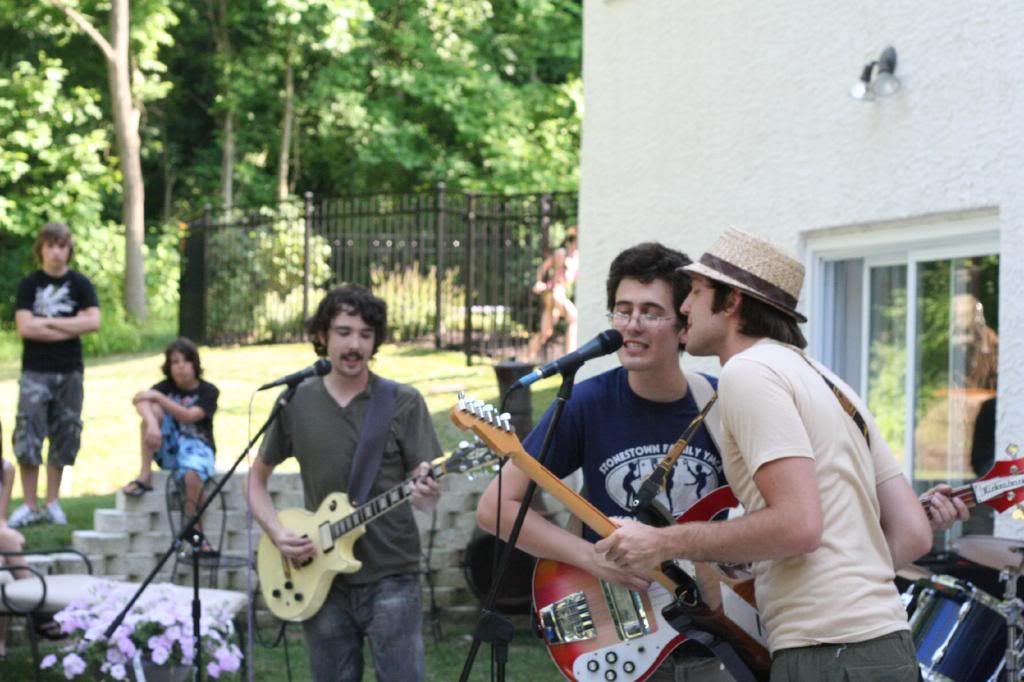 One of my all time favorite photos of Eric which I can't use anywhere else as Eric is a
Paiste artist
and this was obviously not his drumkit...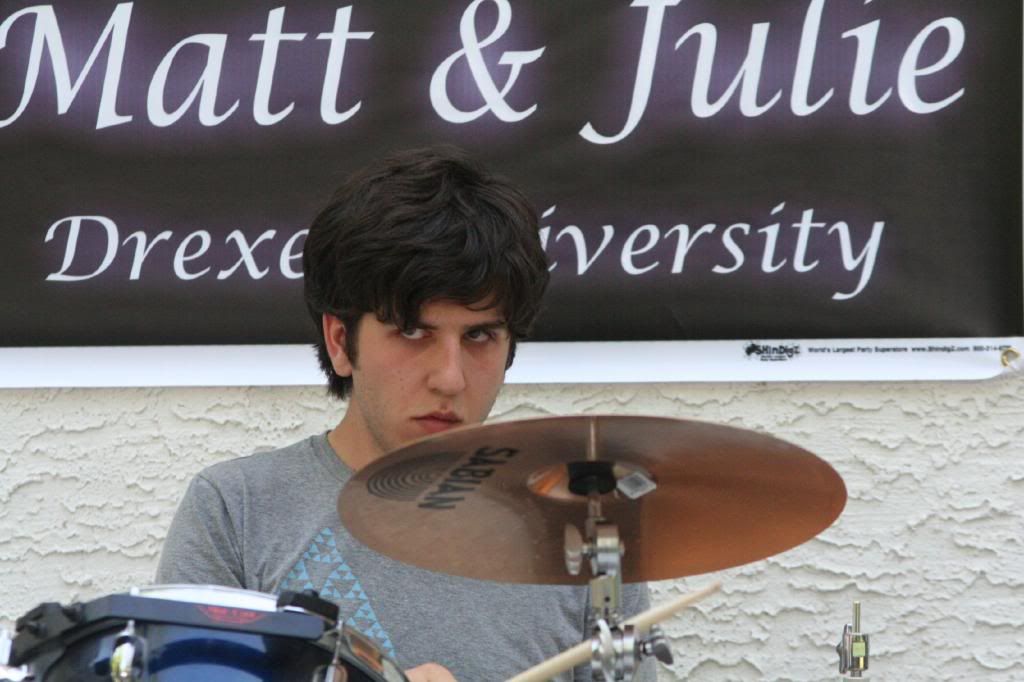 Sitting in the audience and taking in the music, Eric's girlfriend, the very beautiful Katy...
And the equally beautiful Julie...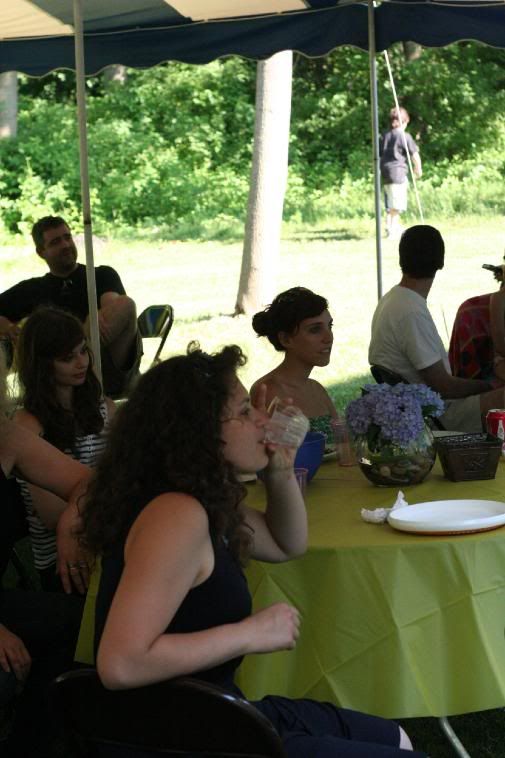 After Cheers Elephant played, everyone jumped in Eva and Steve's in-ground pool, and yes I know, I should have taken a photograph but by that time Julie's Sangria was really starting to take effect and I was seriously afraid I'd drop my camera in the pool. Besides, it was time to go back for more food.
Anyway, after all of the musicians were refreshed (translation: dripping wet from the pool and I tried not to worry about electrocution) Eric, Julie, and another infamous
School of Rock
alumni,
C.J. Tywoniak
joined up for the first time in a couple of years for an impromptu jam...during which they were then joined by another Rock School friend, teacher Brian Davis...and it was pretty damn impressive.
Here's C.J. Remember him from
Rock School (the movie)?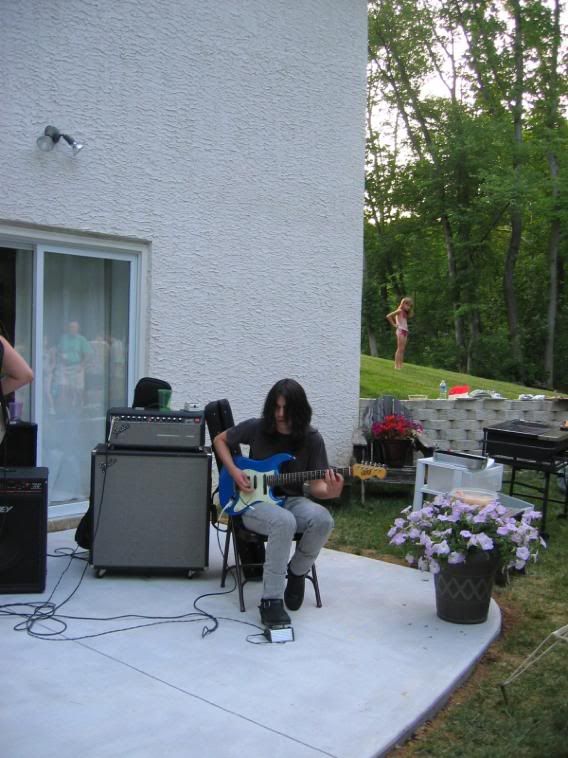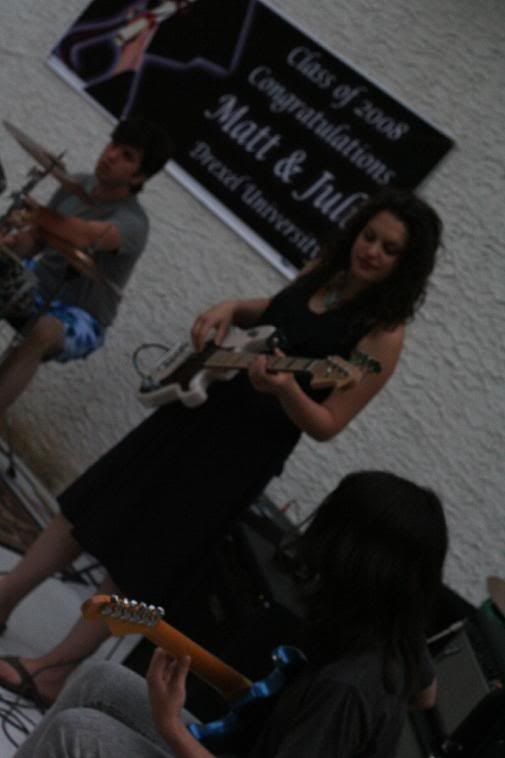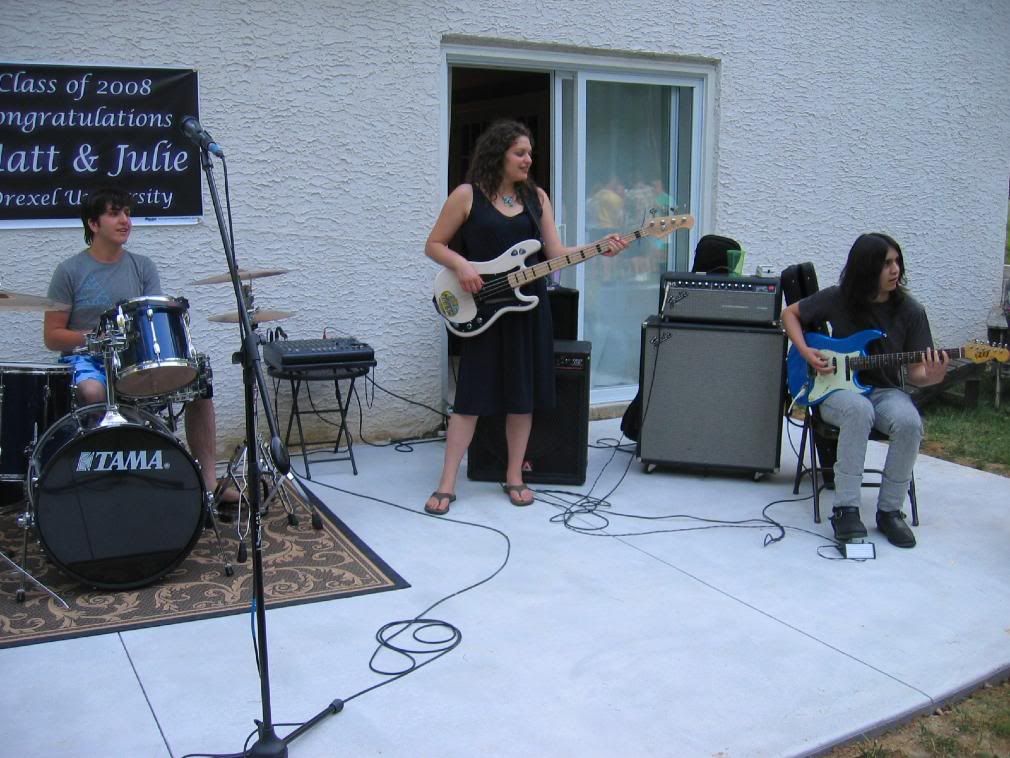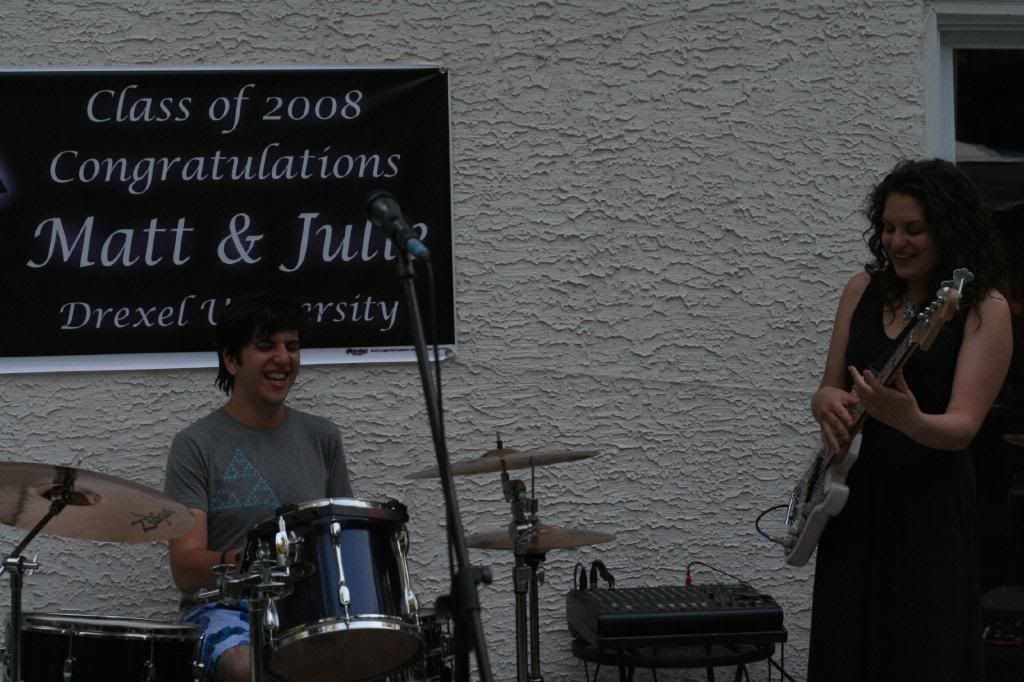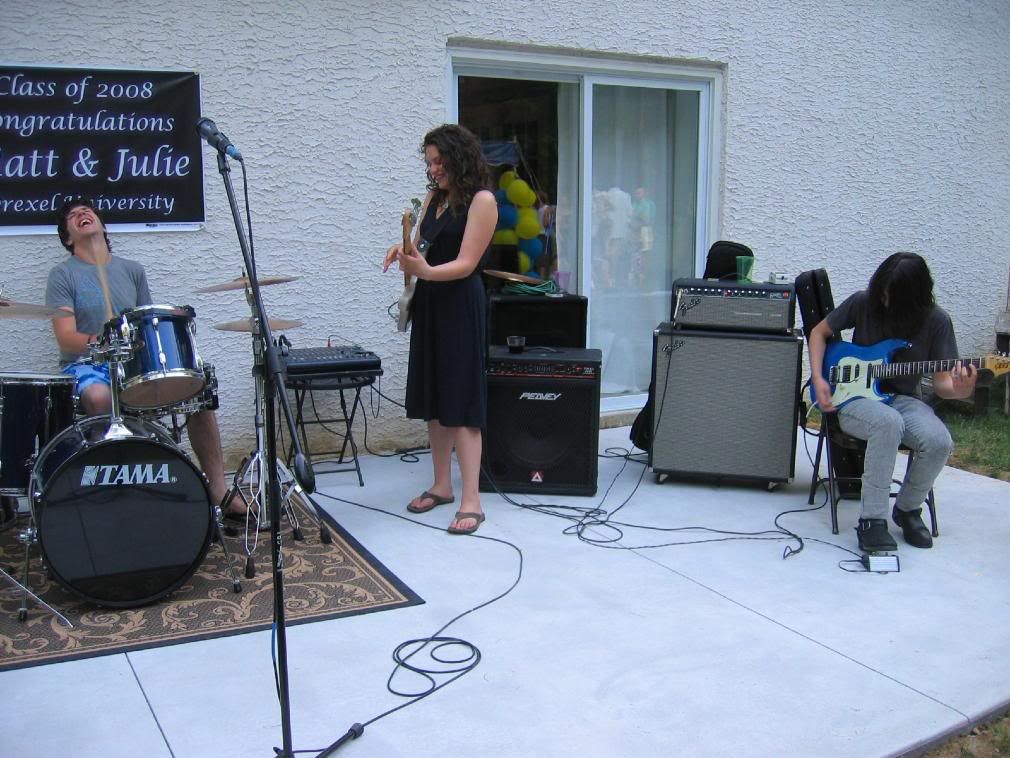 The guitarist in the pink shirt is Brian Davis. Julie, Eric, and Brian record together when Julie and Eric aren't on the road with Adrian and I bet we see a project from them in the very near future. In fact, there's some most excellent stuff Julie put right on my computer but I have no idea how to post a link here...actually, I don't even think that's possible, anyway, but maybe one day they'll have a MySpace page...who knows...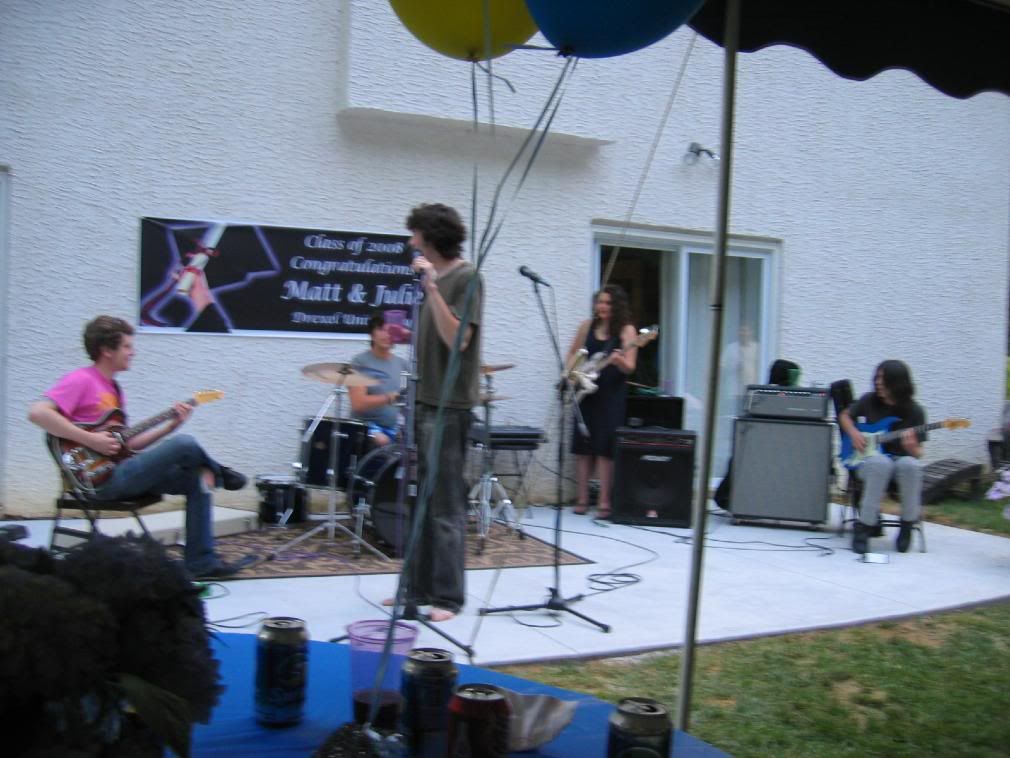 I don't think Julie looks gorgeous enough in this photo, do you? Oh my God, she looks like a mermaid...with legs and a bass har har...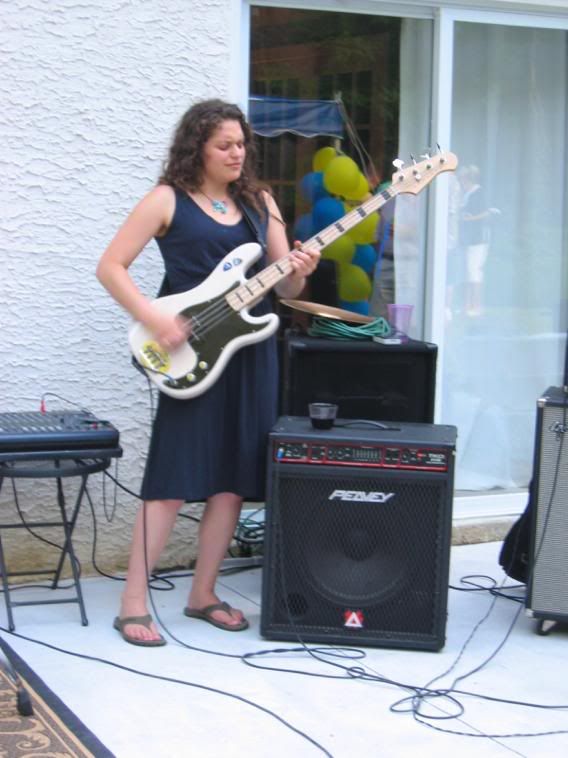 Uh-oh, Jordan, after also consuming copious amounts of Julie's Sangria (I'm guessing, I could be wrong), decided to join the band and they did hilarious versions of Michael Jackson's "Beat It", Asia's "Heat of the Moment"...you don't even want to know what else...but trust me, they made those songs sound good...
Now comes my own personal favorite part of the evening. My brother, Dave, and his wife Staci and sons Garrett and Dylan came to the party all the way from West Hartford, Connecticut, and Garrett, almost 10, is developing into quite the guitar player so he brought along his ax and asked if he could jam. His cousins were only too happy to oblige him and he really rocked!
Here's Garrett, who, by the way, is playing a guitar signed not only by Julie and Eric but by
Adrian Belew
, Garrett's favorite guitarist. And these pictures were taken by me...it was quickly getting dark so don't blame the photographer...blame Julie's Sangria of terror and delight and the fact that my camera only works in the sunshine...
Garrett and Jordan, hashing out a song...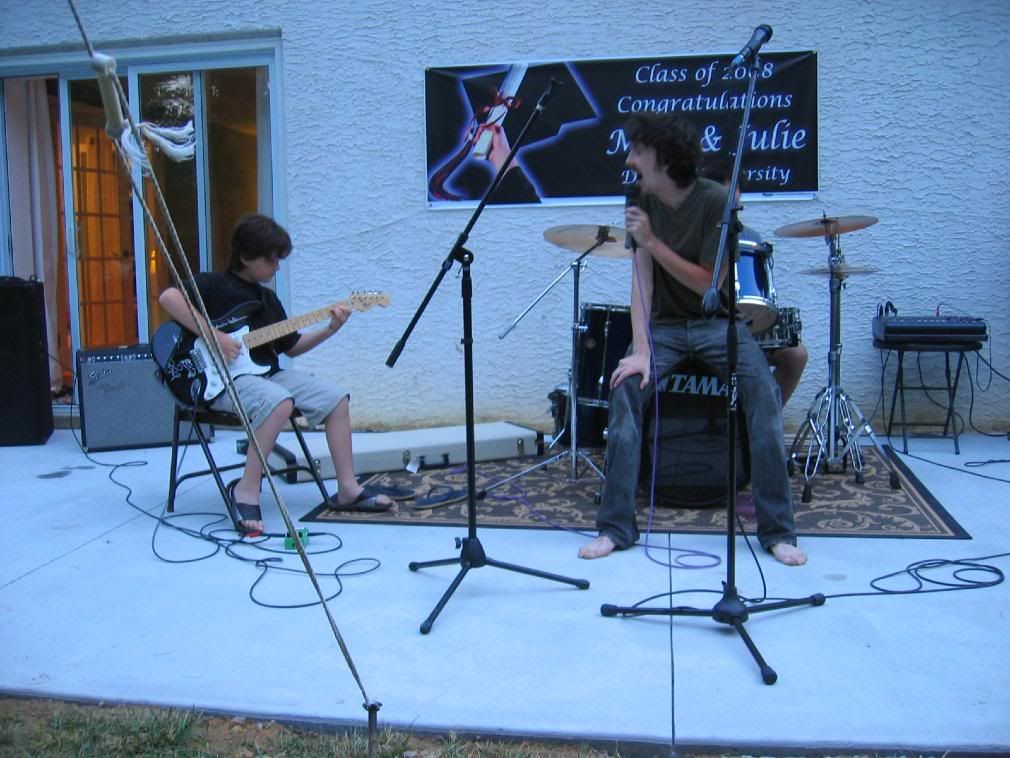 The band gets ready to play a smoking version of Stairway to Heaven which had us all grinning from ear to ear...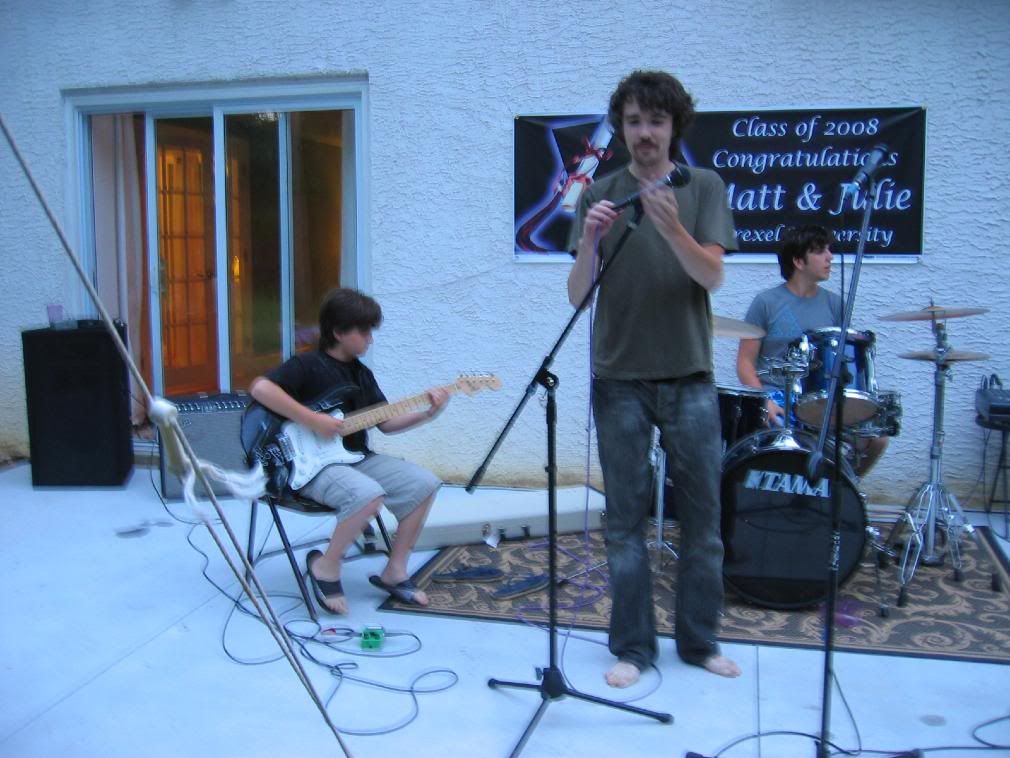 Garrett is giving his band some final instructions before playing the next song...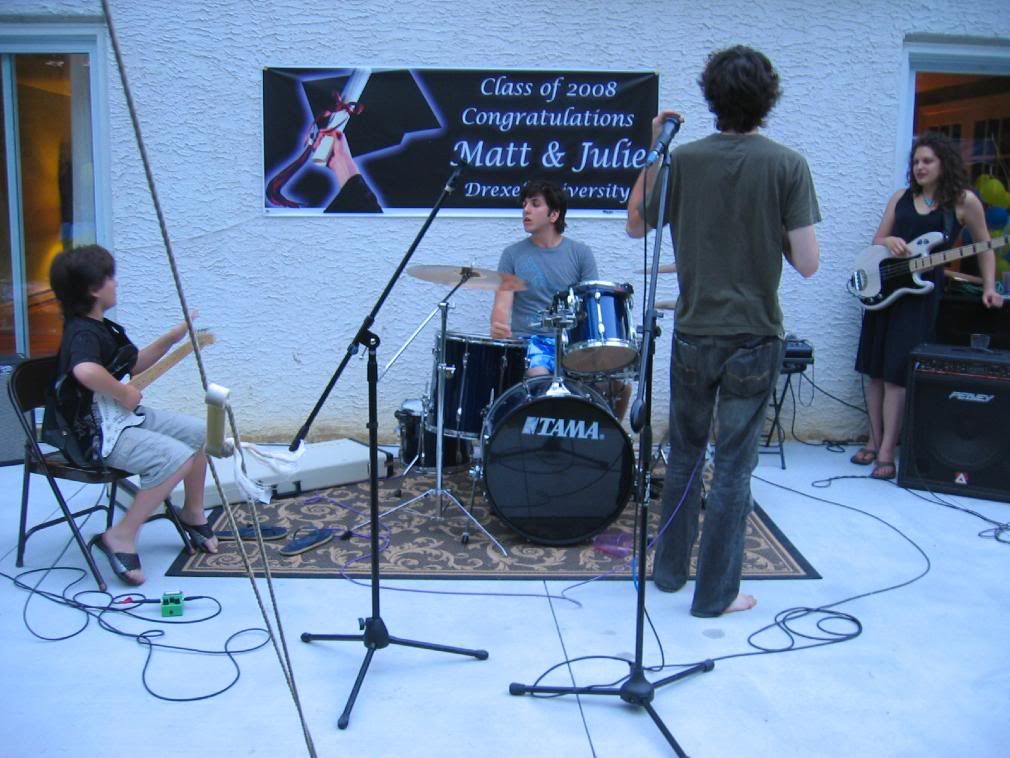 What's this? The band is launching into the Beatles "Ticket to Ride"? Who is that guy, unable to stay in his seat? Could it be...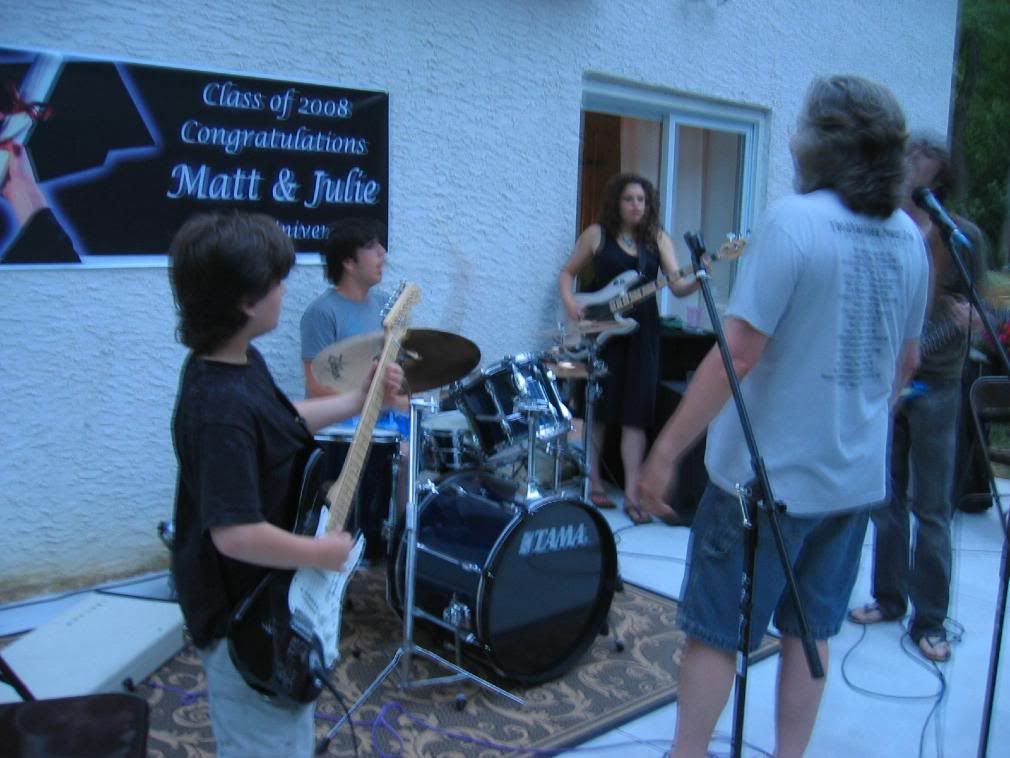 Yep, you can't deny a true musician/Beatle fan. That's Gary on vocals, belting out Ticket with Jordan...and Garrett, who had previously only played solo and never with a real band before, totally jammed out and I think both Garrett and his Uncle Gary could have stayed on stage all night...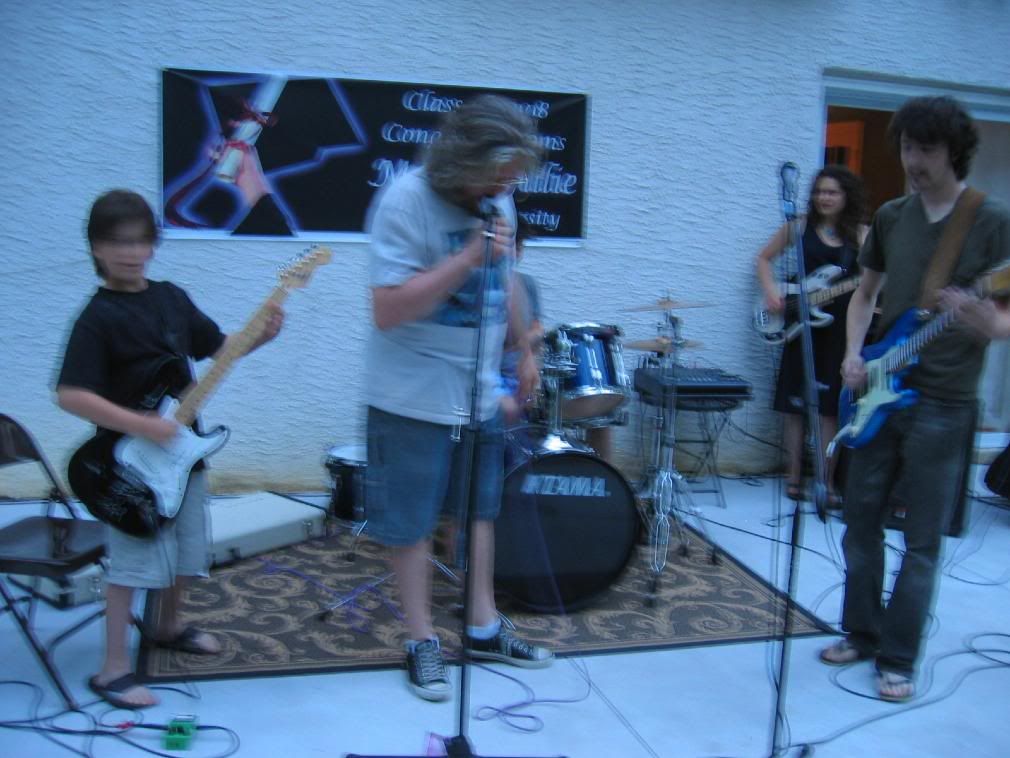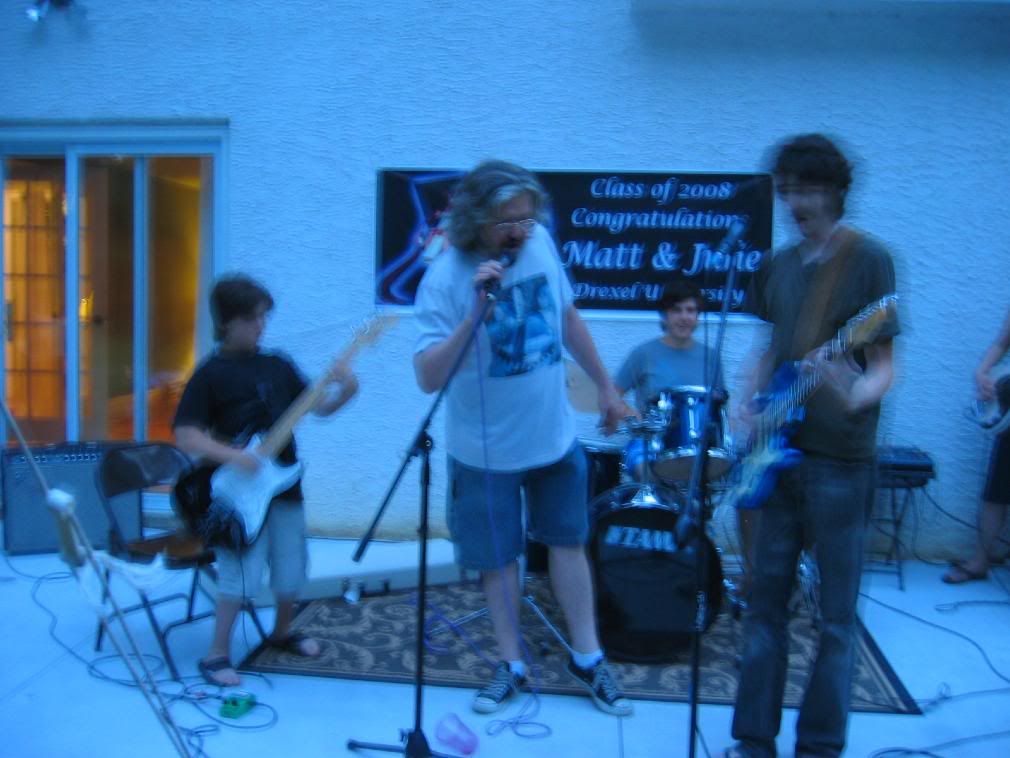 But alas by this time, it was very dark, very late, and we were very exhausted and knew we had a long drive home ahead of us. So we regretfully said goodnight and headed to our car. Sigh...they'd just lit a bonfire as we were leaving and I was ruefully regretting that I didn't visit the dessert table...don't even ask what that included...incredible beyond belief...but I was seriously too full...anyway, Gary and I unanimously agreed that yes, it was probably the most fun we'd ever had at a party and to Eva, Steve, and Frank...thank you so, so much.
And hey, congratulations to Julie Slick and Matt Rothstein - Drexel University - Class of 2008.
Later,
xo