So Julie and I have had a lot of down time together in between her summer touring schedule and whilst I wait for edits which are forthcoming on my new book. Naturally when this occurs, we do what we do best - eat. Oh and play Scrabble - and as brilliant as my daughter is, graduating college magna cum laude and all, she cannot beat me. Last night I trounced her by over 100 points, despite the fact that she tried her best to get me drunk first even though I assured her it would make absolutely no difference - I would still demolish her. We shared a lovely bottle of Torrontes but once I put a seven letter word down five minutes into the game, she cracked open another bottle of an equally lovely Zinfandel.
It didn't work. Sorry, Jules.
But first we ate. That morning, Julie and her dad went shopping at the
Clark Park Farmers Market
in West Philadelphia and then headed cross-town (sort of) to South Philadelphia where they did more damage at the
Italian Market
. Not only did Julie prepare an awesomely magnificent meal last night, more dinners of wonder and delight are scheduled for the rest of the week.
We started off with a cheese plate, which included Lagrein, Testun al Baralo, Acio DiBosco, and Boucheron goat cheeses served with raw sugar, honey and balsamic carmelized figs, spring olives, and honey hazelnut crackers. (Where did Julie learn how to roast and carmelize fresh figs? I have no idea but to taste them, drizzled with honey, is to experience nirvana)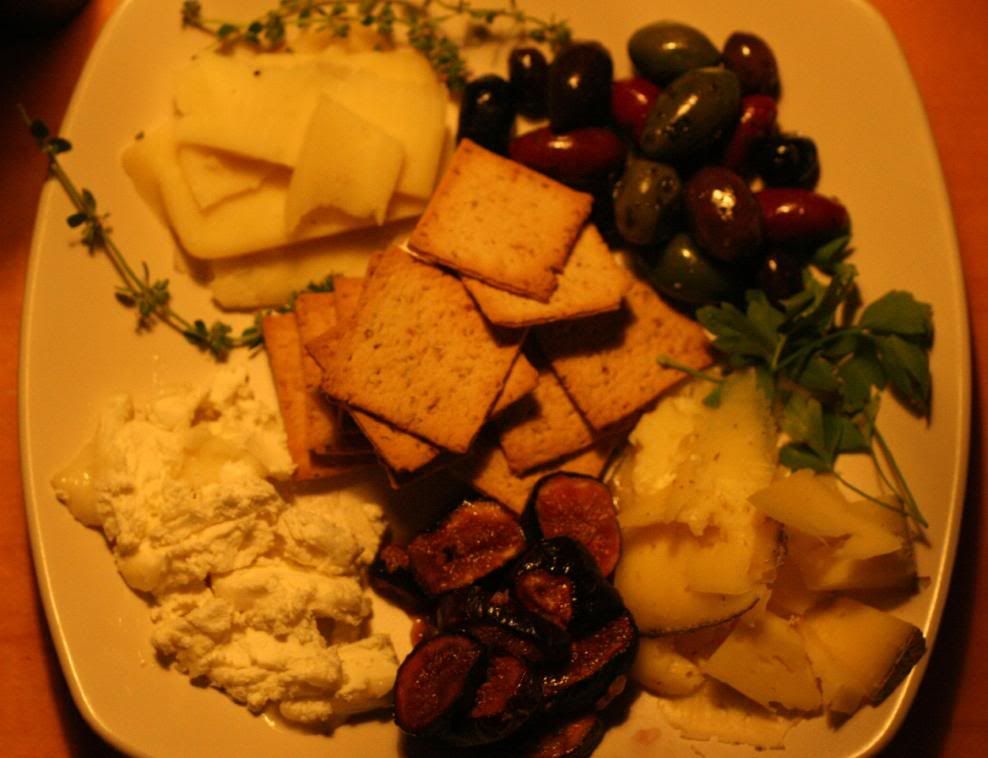 For the next course, Julie and I had grilled garlic scape, lemon thyme and cashew pesto glazed scallops, heirloom tomatoes and baby squash served with roasted garlic dijon Four Bean Salad over arugula, curly endive, and purple lettuce medley.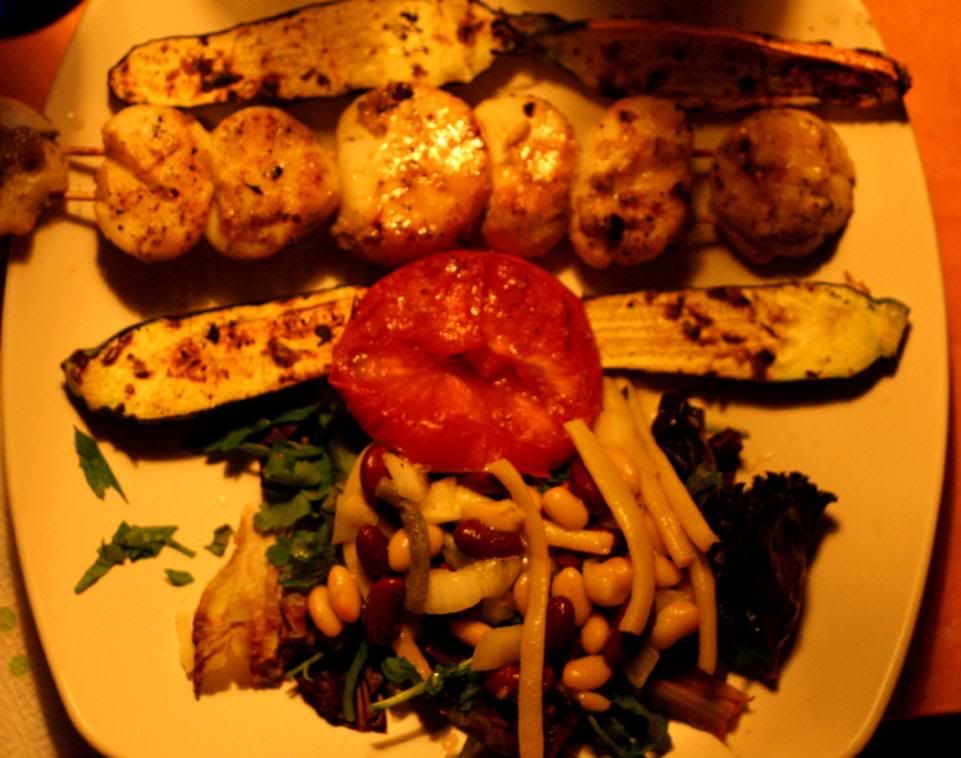 Gary, our resident carnivore who is slowly coming over to the "other side" and acknowledged that when he does eat beef, it will be organic from now on, had grass fed Porterhouse Steak briefly marinated with kosher salt, fresh cracked pepper and teriyaki sauce served with sauteed chorizo garlic scape reduction. (Julie wrote the descriptions here and I think the word "briefly" is included to let you know that you are not supposed to over-marinate grass fed beef. I also never heard of "garlic scape" before, either, but I looked it up on Google this morning...I'll put a photo and a definition under the pic of Gary's steak)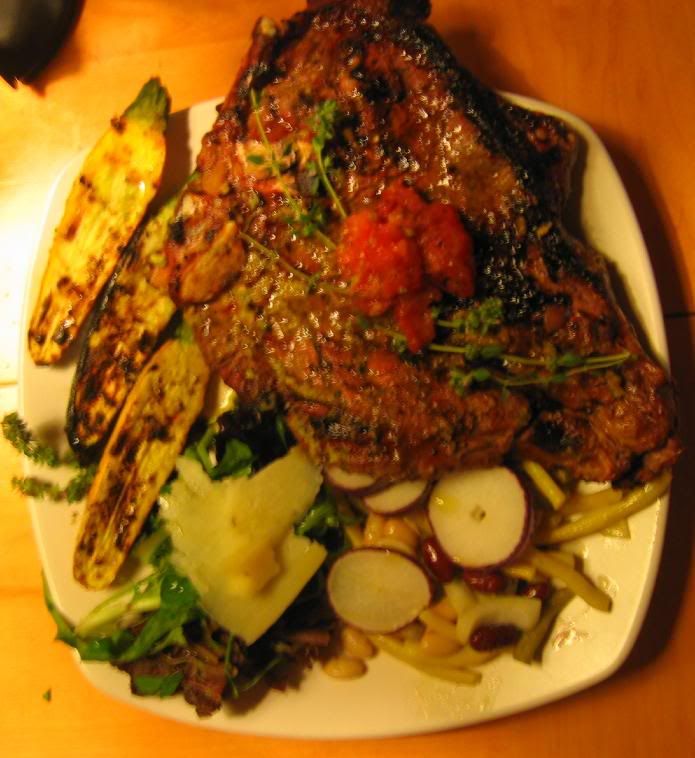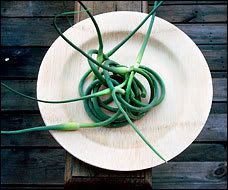 "Garlic and its relatives in the allium family, (leeks, chives, onions) grows underground, where the bulb begins its journey, soft and onion-like. As the bulb gets harder (and more like the garlic we know), a shoot pokes its way through the ground. Chlorophyll- green like a scallion (maybe even greener), the shoot is long and thin and pliable enough to curl into gorgeous tendrils.

This stage of growth is the garlic scape, folks. If left unattended, the scape will harden and transform from green to the familiar opaque white/beige color of garlic peel. Keeping the shoot attached will also curtail further growth of the bulb. So, in an effort to allow the garlic to keep growing, the farmer is getting a two-fer with this edible delectable that cooks are just beginning to discover."
Well, Julie apparently knew all about them and went into rapture when she saw them at the farmers market.
It was a totally unbelievable meal, but Julie wasn't finished with us yet. For dessert she prepared an almond scented mascarpone cream with strawberries and bing/rainier cherry melange.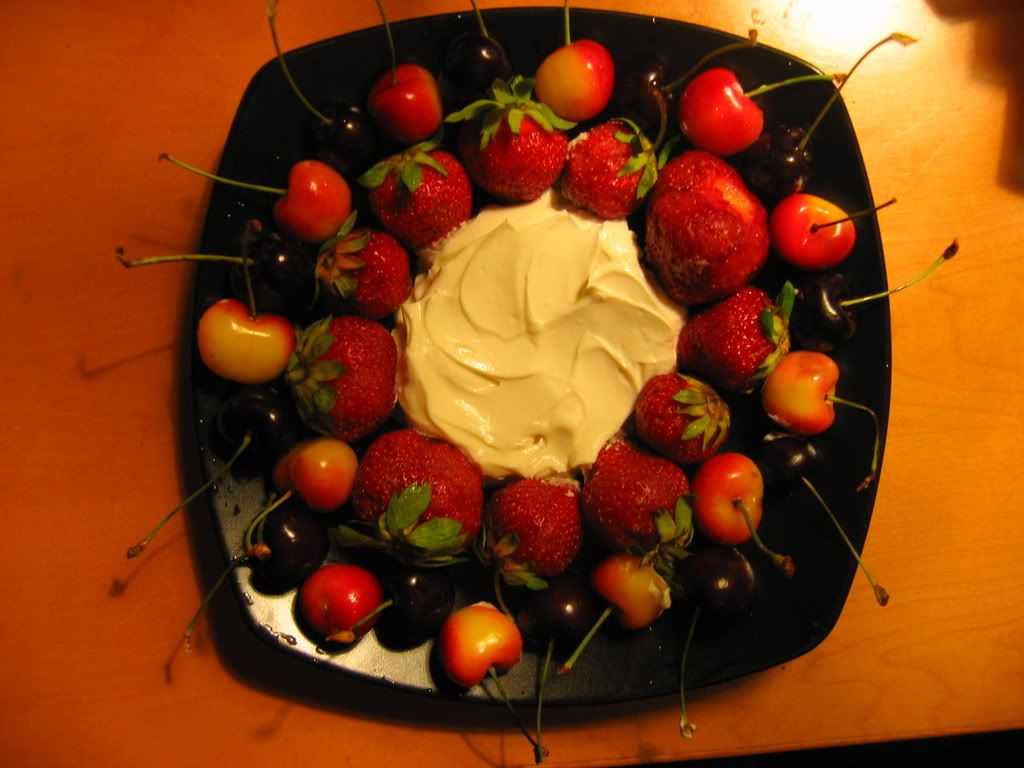 Do I believe we eat like this? She woke up at dawn this morning, even though she's busy all day today, to brine a whole free range chicken with specific instructions that we are to roast it with fresh oranges and rosemary atop baby new potatoes and onions.
You don't even want to know what she is planning for Thursday evening, which is going to be a bon voyage meal for the three of us - Julie, Eric and I are all headed for Canada at 5:00 a.m. Friday morning for the July leg of the summer Adrian Belew Power Trio tour, which means that Matt and Katy and Gary, our significant others, will be treated to one final spectacular meal before we leave them to their own devices for ten days.
On Friday, Julie and I had to run some errands and what a better excuse for trying out a new...well, new to us...it's been around a year of two already...restaurant. After much deliberation - because there is literally a brand new place opening every day in downtown Philly, we settled on
Raw Sushi and Sake Lounge
. No Bento boxes for us, we split three rolls, which amounted to twenty-four pieces of sushi. By far the best was a house specialty, the Binny Roll, which is a shrimp tempura and avocado roll topped with really fresh, succulent tuna garnished with eel and spicy sauce. Also most excellent were our spicy tuna and scallop rolls, but oh man, that Binny roll...next time I might not share and just get that one for myself.
Raw is conveniently located a few steps away from our favorite Italian Gelateria,
Capogiro
. We split a small, which features two flavors, and oh my god, try and pick out two when the choices include Bacio (chocolate and hazelnut), Baked Pineapple, Bananas Foster, Bourbon Butterscotch, Burnt Sugar, Cetriolo with Grey Goose Vodka (cucumber with vodka), Cherimoya (custard apple), Cherry Blossom, Chocolate Peanut Butter, Cilantro Lime, Cioccolato Mexicano (Mexican chocolate), Cioccolato Scuro (bittersweet chocolate), Cocomero Giallo (yellow watermelon)...oh God, I can't even type them all here, but we chose fresh strawberry and mascarpone - it was like eating the world's best and richest cheesecake without the crust. And yes, it's true, we are mascarpone addicts.
So I'm pretty happy with simple roast chicken tonight...and luckily we've also been doing a lot of walking in some intense Philadelphia heat so I've actually lost instead of gained weight over the past few days.
I guess that's it for now - I've got a bunch of stuff brewing as usual but I've finally learned not to blab about things until, um, it's a done deal, you know?
Enjoy the rest of your weekend...I'll be back with any breaking news.
Later,
xo