So there is nothing better than bringing me out of an
Adrian Belew Power Trio
post-tour depression than an email from the Belews with a whole new fresh and tasty list of upcoming shows in May, June and July! Yeah! I cannot officially announce them yet, but I understand two are already up on
Pollstar
and others are already posted on the venue pages themselves. If you do go to Pollstar, just a heads up that the Milford Music Festival date listed for June 7 is no longer accurate as the fest itself has been canceled this year.
And it appears that there is a return to one venue with a legendary Trio of Terror tale behind it. I think it's a pretty safe bet Julie will be recreating certain events...
Speaking of Julie, Gary took this photo on Sunday - she needed a pic for Bass Player Magazine -- but they ended up using another so since I love it and didn't want it to go to waste...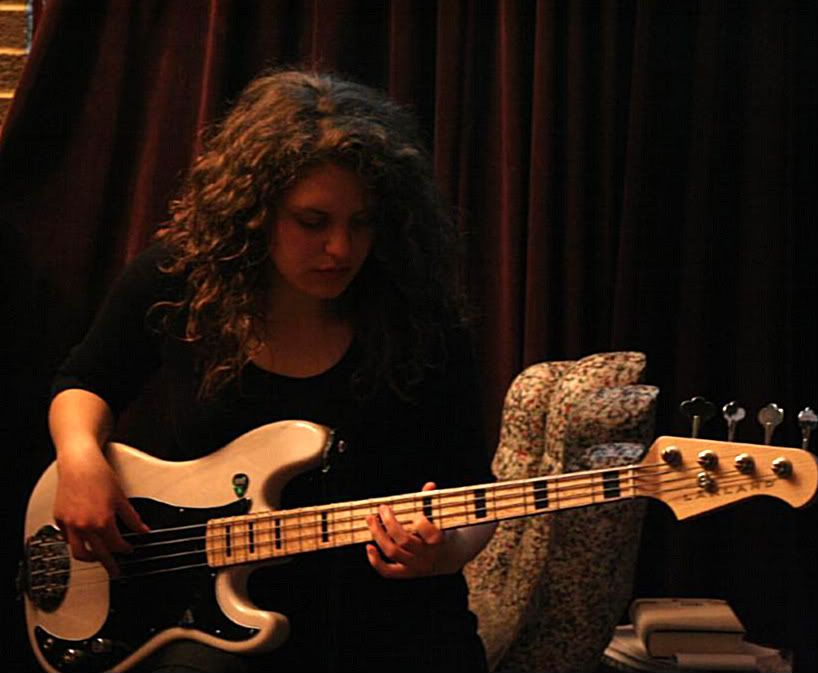 Ugly, isn't she? Yeah, so all is great in her life - an interview in the June issue (I think) of
Bass Player Magazine
, touring most of the summer and beyond with INSANE countries being mentioned, and finally, her college degree. I am not sure of her exact final grade point average but she either graduated magna cum laude or summa cum laude - it's that close and that good.
In Eric Slick world, he's got a ton of gigs coming up with
Delicious
and a few with
Crescent Moon
...in fact, on what appears to be Eric Slick drumming marathon nights, Crescent Moon will be opening a few of the Delicious shows.
But tomorrow evening, Crescent Moon will open for
Queen Diamond
at the
Black Lodge
:
Should be an awesome night. Queen Diamond is made up of some of the finest women musicians, both past and present Rock School All-Stars.
Here's a
review
which popped up regarding the Adrian Belew Power Trio performance in Harrisburg:
"...
Years ago, a friend and I were discussing the concept of Power Trios. At the time, Rush was the only band which we felt embodied this concept. This was long before I listened to Primus or any other trios that I would consider in this light. Friday night, the wife and I went to see the Adrian Belew Power Trio. Let me tell you, the name fits! Even though I have listened to Side Four many times over (mine's autographed :P ) and heard a couple of bootlegs of last year's tour, hearing it all again live with almost the exact same set-list (the only change being the addition of a new song: "E") was a joy to behold. I highly recommend one pick up the CD at Adrian's website. For that matter, you should pick up all the Sides: Side One, Side Two, Side Three, and Side Four. One and Three feature Les Claypool on bass and Danny Carey on drums, Two is all Belew (and my favorite of the Sides), and Four is a Live show with the Power Trio. You can't go wrong with any of them.

On to the show! As I said, my wife went with me. This was more from guilt than anything else, I think, as she said she felt bad for not joining me for RF and the LOCG. I had no problem with that as I knew that music wasn't her cup of tea and while hoping she would enjoy the ABPT show, I was still a bit weary that she might not. My fears were unfounded and she had a great time. So much so, that she asked when they would be returning to our area while on the way home. Yay! Score one for Ade and the Slick kids.

We were third row center for this awesome event. Notice in this first pic (sorry for the crappy cell phone pic) that there are only 2 heads between me and the stage. My ass didn't like it (we were in temporary chairs as opposed to the cushy theater seats) and it let me know, but the rest of me was very happy with our location.

The show opened with the California Guitar Trio. I was excited to hear them and didn't even know they were going to be there until the day before the show. They were awesome and their cover of Echoes by Pink Floyd was spot on. As soon as I heard the first "ping" I thought "Are they going to play Echoes?" Seconds later I knew for sure and enjoyed every second of it for PF was my first love in music. While not 22 minutes long like the original, they still nailed the seagulls in the middle and just sounded awesome. They also did a nice cover of Tubular Bells and towards the end of the song, their soundman jumped onstage to accompany on a melodica. Very cool. The wife wasn't as impressed with these guys as she was with ADPT, but as I said, that's not really her cup of tea.

Soon after the CGT left the stage, the ABPT came on. No introduction, no pomp and circumstance, just the three of them walking on with Adrian bouncing into his "guitar center" taking a quick bow and then jumping right into "Writing on the Wall." This was followed by "Dinosaur" which had a wee comedic moment during the dinosaur sounds: Adrian looks over at Eric (Slick on drums) and says "a baby dinosaur" and then proceeds to make a wee dinosaur sound. They laughed, we laughed, and then they were back in the groove. At one point during the show, I looked over at my wife and said "She's phenomenal!" in reference to Julie (Slick on bass). My wife agreed whole-heartedly. This made me feel good as it was then that I knew she really was enjoying herself and could appreciate the level of musicianship that was involved here.

The other thing I'd like to point out was the level of happiness on stage. It was so refreshing to see a band on stage having the time of their lives doing what they loved to do. All three smiled at one time or another, Adrian being guilty of this on multiple accounts. At one point during a few of his jams, he would be sitting on his stool doing incredible things on his Parker Fly, and he would suddenly look up at the audience and smile a smile that would belie the fact that he was "at work." Simple grins that said "I'm having a blast doing this, I hope you are, too, and by the way, listen to these funny sounds." It was almost a 4 piece when you consider how much a role Humor played. I can't wait to see them again and hope I'm able to.

My only complaint: the ass who sat in the row behind us and was constantly yelling "Woooo" at full volume. During Beat Box Guitar, he must of yelled at least 15 times. It got annoying very fast and at one point it looked as though Adrian was getting tired of it. About halfway through the show I looked over at the ass and he was telling his friend something to the effect of "I don't care if people don't like it, I'm having fun so fuck 'em." One other offense: speaking loudly during the CGT set. Obviously not one who was familiar with the KC style of listening. When you're at a show where everyone is acting like that, I can understand people doing it. However, at this event, everyone stayed in their seats and gave their full attention to the people on stage. Except for this guy. The only sour note on an otherwise wonderful night.

Well played, Ade, et al."
Yeah, I'll say.
Here's some more shots Gary took at the final show in Vienna: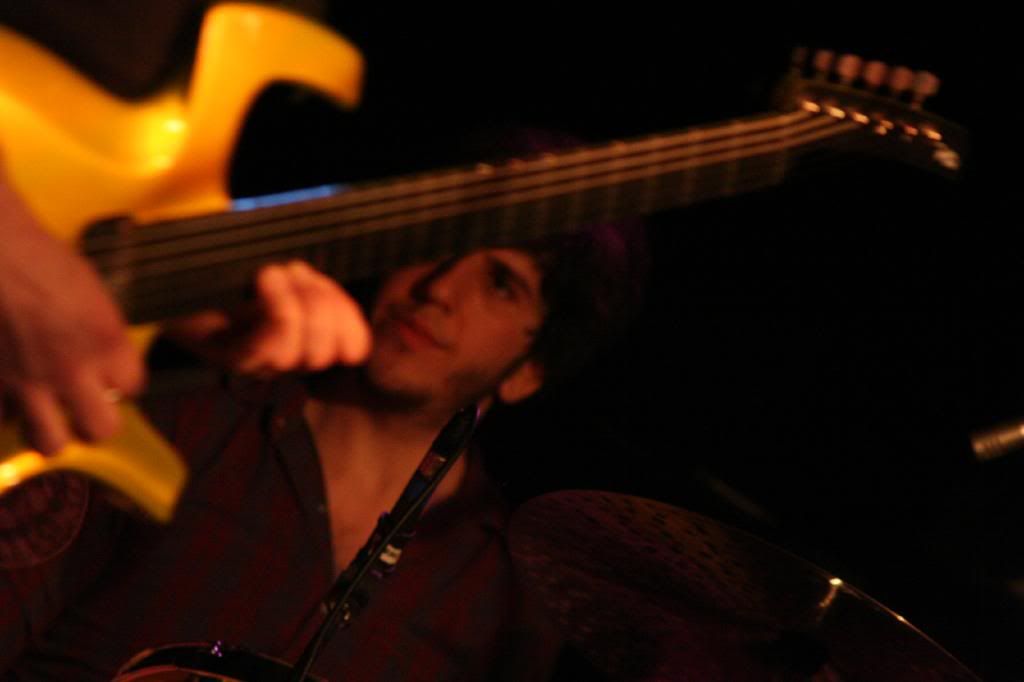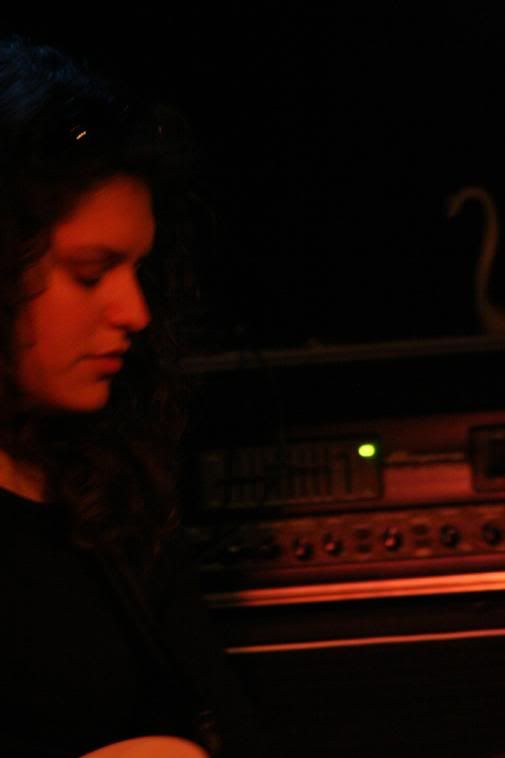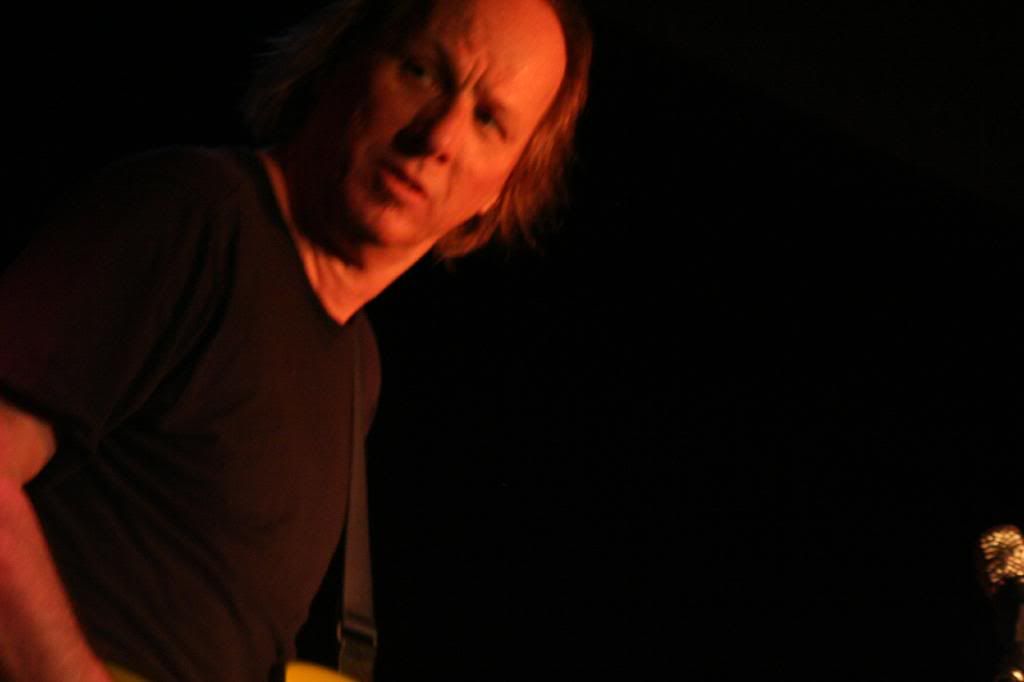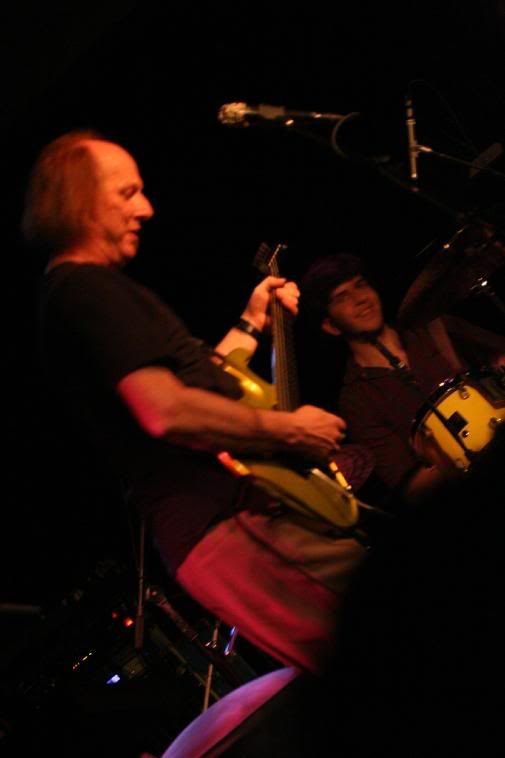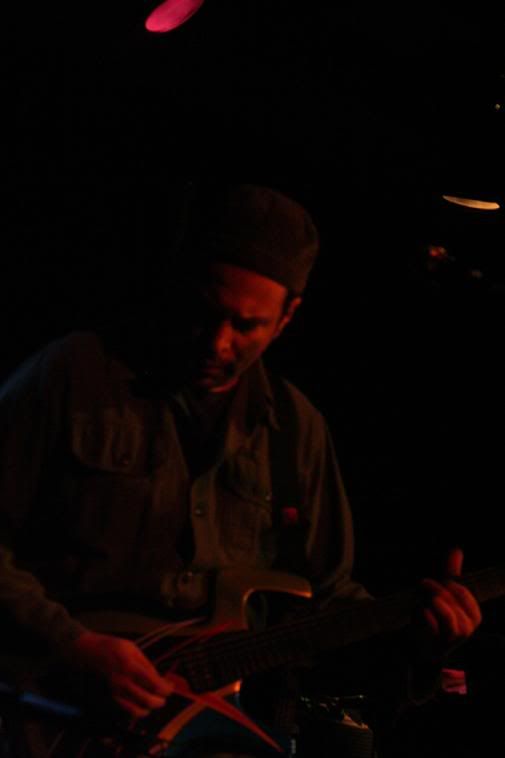 And here's some backstage shots taken by Ms. Julie Slick - there's the tour's opener,
Saul Zonana,
also pictured above, with Gary and Andre Cholmondeley and another photo of Eric who, what else, either practices or listens to music before the shows: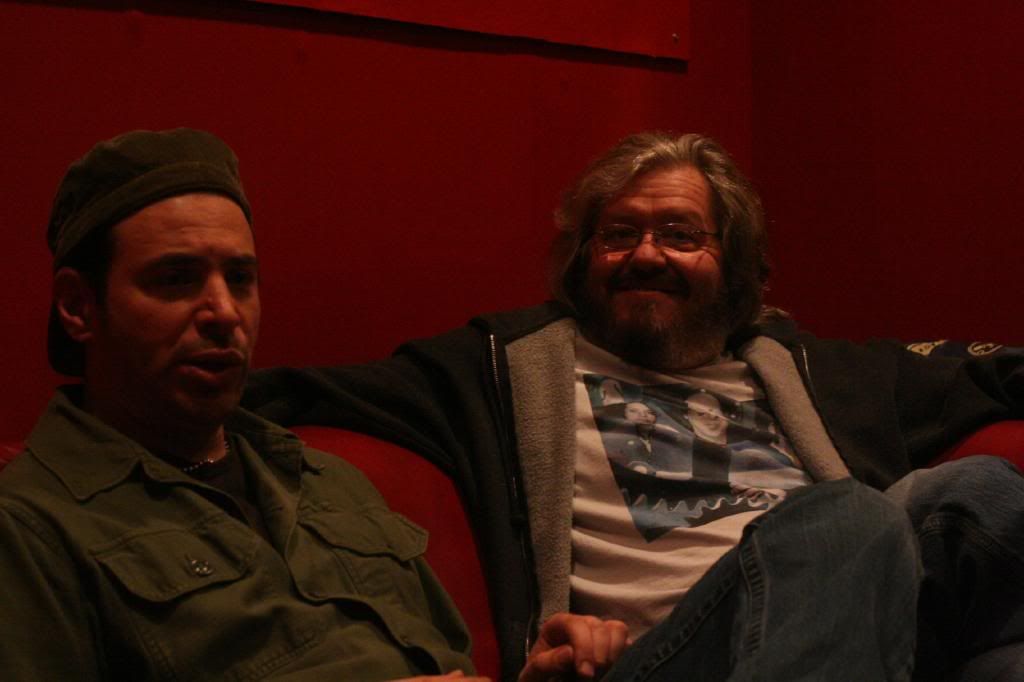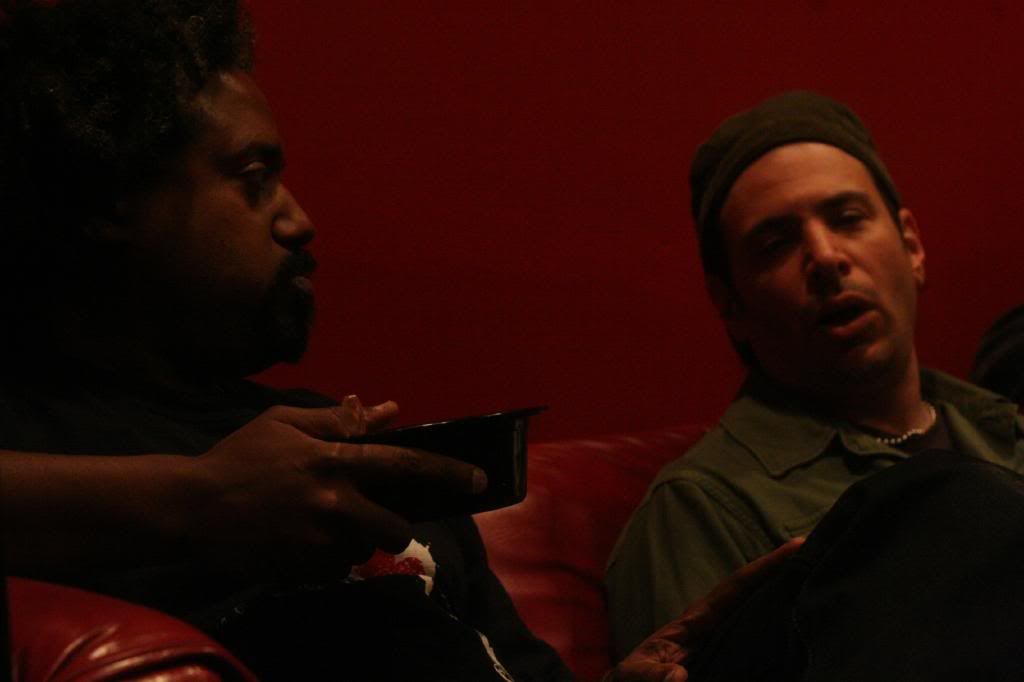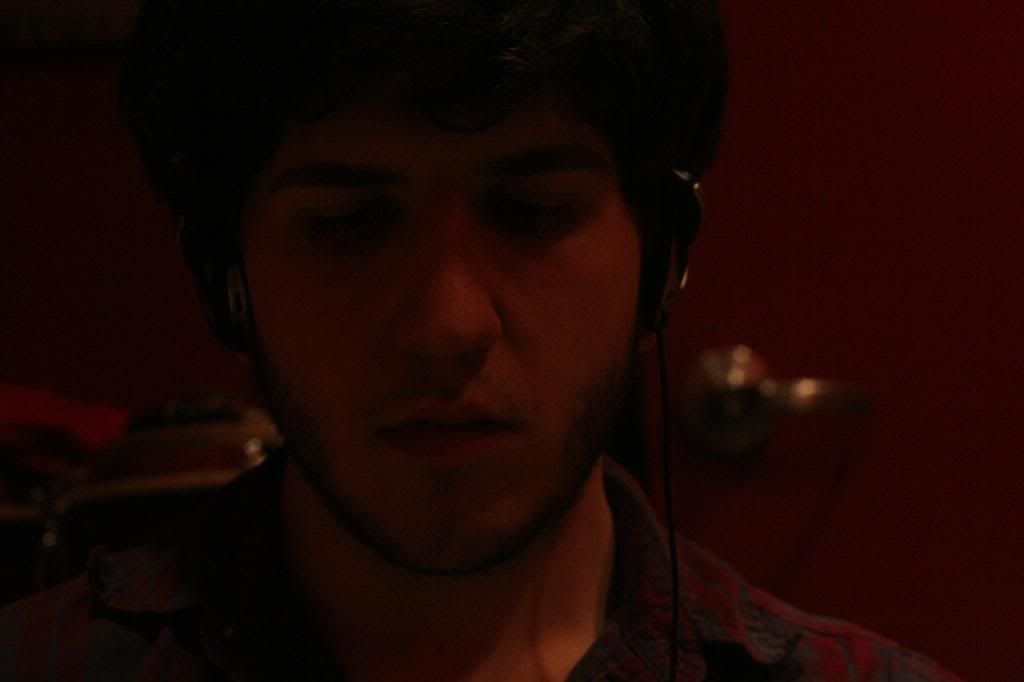 Anyway, I guess that's a wrap for now - I have writing news - I'm doing a reading in New York City on April 14 with a group of freaking literati royalty and I'm scared to death but what's new about that -- I am still deciding what to read, i.e., two new short stories, a non-fiction essay I'm currently working on, or a chapter from one of my books; an interview I did on a radio show will be broadcast April 22...all kinds of stuff, really, but I'll discuss it all later in a future, separate post.
Right now I need to finish final edits on
39 and Still Holding Him
or my publisher will have my head!
Later,
xo