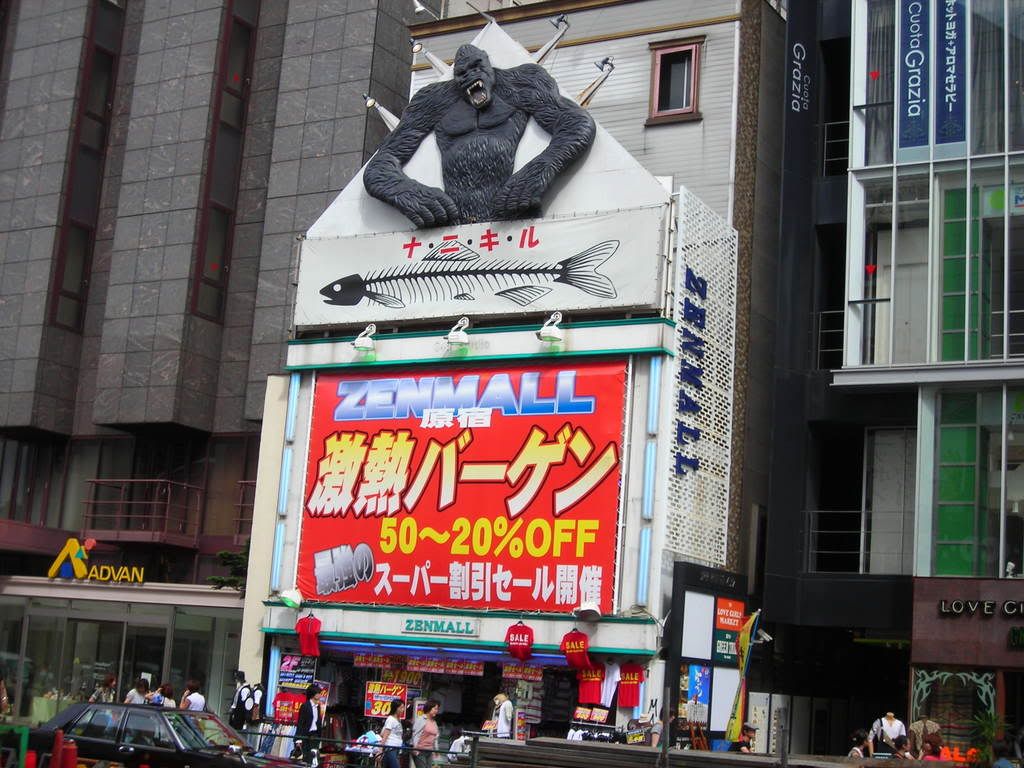 The
Adrian Belew Trio
doesn't know this, but I followed them to Japan after all and I'm watching them from above that fish the entire time they did the tourist thing. (Photo taken by Julie Slick, July, 2007 in Tokyo)
Okay, while said trio is on hiatus for two weeks, I decided to take the opportunity for some shameless self-promotion.
But first let me tell you that Eric is about to get on a plane for Germany where he will be until Monday night, touring with
Project Object
at
Zappanale
. Yeah, yeah, I miss him already.
But other than that, I'm pretty happy right now. My new novel is a semi-finalist in the contest over at Simon Schuster; a senior editor at another publishing house who requested the manuscript before the contest is reading it, a dream agent wrote to me yesterday asking for an exclusive, but call me crazy, my biggest thrill this week is that I am one of three writers selected for
Tuesday Shorts
. (ETA - link was incorrect when I posted this morning, I fixed it today at 9:30 a.m.)
As an exercise, I wrote a 99 word micro fiction piece over the weekend and really enjoyed myself so I subbed it to them and I must admit, when I saw said story up on their site, knowing that they were getting dozens of submissions from talented writers at Zoetrope Studios, I felt pretty damn great. Especially as the editors are brilliant writers whose work I have long admired from afar -
Shelly Rae Rich
and
Kristen Tsetsi
. If you are so inclined, please leave a comment under each of the three stories - we poor writers need our egos stroked probably more than most.
Or maybe that's just me.
In other writing news, I also have the incredible pleasure of being
side by side with Patti Smith
-- okay, okay, it's because of the alphabet -- Slick, Smith, on writer Dee Rimbaud's
website
. Dee has created an amazing space full of incredible resources for authors, and I strongly urge you to click on the link and snoop around a bit.
But first check out my pic next to Patti Smith's. I still can't get over that.
Patti
, any time you want to hang out in the real world, I'm available. In fact, one of Eric's friends is a friend of your daughter and slept over your house so I even have references.
Since I'm indulging myself, how can I not post Neil Gaiman getting a kiss? And not just any kiss, mind you. Here. Watch for yourself. But first, let me tell you my latest brush with Himself. I read in his journal that
Cat Mihos
, who "tours with different bands for a living, doing production/dressing room/looking after the crew" left the
Tool
tour to help Neil out at Comicon and the Stardust premier.
"Hey, Eric," I said to my son. "I just read on Neil Gaiman's journal that Cat Mihos..."
"Cat Mihos! I know her! I had lunch with her and Tool backstage at
Bonnaroo
. She's the one who introduced me to
Danny Carey
."
"Oh my god, I was just going to say Oh look, Eric, Tool and Neil Gaiman share the same assistant -- I had no freaking idea you knew her or that you had lunch with her and..."
"Mom, I told you that. I even told you what I said to Danny Carey. I introduced myself to him as Adrian's drummer and told him I had to learn all of his parts!"
(As most of you already know, Danny Carey played drums on two of Adrian's solo albums, Side 1 and Side 3, songs from which the Adrian Belew Power Trio perform in concert and naturally will be on Side Four Live with Eric behind the skins and Julie taking over for
Les Claypool
on bass.)
So yeah, my son had lunch with Neil's assistant. Wait, excuse me, his west coast assistant. Sigh...
What's that again about
six degrees of separation
?
Oh, and
Susan
, if you are back from Paris and reading this, I am begging you. Please send me the Neil on the sofa with sushi pillows picture. I lost it in the hard drive crash. I don't know if I can go on without it.
In the meantime I will settle for this:
Later,
xo