Eric Slick with Project Object, Mexicali Blues, Teaneck, NJ 12-29-06
Merry Goo Year courtesy of John Lennon, The Beatles Christmas Album, 1964
So all is slow in blogland on Christmas week - I think most people are on holiday physically or mentally. I've been holding out talking about Friday night's Project Object show at Mexicali Blues to see if any other people wrote about it and I could post their reviews as well but I've been coming up empty so the hell with it, I'll go first.
But before I do, if you live anywhere near Northampton, MA, the band is playing a gig there tonight at the
Pearl Street
and if it's just half as good as the show I saw Friday night, you are really in for a treat.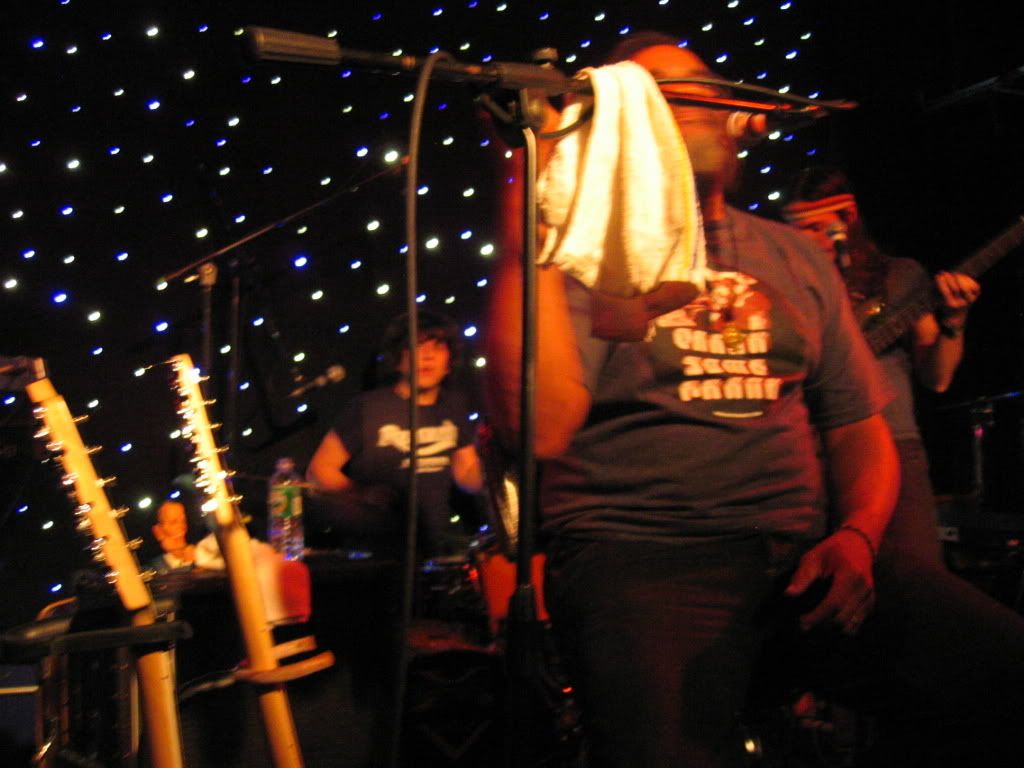 So there's a shot of Eric, Ike Willis, and bassist Dave Johnsen
Yeah, Mexicali Blues was AMAZING. But before I talk about the music, I must do the food. I've been all over America and Europe and that was hands down the best bar/music venue food I've ever had. Here's their
menu
. I had the Mexican spring roll and the mussel chowder, which I think had saffron...it was so fucking good I never wanted it to end.
But enough about my serious food addiction, let's talk music. Crescent Moon was the opener and they were punk and fun and sounded like a hell of a lot more than just bass and drums. I spoke to bassist Dave Dreiwitz before he took the stage and he was hoping the crowd of Zappa freaks there to see Project Object would be open to their music and I don't think he had anything to worry about - people really, really dug them and I think if he had CDs of that night's gig for sale after the show, he'd have sold out.
Unfortunately, we were busy stuffing our faces with the aforesaid food while they were playing so I didn't get any shots of Crescent Moon, damn it, but here's one Gary took when he saw them play at the very same venue a few months ago: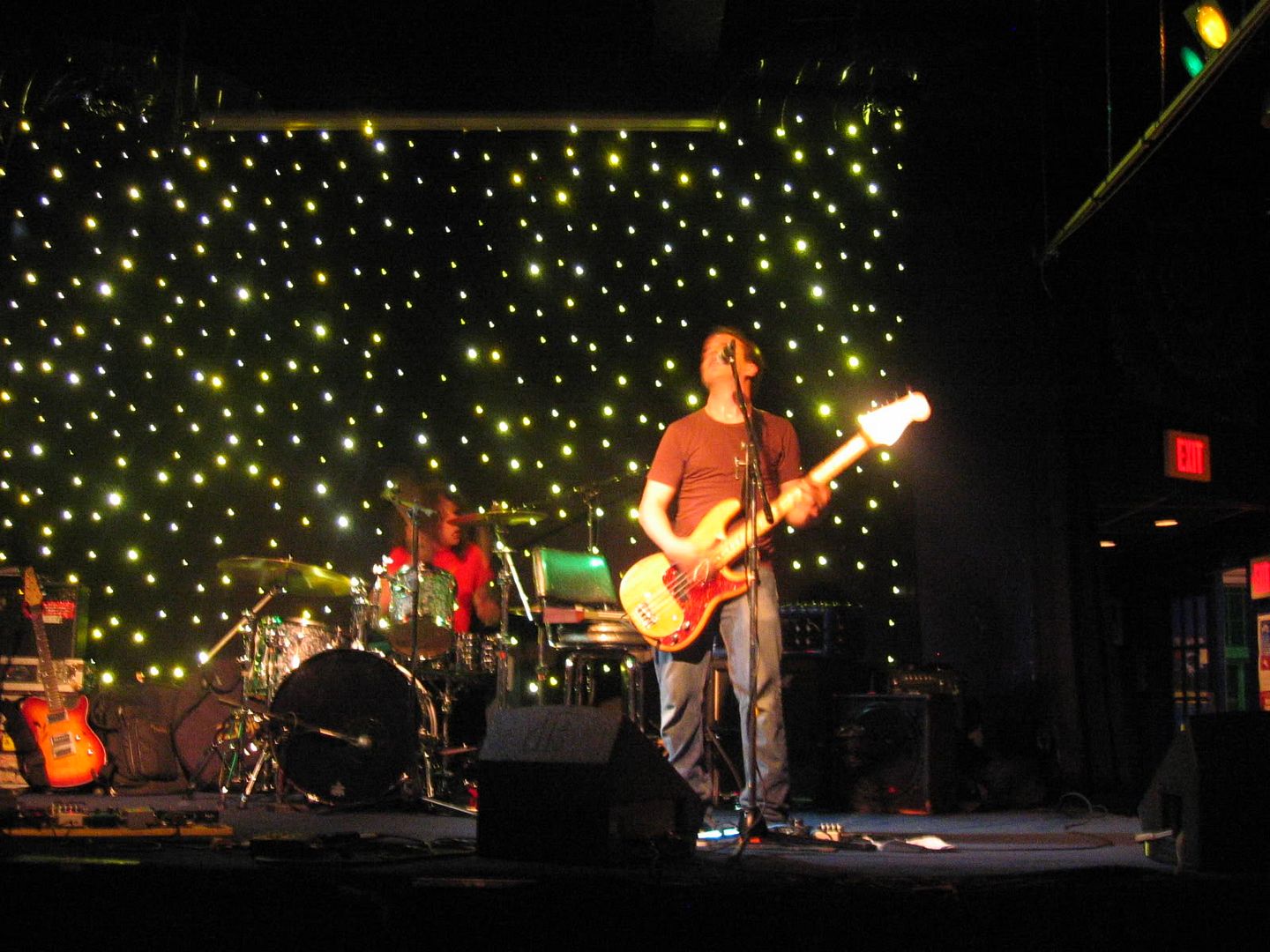 Anyway, so then Project Object took the stage, and from the first song in, they were amazing.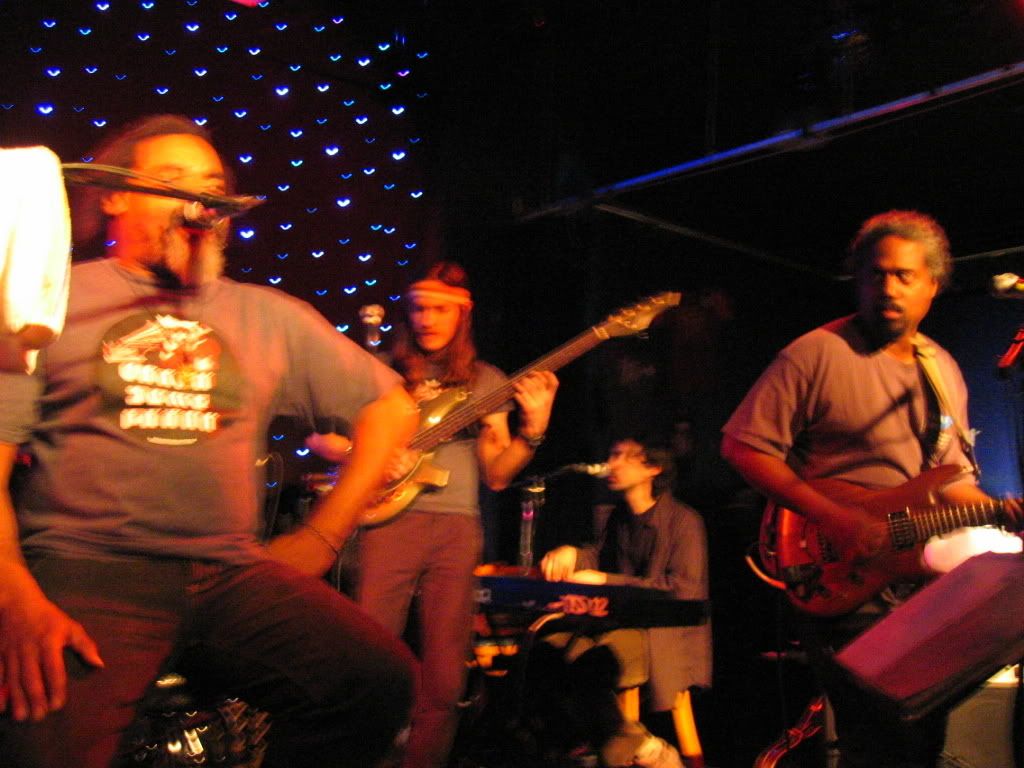 Here's the set list:
Honey, Don't You Want A Man Like Me?
She Painted Up Her Face - Half A Dozen Provocative Squats - Shove It Right In
Montana
T'Mershi Duween - The Dog Breath Variations - Uncle Meat
Uncle Remus
Ms. Pinky
What's New in Baltimore?
Keep It Greasey
Outside Now
I Have Been in You
Flakes
Broken Hearts Are for Assholes
I'm So Cute
Inca Roads
Sy Borg
Baby Snakes
Echidna's Arf (Of You) - Don't You Ever Wash That Thing?
It was hard to believe it was only their second show of the tour; hard to believe that they didn't even get to have that many rehearsals because all of their musicians are working/touring with other bands simultaneously; but oh man did they rock.
The set list is about 50-60% different from the spring tour and yeah, yeah, as Eric's mother, I loved the additions -- particularly the drum solos and all his vocals. Eric is pretty active singing and hamming it up with these guys and it's really cool and interesting for me to see how he individually approaches his stagemanship with the various bands he's in. With Project Object, he's like class clown and it's great! With Chris Harford, he's laid back steady beat drummer, and with Adrian...well, he's more...hmmm...reflective while insanely rocking out at the same time...I can't think of a better phrase and Eric will probably read this and want to shoot me for the entire paragraph so Er, let me apologize now in advance.
Here's a pic of guitar great Robbie "Seahag" Mangano (by the way, these photos are courtesy of Gary)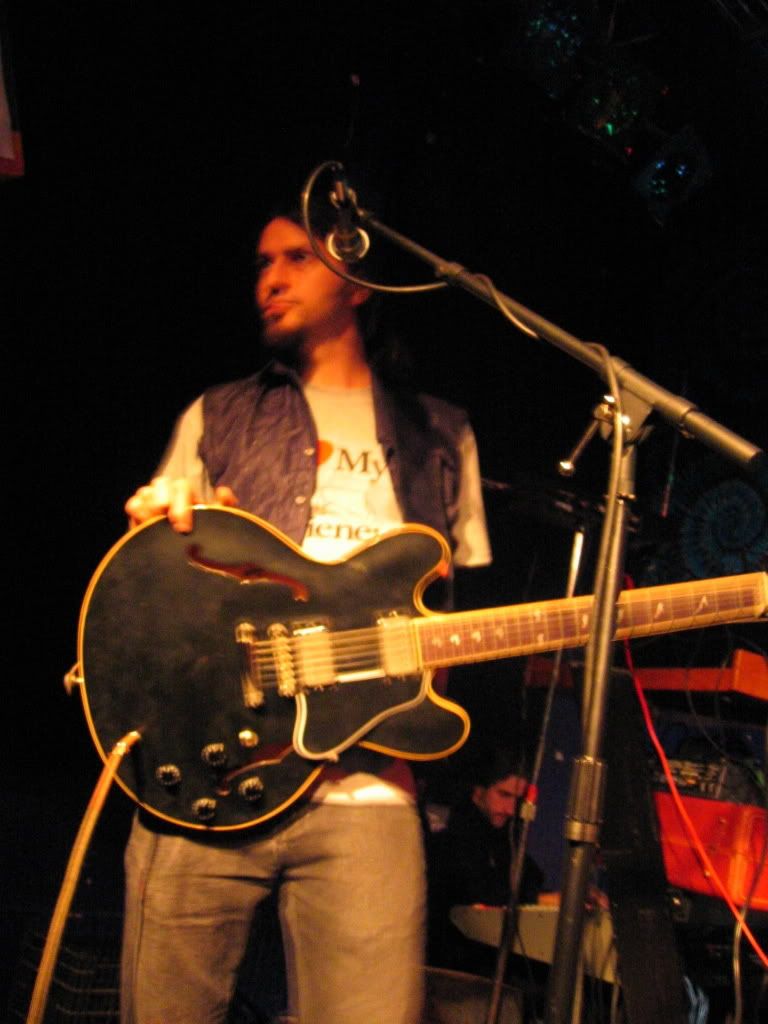 And here's keyboardist Erik Svalgard: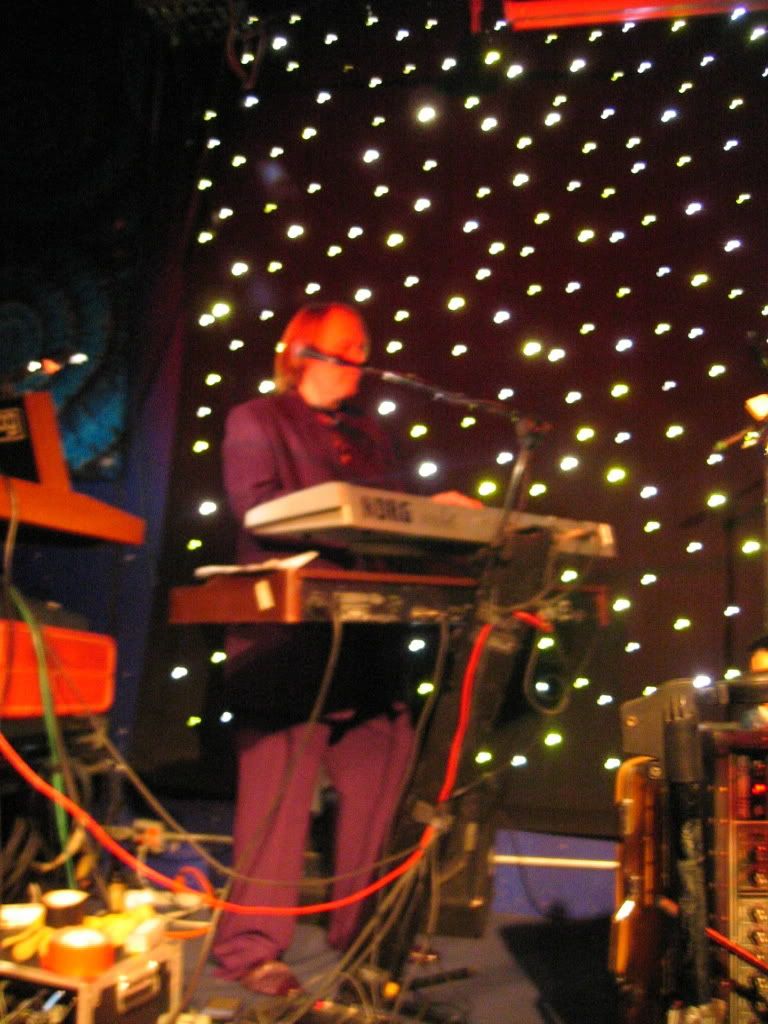 Anyway, like I said, I couldn't find anything in the way of reviews yet but I did see this on the
Ween Forum Board
"
Show was great tonight...Dave Dreiwitz' band Crescent Moon opened and they were pretty dang good too..


The kid on drums for both acts is a monster!!! Fantastic guitar playing all through the night...."
*****
"Reply
Re: Lastnight's Project/Object show, Bit Torrent

Quote: The kid on drums for both acts is a monster!!!


Holy Shit..I'll second that.Eric Slick I believe. 19 years old and unfuckinbelievable..found my self at times tuning everyone else out and zoning in on him..it's like he's one with his kit..amazing..add a lil Seahag and Soulboner to the mix and it was on! Those dinner tables in the middle of the dance floor gotta go..."
******
Reply
"i saw the Adrian Belew trio a few months ago, it was Belew, Eric Slick, and Eric Slicks sister on bass."
*****
"Soulboners gf was telling me about that trio and how awesome it was. She said his sis is just as much of a virtuoso as him."
******
Yeah, yeah, I know I'm a broken record with these forum board quotes I find but I can't help it, they make me smile from ear to ear. Damn I wish I could be at the show tonight. Gary is going to the Eagles game at 4:00; Julie is working, so I get to spend New Years Eve pretty much alone until later tonight and I can't say I'm unhappy about that at all. I never liked going out on New Years -- I hate crowds of people and banquet style food and ugh, kissing strangers at midnight. But worst of all, I hate New Years resolutions.
Err..anyone got any? Feel free to post. Or, feel free to post that you hate them, too.
If I find any reviews or anything else of note happens between now and midnight, I will be back. If not, Merry Goo Year!
Later,
xo