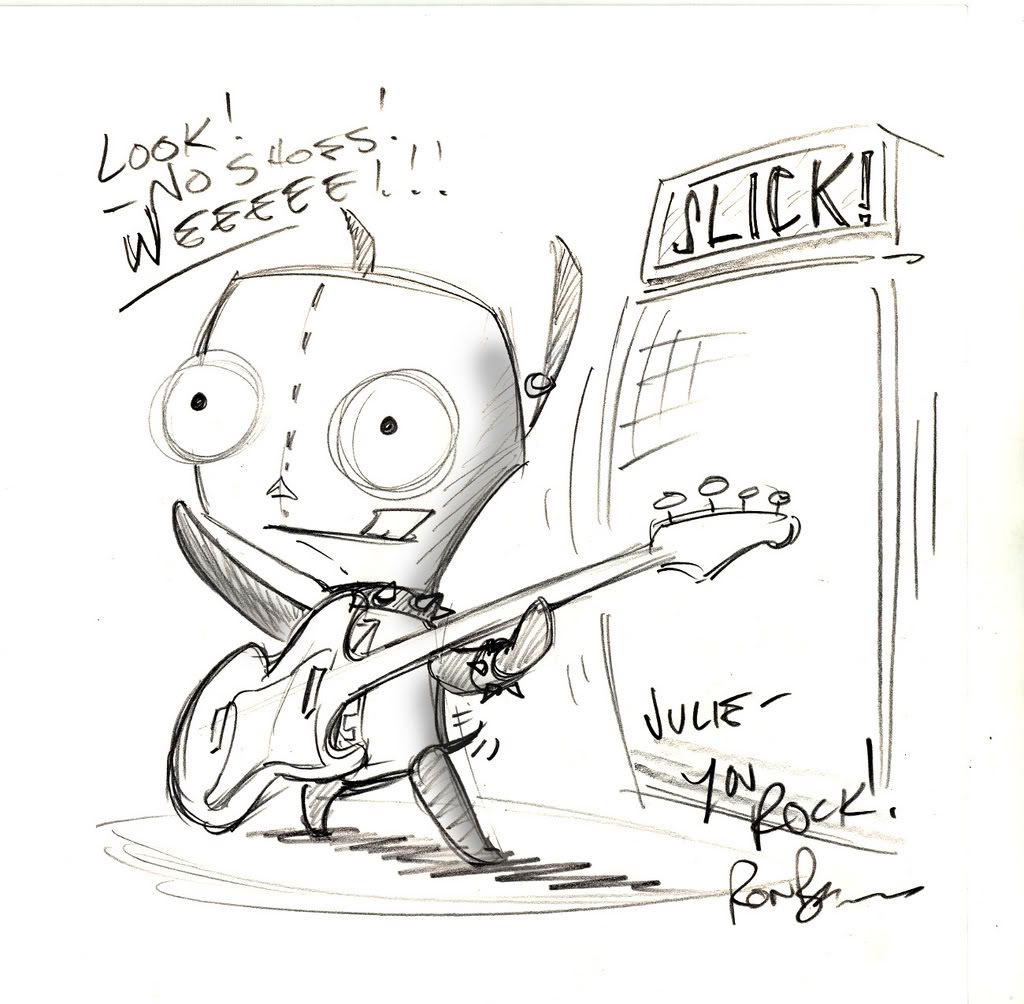 More fun sketches of Julie and Eric in concert by Family Guy cartoon artist
Ron Brewer
Yep, I admit it Part II...my life is cool. This morning I came downstairs to find these new drawings on the desktop along with a few others I can't disclose yet, but all I can say is, they are just too amazing for words and I hope to post more as well as some very interesting news about them in the future.
Also, Part III of the podcast interview with Julie and Eric right before they took off on the west coast tour with
Adrian Belew
is posted now right here at
Krimson News
and both J&E are hilarious in this latest and last installment.
And because he knows I'm a total music freak, Sid Smith of
DGM Live
sent me the new CD by
Jakko M. Jakszyk
, which is called Bruised Romantic Glee Club. If you click on that link, you'll hear the title cut which absolutely blew me away and I've written to Sid and asked if I can get a download to put on my blog so that you can have a listen every time you come and visit me and read my daily ramblings, in which I'd like to include a more comprehensive review. But as a tease for now, get a load of who else contributes to this almost other-wordly recording:
Gavin Harrison (Porcupine Tree), acoustic bassist Danny Thompson (Pentangle, John Martyn), sax and flute from Mel Collins (King Crimson, Roger Waters) electric bass from Mark King (Level 42) piano & keyboards from Dave Stewart (ex-Hatfield & The North), drummer Ian Wallace (King Crimson, Bob Dylan), Soft Machine bassist, Hugh Hopper, ex-Egg drummer, Clive Brooks and guitarist Robert Fripp (King Crimson).
What strikes me the most about Bruised Romantic Glee Club is that it's full of surprise. You may be lulled by a magnificent, classical keyboard piece and if you are like me, drift into that pleasant dream-like state...then the tempo suddenly changes and the music will really rock out. The songwriting is amazing and as evidenced by the stellar list of musicians who contributed to this effort, this is really a must buy CD. In fact, if you are so inclined, you can purchase it right
here
.
So thank you,
Sid
, for being so very awesome and sending me this masterpiece all the way from England.
Finally, today marks a sad day in music history. Five years...can you freaking believe it...five days since the passing of George Harrison. Click
here
to listen to his haunting guitar work and then take a few minutes of silence to remember a legend.
Yes, I know, I am a writer and should be hawking my books and those of my friends and I promise, I will begin doing that ad nauseam in the very near future, what with Christmas coming and all and the fact that I'm up for a couple of awards. But for now, just sit and listen to George, please check out the link posted above for Jakko Jakszyk, and remember what Frank Zappa said: Music is the best.
I know it's gotten me through some really tough times...and conversely, given me a high that can't be duplicated.
Oh, one final music note: Now playing, "Asleep" by Adrian Belew, inspired by the events of September 11. You can find that song on Adrian's brilliant solo CD, Side 2, and if you click on the link provided on the right hand side of my blog, you can pick up a copy at Mr. Belew's handy website store as well as read the very moving background story.
More tomorrow...and I hate to say it, but it's going to most likely be titled My Life is So Cool - Part III -- because yesterday was Gary's birthday and ooh boy do I have a story in connection with that!
Later,
xo