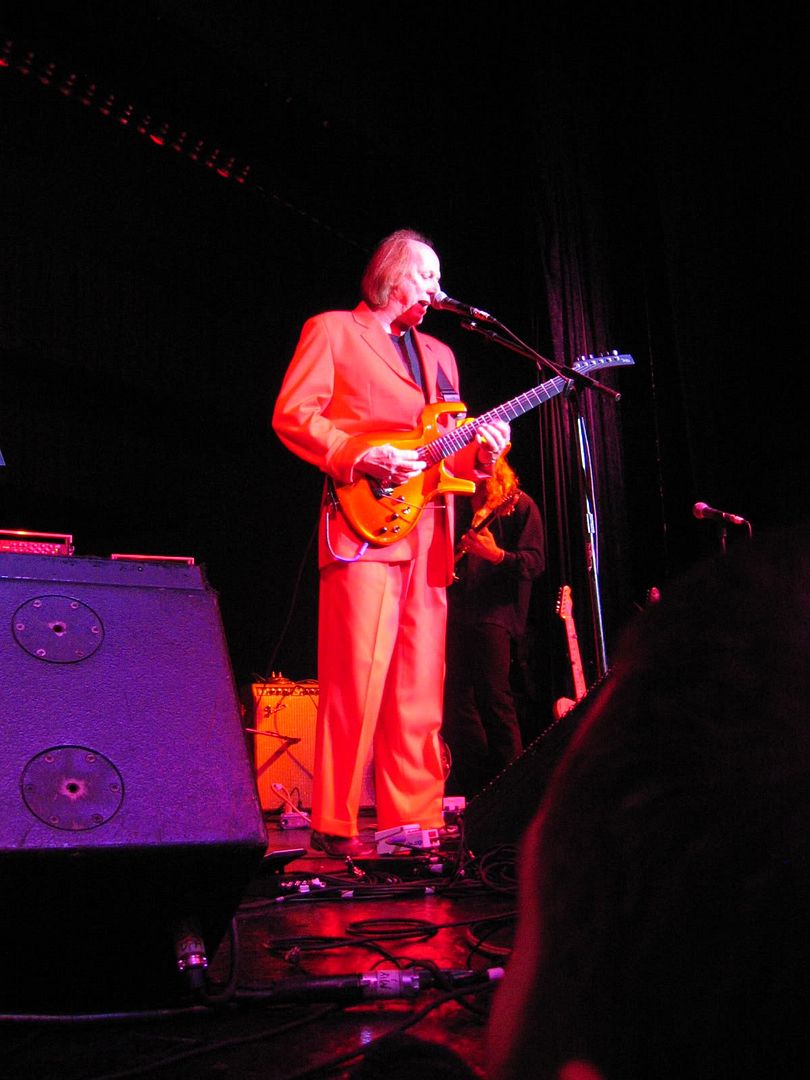 Adrian Belew performing at the Music Player Live Tribute to Les Paul in October, 2005 which is where he first met up with Julie and Eric when they played alongside other luminaries like Jack Bruce and John Mayer as Hall of Fame Graduates for the Paul Green School of Rock Music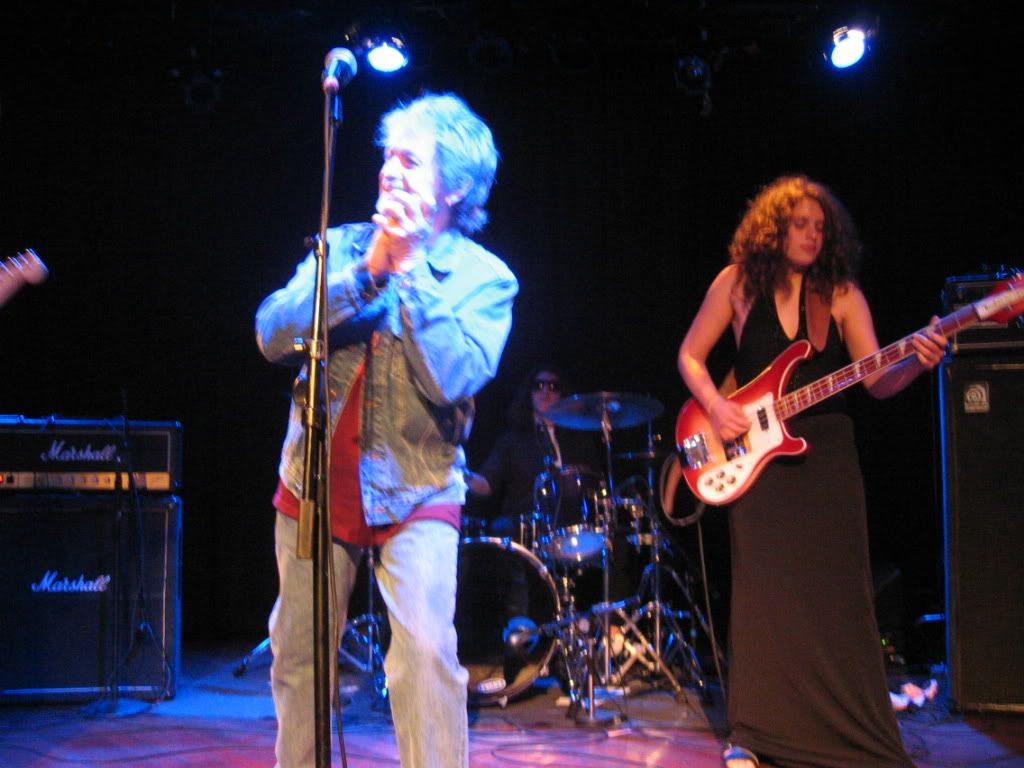 Julie and Eric Slick joining Jon Anderson on stage at the LA Knitting Factory for an amazing rendition of Heart of the Sunrise and which is available on the
Rock School Soundtrack
. Go have a listen! You know you want to...
So hurrah! I'm finally allowed to announce the news. Yep, it's Belew Plus Two, (my name for the band, not his -- what do you expect, I'm a writer and can't resist...at least I didn't say "Slick Belew")...as I've hinted ad nauseam and all but posted on billboards across the universe,
Adrian Belew
has hired my two talented offspring as his new power trio. They've been down in Nashville staying at La Casa Belew for the past five days rehearsing and bonding and from what I hear, it's been an amazing experience for all -- they are like one big family. In their down time, Julie and Eric have been tooling around Nashville in Adrian's vintage cars and going out to dinner every night and having a blast. Anyway, once they get home tonight it's basically rehearsals the entire month of June, heading back down to Nashville for another week of rehearsals, and then out on the road, starting with Indiana on July 6, Ohio on July 7, Chicago on July 8...and then it gets really exciting...they are the headlining band at
Zappanale 17
in Bad Doberan, East Germany...then it's on to Holland on July 19...and they end up in Herzberg, Germany on July 21 for
this little festival
.
It's really only fitting that this has happened. Julie and Eric were among Paul Green's first students when he began teaching seventeen kids in his apartment back in 1998; they were his first Rock School All-Stars; his first Hall of Famers...and now, the first graduates of his school to go on to better things and um, live the dream. Look for the Paul Green School of Rock Music to be a major player in the music industry as concerns artist development...Paul is in L.A. as we speak with the amazing
Atlas
, made up of Rock School grads/Hall of Famers Jeremy Blessing on guitar, Max DiMezza on bass, Branden King on drums, and Dom Malandro on vocals. Waiting in the wings for fame and fortune are slide-guitarist extraordinaire Sarah Zimmerman and shredder C.J. Tywoniak. And Paul is of course the one responsible for Adrian not only meeting Julie and Eric but for arranging the audition in Nashville. What's really cool about Rock School is that we were there at its inception and I knew it was only a matter of time until these amazing talented kids who had gone through Paul's incredible program would be noticed by people in the "business".
It's also really fantastic that Julie and Eric are in a band together again. They have a unique chemistry that comes from being part of a rhythm section where both have similar musical tastes and have been collaborating for many years. There's a certain magic when they are on stage together, and I'm not saying that because I'm their mother. In fact, when it comes to music, I'm a pretty harsh critic. But apparently Adrian saw it, felt it, and most importantly, heard it...so yeah, I'm on freaking cloud nine.
And I don't want to discount Eric's involvement with
Project Object
. The tour he just came off of with them was one of the highlights of his life -- mine, too. Those guys are incredible musicians and hopefully Eric will be touring with them again in the fall, schedules permitting.
So life is pretty exciting in the Slick household right now. Have a look at
Adrian's website
. Okay, I know I posted the link above, too, but what can I tell you? I'm excited!
Anyway, for the handful of you who might not be familiar with Adrian's work, here's a bio/timeline.
December 23, 1949
Adrian is born Robert Steven Belew, in Covington, Kentucky
1960's
Adrian joins the Ludlow High School marching band as a drummer. later, he forms bands with fellow classmates; most notably, the Denems. The Denems were a local, well known Beatle cover band.
mid 70's
Adrian changes his name from Robert Steven to 'Adrian' - a name he'd always liked.
Adrian is discovered by Frank Zappa while playing in a cover band named Sweetheart at the infamous Fanny's in Nashville. Frank gets Adrian's name from his chauffeur and later invites Adrian to los angeles to audition for his band.
Adrian tours with Frank Zappa. while on tour, adrian meets David Bowie. Bowie is so impressed with adrian, he asks him to join his band. the zappa tour comes to an end and adrian immediately joins david on the Bowie classics, Stage and Lodger.
1979
while touring with Bowie, Adrian meets Talking Heads and performs on 'Remain in Light' and...the name of this band is..." he later tours with them.
1980
on the first day of the tour with talking heads, adrian meets Robert Fripp. Fripp asks Adrian to join the soon to be reformed King Crimson.
1981
Adrian becomes a member of King Crimson.
Adrian joins Talking Heads Franz and Weymouth to record as the Tom Tom club. Adrian co-writes their hit "Genius of Love".
1982
Adrian signs with island records and releases his debut solo record, 'the lone rhino'.
1983
Adrian releases his second solo lp, twang bar king.
Adrian produces the Raisins' debut album and appears on Laurie Anderson's "Mr. Heartbreak".
1984
Adrian finishes his stint with King Crimson. Adrian records "Zoolook" with Jean-michel Jarre and also produces the Elvis Brothers.
1985
Adrian joins The Raisins to become The Bears. They tour the united states and end their tour with a sold out show at Nyc's The Ritz.
Adrian later appears on Laurie Anderson's video, 'Home of the Brave' and on Paul Simon's Grammy winning, "Graceland".
1986
The Bears tour Israel and later sign to pmrc - a division of i.r.s. records.
Adrian releases his 3rd solo album, 'desire caught by the tail'.
1987
The Bears release their debut CD, "the Bears". The cover is by Mad Magazine's Mort Drucker, and features the singles/videos "fear is never Boring" and "trust". Touring resumes throughout the southeast u.s.
1988
the bears release their 2nd album, "rise and shine" which features the single & video, "aches & pains". the bears take to the highway and tour the U.S.
1989
adrian releases mr music head on atlantic records and follows the release with a week long hosting appearance on post modern mtv and an acoustic performance on vh1's 1-to-1. 'oh daddy' features adrian and his 11 year old daughter, Audie.
adrian appears on mike oldfield's 'earth moving' cd.
adrian also lends his rendition of "we three kings" to a compilation of christmas songs performed on guitar for green linnet records', "christmas guitars".
1990
Adrian tours with David Bowie as david's musical director and band leader, with bassist erdal kizilcay, keyboardist rick fox, and drummer mike hodges.
During the tour, atlantic records releases adrian's 5th solo record, 'young lions'. 'young lions' features the bowie/belew collaboration, 'pretty pink rose'.
1991
"Desire of the Rhino King", a compilation of selected songs from Adrian's first three solo albums is released by Island Records. Since "Lone Rhino" and "Twang Bar King" are not available on CD, this is a much welcomed release.
Adrian performs, "Still Life with a Dobro" on the compilation CD, "Guitar Speak III".
1992
Adrian releases his 6th solo album, "inner revolution".
adrian tours for "inner revolution". the tour band consists of rob fetters (guitar), brian lovely (bass), and mike hodges (drums).
adrian's name appears in an episode of the simpsons.
adrian produces mexico's caifanes' "el silencio". It hits #1 on mexico's charts and goes gold!
1993
Adrian tours the midwest with his acoustic tour.
Adrian records "Blackbird" for the Beatles' guitar tribute, "Come Together".
Adrian performs on Sara Jickman's "necessary angels" album.
Adrian performs on 2 tracks for the Crash Test Dummies', "god shuffled his Feet".
1994
Adrian moves to nashville.
Adrian releases his 7th solo album, "here".
Adrian begins his "here" tour with former bears mates: rob fetters, bob nyswonger and chris arduser as his band. this is the closest the fans get to a bears reunion
Adrian signs a deal with Caroline Records
Adrian wins best musical score for his soundtrack to "in the gutter and other places", in canada's "hot docs" film awards. he later wins guitar player magazine's reader poll for the "best experimental guitarist" for the 5th year in a row.
Adrian records with Trent Reznor on Nine Inch Nail's "downward spiral".
1995
King Crimson returns. the new line up consists of belew, fripp, levin, bruford, gunn, and mastelotto.
king crimson releases vrooom, an ep of all new songs. the full album, "thrak" soon follows.
crimson performs "dinosaur" on nbc's late night with conan obrien.
1996
Adrian's official web site hits the web.
King crimson tours europe and north america.
Adrian releases his 9th solo album, "Op Zop Too Wah" on september 24th on passenger/caroline records.
Adrian's appears on the Tribute to Badfinger with a version of Mccartney's "come and get it".
1997
Adrian appears on the cover of eq magazine.
Adrian attends his class reunion reforming his old band from high school, The Denems.
After 10 years, the bears begin recording in the studio.
Adrian tours argentina with his acoustic show.
The bears are inducted into the hall of fame for cincinnati musicians.
Peter Frampton and Adrian record, "the frightened city" at adrian's studio for "twang" tribute album to hank marvin.
Adrian produces 2 hits for "Jars of Clay". The album hits #1 on billboard's contemporary christian charts. their song, "flood" crosses over to the modern rock charts and the album goes gold.
Adrian releases his 8th solo release, "the experimental guitar series volume 1: guitar as orchestra".
1998
Projekt two tours the u.s., japan, uk, and canada. (fripp, gunn, belew)
Adrian releases belewprints
Adrian produces Boston's "irresponsibles".
Adrian joins artie traum, tony levin and fred wilkinson to record an instrumental track called mean low water for artie's new record, "remarkable friends".
1999
Thirsty ear records releases "Salad Days". a compilation of acoustic tracks.
Adrian tours the united states promoting "coming attractions". the belew produced, "irresponsibles" opens on the tour.
Nine Inch Nails releases "Fragile". This is Adrian's 2nd appearance.
2000
Adrian releases an mp3 of "i have a dream", as a free download on his website.
King crimson tours Europe, Japan, and japan.
2001
Adrian receives the cammy (cincinnati's entertainment awards show) lifetime achievement award. the award is presented by peter frampton.
Adrian performs on Tori Amos', "Strange Little Girls".
Adrian hits the road with king crimson to tour the U.S. A good portion of the tour is spent with tool.
The bears release their first album in 13 years, "car caught fire".
king crimson tours
2002
the bears' 2002 car caught fire tour begins. fans witness the bears live for the first time in 14 years.
Adrian releases an internet only download of a new song, "asleep". The song was inspired by the tragedy of September 11 and was made available the week of the anniversary.
King crimson releases their ep, "happy with what you have to be happy with" prior to their new studio album, "the power to believe".
Adrian releases "Incompetence and Indifference" as a free download to web site visitors.
lone rhino, twang bar king, and desire caught by the tail are all re-released on cd by universal japan.
2003
Adrian records with Les Claypool (Primus) and Danny Carey (Tool) for Adrian's next solo record, at les's studio in san francisco.
King crimson tours the US in support of "The Power To Believe".
King crimson releases their "eyes wide open" dvd.
Adrian and kevin (of dc talk) max release 'raven songs 101'. the release features adrian's music to kevin's poetry.
Frank Zappa's "baby snakes" (1979) is released on dvd.
October 10 - adrian records with Ben Folds, Henry Rollins, Matt Chamberlain, and John Painter in a session for the upcoming William Shatner record.
2004
Adrian's Inner revolution is reissued by wounded bird records.
April - the bears release 'the bears live at club cafe' dvd. the fans are very pleased. the dvd contains: over 90 minutes of concert footage from the bears' 2002 car caught fire tour. 5.1 dolby surround sound. bonus features: a tour of adrian belew's home studio, how the band became "the bears", stories behind your favorite songs, and extensive up-close and personal interviews with rob, bob, chis, and adrian. this is a must have for your collection. merging media: $24.95. visit the adrian belew store to order your copy now. or click this button:
May - Adrian lends his guitar work to the new porcupine tree record.
for more: www.porcupinetree.com
May - Adrian's "man in the moon" makes the top 10 songs for dads in better homes and gardens' father's day issue. other artists in the top 10 include: Eric Clapton, Jimi Hendrix, and John Lennon.
June 13 - adrian performs thela hun ginjeet, tweekers, and lone rhinoceros with primus at the bonnaroo festival. view a short clip here. to purchase a download of the show, go to www.primuslive.com.
July 22 - adrian joins Al Kooper on stage in Nashville on july 22 to perform Bob Dylan's blonde on blonde in its intirety. other artists involved are tracy nelson, gary tallent, bill lloyd and scores of others.
July 23 - Adrian Belew was honored at the Star Guitar Night during the Summer NAMM show in Nashville, Tennessee. Other honorees include Duane Eddy and Peter Frampton. The show took place at the infamous Ryman and adrian performed "purple haze". For more information, please visit: www.allstarguitarnight.com.
August - adrian performs on the new william shatner record alongside henry rollins, and ben folds. william shatner's new record is due october 2004.
August - Talking Heads' "the name of this band is..." is re-released on cd.
after 22 years, talking heads classic, "the name of this band is..." has been released on CD. this release features a lot of adrian and is a must for your collection.
October - william shatner releases 'has been' the new record by william shatner was released on october 5, 2004. This release features Ben Folds, Aimee Mann, Lemon Jelly, and Adrian Belew. read all about it at www.shatnerhasbeen.com.
Adrian paintings - continues working on his art with the intentions of painting all future solo album covers.
Between the strings - the secret lives of guitars - 100 stories about the guitar from guitarists such as adrian belew, chet atkins, bob weir, les paul, and 97 more. for more info on this book, www.johnaugustmusic.com
September the september 2nd issue of rolling stone magazine (issue 956) reviews the re-release of talking heads' "the name of this band is..." and has a nice write up on adrian (page 147).
october - adrian produces the jaguares - formerly known as Caifanes in nashville
adrian makes top 100 greatest progressive artists list - the top 100 greatest progressive artists have been named and adrian makes the list - twice or more, depending on how you read it. #1 king crimson, #17 talking heads, #66 adrian belew (solo), and countless other connections. view the list here.
December - adrian endorses Parker Guitars.
2005
January
25 - Adrian releases SIDE ONE. His first new electric solo studio album since 1996's Op Zop Too Wah. Side One consists of: 1. Ampersand, 2. Writing On The Wall, 3. Matchless Man, 4. Madness, 5. Beat Box Guitar, 6. Under The Radar, 7. Walk Around The World, 8. Elephants, 9. Pause. Tracks include Adrian, Les (Primus) Claypool, and Danny (Tool) Carey.
May - Adrian interview appears in Guitar Player magazine read it here.
Adrian produces jaguares lennon tribute - during the first week of may, adrian produced jaguares' version of john lennon's 'gimme some truth' which is slated for an upcoming Amnesty Internation record of lennon songs. the amnesty project is headed up by Peter Gabriel. adrian also did a tribute with jaguares to a famous mexican comedian from the 40's named, Tin Tan.
June - adrian tours the U.S. in promotion of side one, side two, and - believe it or not - op zop too wah. the tour consists of adrian, mike gallaher (bass) and mike hodges (drums). the tour takes adrian along the east and west coasts, texas, southwest, and points in between. it wraps up in october and is one of adrian's most powerful tours ever.
July 12 - adrian releases SIDE TWO. Side Two consists of: 1. Dead Dog On Asphalt, 2. I Wish I Knew, 3. Face To Face, 4. Asleep, 5. Sex Nerve, 6. Then What, 7. Quicksand, 8. I Know Now, 9. Happiness, and 10. Sunlight.
September - Adrian receives a letter of thanks from a Louisiana fan after Hurricane Katrina.
Adrian performs at fuji rock festival '05 in Japan - adrian's touring power trio (Mike Gallaher, Mike Hodges, and Adrian) performed at the Fuji Rock Festival in Japan on July 30th. Other participating acts were: Cake, Beach Boys, Foo Fighters, Coldplay, Fat Boy Slim, New Order, Beck, Moby, the Pogues, California Guitar Trio, Los Lobos, and many many more. For more info, visit the Fuji Rock Festival site.
October - The Power Trio tour comes to a close. adrian's collaboration with Les Claypool and Danny Carey brought out a new audience and the studio and live power trios made many new fans. it also allows "Side Four" - a proper live Adrian Belew solo release - due in 2006.
December - Adrian is nominated for a Grammy in the Best Rock Instrumental Performance category for the song, "Beat Box Guitar" from Side One. This category includes solo, duo, group, or collaborative performances, without vocals. Includes Rock, Hard Rock and Metal. Singles or Tracks only. For more on the Grammys, please visit their site. Congratulations, Adrian!!!
Nominees in the Best Rock Instrumental category:
Beat Box Guitar - Adrian Belew - Track from: Side One [Sanctuary]
Birds Of Prey - Stewart Copeland - Track from: Orchestralli [Ponderosa]
69 Freedom Special - Les Paul & Friends - Track from: American Made World Played [Capitol Records]
Mercy - Joe Perry - Track from: Joe Perry [Columbia Records]
Lotus Feet - Steve Vai - Track from: Real Illusions: Reflections [Epic/Red)
2006
February
Adrian performs with
Paul Green's School of Rock
Spring
Adrian tours!
April
Adrian's SIDE THREE is released.
******
Wow. Even I didn't know that Adrian was involved with all of the above projects. I had to giggle at the Tori Amos involvement, because, well, you know, she's like best friends to my favorite author/fangirl crush Neil Gaiman.
Anyway, that's it for my "press release" -- the official press release will be issued sometime during the next few weeks so stay tuned.
Okay. I need a hot cup of coffee and a cold compress after this post. I do believe I'm hyperventilating and I can't wait to report back here later/tomorrow with all of the details from Nashville.
Oh, one final thing. When I finally did talk to Eric on the phone yesterday, I asked him how he was doing and he replied "Oh, fine. I'm sitting in Adrian's kitchen -- he just made Julie and me eggs for breakfast and they were awesome..."
Good lord.
Later,
xo