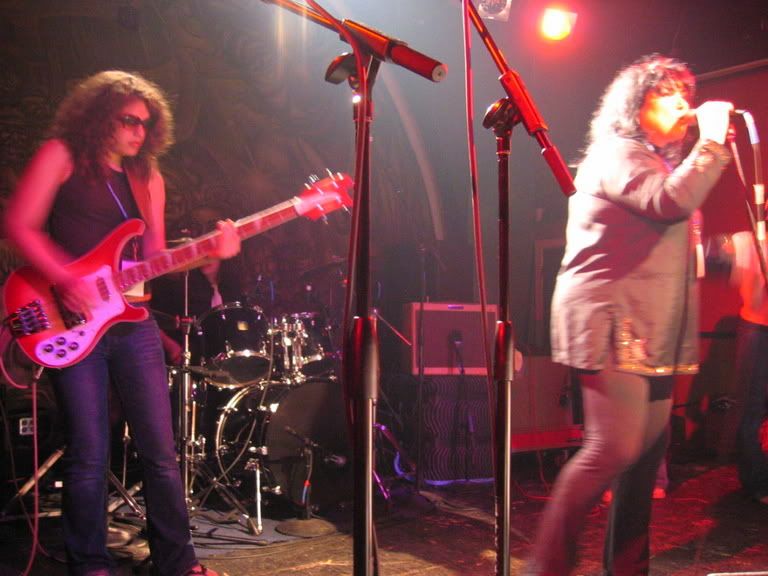 Julie Slick and Eric Slick performing with Ann Wilson of Heart
Good morning and Happy Holiday Weekend!
Okay, so even though I've been broadcasting it everywhere, Adrian Belew has made it offical last night on his
website
but of course me being me, I'm so excited I'm cutting and pasting it here anyway:
"
dear tribe,
in case you haven't heard I have changed my power trio to include eric slick a nineteen-year-old drummer from philly who has been causing a sensation playing spot-on versions of zappa material with the zappa tribute group project object and his twenty-year-old sister julie slick who is a bassist of equally stunning talent. eric and julie have played together most of their lives and have a maturity and knowledge beyond their ages. both are graduates of the paul green school of rock and former members of the school of rock all-stars which puts them in a rare class of players indeed. I want to thank their parents robin and gary slick for nurturing such bright gifted people and paul green for putting me in touch with them.

I can't wait to play for all of you again soon.

cheers,
adrian
may 25, 2006"
Can you imagine waking up to
that
first thing this morning? And a really lovely letter from Adrian's webmaster Rob Murphree welcoming Julie and Eric to the band, too? I'm having major breathing problems here!
Anyway, it's going to be a really crazy weekend. In between rehearsing, Julie and Eric have all kinds of stuff going on and it's going to be a hotel here over the next four days with boyfriends and girlfriends and big dances and parties, a concert by Ween down by the river, and a day trip to the beach at Ocean City where we will have our first Brown's donuts and Mack and Manco's pizza of the season.
I was supposed to go to
Balticon
this weekend but all of these recent exciting developments are keeping me with the family so no, I do not get to hang out with Neil Gaiman after all (as if) but since my spirits are so high right now, this will hold me until I do get the chance one of these days...
Hey, Neil! My kids are in Adrian Belew's band! You going to be in Italy, Holland, or Germany in July? How about Chicago, Indiana, or Atlanta? I can get you backstage!
(insert smiley face emoticon here)
Happy weekend everyone.
xo
The Sassy Mum