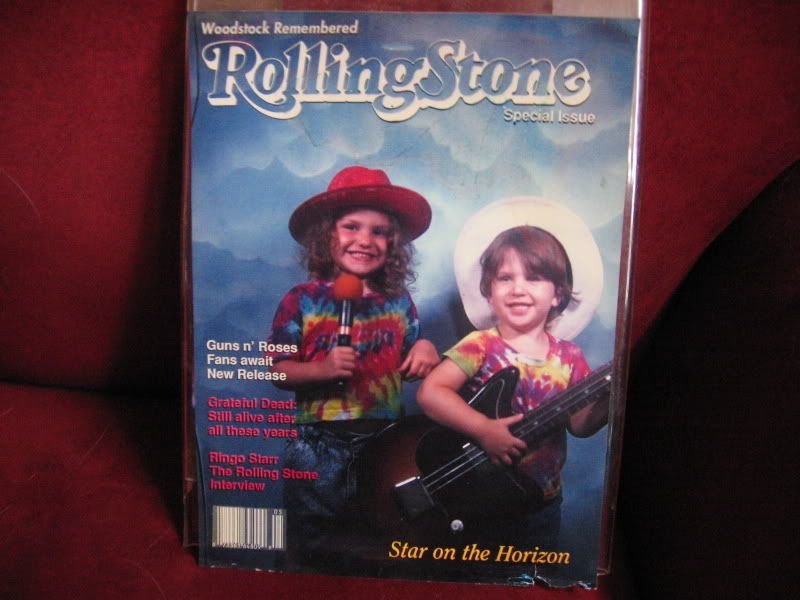 This, as you know, is the pic of Eric taken when he was four or five years old and I made a remark about how weird it was that the magazine cover came true, and I also made a joke about the cowboy hat that his sister insisted they both wear...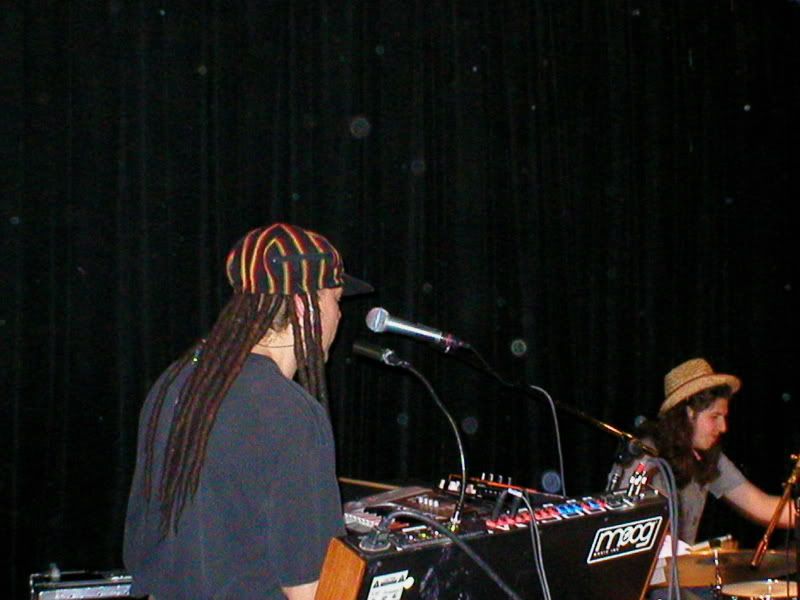 And this of course is the photo I posted of Eric yesterday.
Heh. How freaking insane, huh.
So right now I'm in the middle of a total nuthouse. The place next door was sold and is being gutted and rebuilt...the workmen got there around 7:00 a.m. today and my entire house is vibrating and the pounding and banging noises are making me lose what's left of my mind. I went outside and screamed at the workers who looked at me like I'm warped because apparently this type of work is done at dawn everywhere and as their expressions told me, I'm going to have to live with it. I feel like crying because this is happening at the worst possible time. I have a real chance to finish my novel with Eric away on tour and the house mostly to myself and now I can't even think straight due to the noise. I live in a brownstone/rowhouse whatever...so you can imagine what I'm going through - it sounds like they are in my kitchen right now. In fact, with this house being over a hundred years old, I'm seriously starting to worry about any adverse effects I might have structure wise.
Oy.
And then, we have Julie in said kitchen, making not one but two lasagnas...vegetarian for her and me (did you know I'm now a vegetarian? I didn't. But Julie says so and I'm too upset right now to argue.) She made a meat one for her boyfriend. Every pot in the house is dirty and I'm afraid to go in and look at the stove, sink, and countertops. All I know is, she has a class at noon. God forbid I go in there and have to clean up. One of the reasons I personally never cook lasagna is that it's such a freaking mess maker.
So that's two days in a row with a nervous breakdown for me. I've decided I have to get out of the house and escape the noise, so I'm going to go for a walk to the park with my journal and at least try to do something productive.
I haven't found any new reviews on the
Project Object forum board
but if you check the journals of the various bandmembers on the website -- and hopefully my son will work on his -- you will see what keyboardist Eric Svalgard had to say about him, which of course made me teary eyed for a change:
Now I should say something about Slick. I have known and worked with him now for 4 years and have always loved his playing and his attitude. He knows this material as well as anyone and is a total asset to the band. He listens, has great feel and is a the SHIT. Total joy to play with. Some young players who get notoriety have trouble when they get older and are no longer freak shows. Eric will not have that problem, he is the real deal.
Thank you, Mr. Svalgard. That was incredibly cool of you to post.
So tonight's show is at
The Poison Room
in Cincinatti, Ohio. I haven't spoken with Eric yet today as to how the Detroit show went last night but he's having such an incredible time, I'm sure it was awesome. And of course as I will remind you all tomorrow, at 9:00 p.m. the A&E Network will be premiering Rock School and you can see where it all began for both Eric and Julie.
Oh well. Now Julie is stomping and cursing over the fact that we don't live in the suburbs and have a huge kitchen because she just dropped/spilled something due to limited workspace. Great. I'm getting the fuck out of here before I end up killing myself and her.
Later,
xo