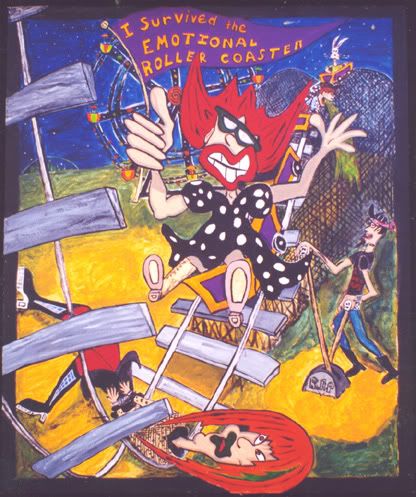 More art from Bill Saunders. Thank God I have something to make me happy today.
Yeah, this wasn't one of my better days. Julie and Matt left for their holiday in Montreal at 2:00 a.m. and I love Julie so much, but she felt the need to wake me before leaving and I couldn't fall back asleep. I was worried about the two of them driving to Canada in the middle of the night; I was worried about the approaching snow storm; I'm worried as I sit here now because I just heard we may have twelve inches by Sunday night and then it's moving north and that's when and from where they're driving home.
Conversely, I am also very happy about the snow. Playing with the dog outside when we have a substantial amount is one of the simple pleasures of my life. And now that I no longer have to walk to work in it, I'm back to being a kid again and I get all excited when I hear we may be having a blizzard.
But today really did suck..
I started out by seeing my doctor who told me my blood pressure had soared again and wants me to double my meds, which means I'm going to be a complete zombie. So I went online and have been studying hypertension all day, and in between being positive I'm going to die, I've been realizing what an idiot I am because I hate to exercise and I hate to diet and if I would just walk a couple miles a day, join a gym, and give up white sugar and coffee and fried food, I might not need meds at all. Because I'm extremely worried that if I do need to double them, I'm going to end up seriously fucked because they really affect my creativity and writing in general.
So that's the plan. And I am doing yoga. I just need those people to stop chanting. I can't handle the chanting. I need to sneak in my iPod. But then I won't hear what the instructor is telling us to do, and she'll make an example of me when I fuck up, just like in every exercise type class I've ever been in, starting with first grade at Julia Ward Howe elementary school.
"What do you mean you can't do a push-up, Robin?"
"I can't!"
"Everyone can do a push-up! You're not trying!"
Okay, if you say so. I still can't do a push-up. Or it's evil twin, the chin-up.
"Where's your gymsuit, Robin? What? You don't like wearing one piece periwinkle blue bloomers which snap all the way up to your neck and have your name embroidered in big white letters across your tits? What, you think you can wear your black hippie clothes in here?"
And then they made us square dance. Good lord. I was a senior in high school in the freaking seventies and they still made us square dance with each other. And in those bright blue bloomers. The guys had gym in a separate room but for square dancing, they were allowed to join us. They had to wear thin white shorts and white t-shirts.
Err...you can just imagine. They had it worse than we did, for sure. Because we noticed everything.
But our bloomers were ridiculous. If you had to pee, you had to unsnap the entire thing and get naked in a girls' communal bathroom (you know I never wore a bra and yeah, yeah, we all noticed who had big boobs and who had tiny bumps and who used crumpled tissues har har). Oh, the agony. The things kids do not have to endure today...they haven't a clue. Though I was really distressed when they recently reinstituted dress codes in Philadelphia public schools. It was my generation who abolished them...I remember having to wear a dress in elementary school and then all of a sudden we were allowed to wear jeans and I felt so free! Now, like everything else in this fucking country, we've taken a giant step backwards into the fifties. Bleh. Have I mentioned how much I hate Republicans and the whole conservative/right wing movement lately? Oh well, 'nuff said about that...there's a million blogs out there who do it better.
Oh and the reason I can't join a gym is because of spandex, exhibitionists, and disco music. I don't think I have to elaborate any further on that one. But I did once give it a try and yep, you guessed it, was immediately made an example of in the step class. Apparently I can't even walk up and down a step properly.
Anyway, Eric was kind of mentioned in today's Daily News because they interviewed Adrian Belew about his involvement with Rock School. Here's the article where they refer to him without saying his name...I'll underline the applicable part:
Belew to mentor, teach & solo at School of Rock
By JONATHAN TAKIFF
takiffj@phillynews.com

Adrian Belew has let his "twang bark" guitar howl in some pretty incredible company through the years, recording and touring with Frank Zappa, David Bowie, the Talking Heads and its offshoot, Tom Tom Club, on some of their most memorable projects.

Belew also pops up several times on the Greatest Progressive Artists list as a core member of the No. 1-rated King Crimson, for his sunny, pop/rock projects with the Bears and as the front man of his own trio and solo discs. (A track from his "Side One" CD was nominated for but lost out at the Grammys Wednesday night in the best rock instrumental category.)

This weekend, Belew is really working through that grand old man of rock thing. He's been cast as mentor, visiting professor and guest soloist for the School of Rock, the Philly-rooted and now nationally expanded music school.

Tomorrow afternoon, Belew conducts a seminar for students at the Downingtown SOR branch. That night, he'll perform with several bunches of the young (age 11 through mid-teen) players for two shows at World Cafe Live. It's actually the third stop of the crew's four-city East Coast mini-tour, concluding Sunday at New York's Knitting Factory.

School of Rock founder Paul Green - a steadfast advocate for complex, progressive rock - had been in hot pursuit of Belew for some time.

"They sent me their documentary to watch [which included guest appearances by other Zappa band alumni], then I went to the Web site and thought, 'This is a really cool thing,' " Belew shared in a chat on Wednesday.

"We rehearsed for the first time last night, and it went very well. Paul and I picked out the material, mostly from my catalog but also including Beatles and Hendrix songs. The idea is to challenge these kids a bit. It's difficult stuff for them to play, and they did really well."

While they're billed as the School of Rock All-Stars, Belew is performing strictly with current students and will gently steer the jams "so the best players get a solo or two."

But for the first rehearsal, Green also brought in some SOR graduates "so we could play just for fun and I could see what happens with these kids when they move on," Belew explained. "A couple are now teaching, others have moved on to college. You can definitely see the progression, how much better they've gotten. It's pretty inspiring."

Enough to make him think about joining the School of Rock faculty in his hometown of Nashville, Tenn.? "I don't have time for a regular teaching gig, but I'm definitely thinking about how I can help out there."

Playing the go anywhere, do anything, gun-for-hire role is something this dexterous talent "really enjoys," he said. (And when not playing, he sidelines as a abstract painter.) "But frankly, it's also what it takes to survive in the music business these days, if you're not in a first-tier band that tours and records all the time."

Belew has also been enticed in recent years to produce albums with the Mexican progressive rock leaning Jaguares, "who're sort of a Spanish-speaking U2, very strong, spiritual," and tracks with the Christian rock band Jars of Clay. And in his kick-butt power trio, he's collaborated with longtime devotees Les Claypool of Primus and Danny Carey of Tool.

"Now those are musicians that the School of Rock kids can identify with," he modestly declared.
********
So that's cool, at least. Continuing on with the day from hell, the next thing that happened is that Eric's brand new Mac laptop died today and it said "fatal error" which means the hard drive fried. That was his Christmas present and it's not even two months old! He's really freaked out, because even though we have Apple Care and it's under warranty, he's afraid he's lost all of this music he's written in the past month.
Let's just hope that the nice techie men in the Apple Store can help us tomorrow and fix things assuming they aren't closed due to our approaching snow storm.
Anyway, that's it for me. I think I'll curl up with the dog and watch a DVD. Hopefully tomorrow will be better.
Later,
xo