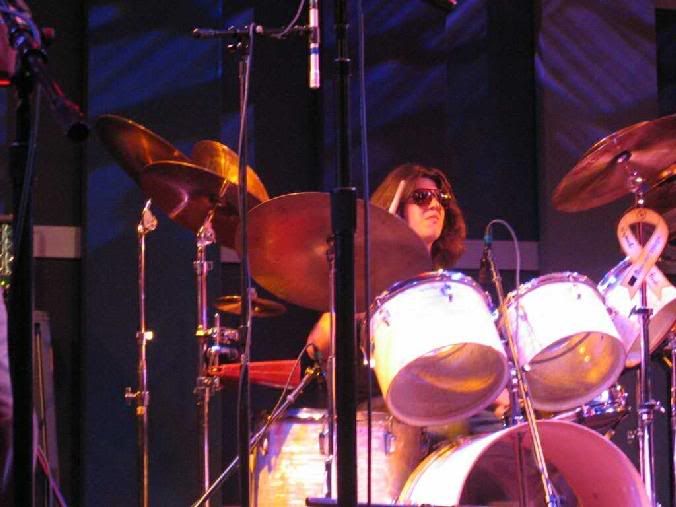 That's a photo of Eric playing with
Project Object
at World Cafe in November, 2005.
And guess what? Eric is now drummer for Project Object and will be going out on tour with them from April 14-May 14, 2005, returning home one day before his 19th birthday which I can guarantee you now, will be the blow-out of the century. Here's the details:
Project/Object Spring Tour
April/May 2006
The Music Of Frank Zappa
Andre' Cholmondeley - guitar, vocals
Dave Johnsen - bass, vocals
Robbie Mangano - guitar, vocals (selected shows)
Eric Slick - drums, vocals, electronics
Eric Svalgard - keys, vocals
Ike Willis - guitar, vocals
-the tour is "Eastern 1/2 of the USA"
-BRAND NEW Project/object sets
-Special "Joe's Garage" set due to Ike's solo presence
So how freaking cool is that!
It's already being discussed on the Zappa forum board right
here
along with some congratulations and that same photo I posted above. There's also another blurb somewhere on the forum but I can't find it. All I can say is, if you are forum board savvy, you'll probably locate it easily. I am not. Those things scare me.
Oh man, if they have an end of tour concert at the World Cafe Live in Philly as is there usual custom I will personally see that it is sold out both shows...you know me, I'll start posting the billboards now, both physically and via the worldwide web. Seems to me I once got drunk and even joined that aforesaid Zappa forum board -- I'll have to try out my usual screen name and password to see if it works but I'm getting a vague memory of hanging out buzzed and discussing Zappanale with people there...and then I lost where the thread was and never went back....yeah, that's what happened. Okay, then, I'll start a new thread where I can find it. Whatever!
******
But this isn't until April, and in the meantime, Eric's got all the stuff going on next week which I mentioned a few days ago, like going out to Hollywood, etc. and doing a Shannon Penn Band gig in February...I'm pretty sure Shannon has a bunch of shows lined up with Eric as well. So does Flamingo...there's that New York Knitting Factory show in early February. The boy is going to be busy doing what he loves. Lucky, lucky him.
Anyway, sorry for the tone of yesterday's post. I was in a funk but I feel better today. I started weirding myself out that I was becoming reclusive or worse, agorophobic. And then I read all of these blog posts written by people who went to the Neil Gaiman reading in NYC and had a blast and I beat myself up for not going...arghh...why can't I just admit I was tired and stressed from a weekend spent draining one thousand gallons of icy water off of my roof and didn't feel like taking the long train/cab ride to New York? No, I had to start diagnosing myself with psychiatric disorders and use a lot of four letter words.
Oh well. Can I blame it on artistic temperament?
Ack, the truth is, I'm insecure about some new material I've been working on...there are days the writing goes really well and other days I'm convinced it's complete garbage and I should just sell apples on the corner.
No matter. Julie and I are going out to breakfast this morning at the lovely Cafe Lutecia at 23rd and Lombard where they serve hot, fresh baked croissants and yeah, yeah, then I will do my dreaded banking and pharmacy run while Julie heads off to her first class of the day at Drexel U. In a perfect world, I'll even walk the mile or so home for exercise...bleh.
Or do it the usual Robin way and hail a cab.
Later...
xo