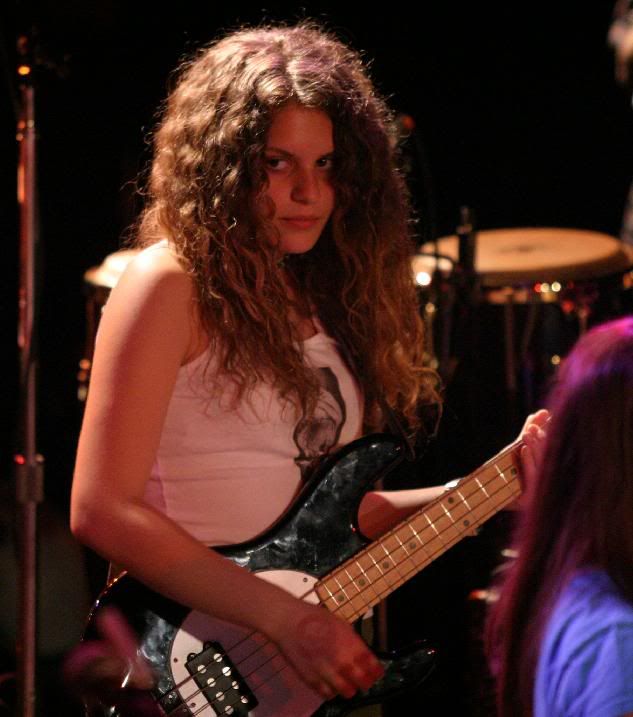 A photo of Julie Slick taken on stage performing at the Troc in Philadelphia
Okay, this may or may not be my last post before I leave for two glorious weeks at the beach tomorrow, where, believe it or not, I will have no internet connection unless I pedal my bike a few miles to the one library on the island (swear to God, there are no internet cafes or any other computers available anywhere, which may be a good thing for me as I intend to bring several composition books and write in longhand and will not have any distractions, i.e., no instant messaging, checking my email every two seconds, etc.). So let's dispense with the writing news first.
My book Three Days in New York City has been nominated for a
Fruity Award
. This award is sponsored by Erotic Romance Writers International. As it says on their website, their "aim is to honor the talented, hardworking authors who write outside the accepted guidelines of the RWA (Romance Writers Association, of which I am not a member, will never be a member, and shudder at the thought, since I DO NOT WRITE ROMANCE).
My book also received a couple of good reviews recently, one from author, poet, editor, and publisher
Glenda Woodrum
and another from
Mrs. Giggles
. You have no idea how good this review is coming from Mrs. Giggles - she tends to poke fun at everyone and usually tears authors to shreds. It sounds like she might actually like my book...begrudgingly, but still. I got a rating of 76, which, in Mrs. Giggles world, is like receiving an A plus plus.
I also recently did an interview with
Romance Junkies
(arghh...even though I DO NOT WRITE ROMANCE) which was a lot of fun, and I have one in the works with the above mentioned Glenda Woodrum. She asked me so many intelligent, interesting questions that I've been taking my time replying, but I hope to have the finished product to her today...it may be posted on her site while I'm on vacation so if you love me (ha), you can check her site periodically over the next two weeks; if not, I will post a link when I return.
I also note that my book is now available at
Barnes and Noble
. Yay! It's also available at another cool site,
Book Crossing
.
In other news, my friend Dennis Mahagin, a brilliant poet/writer, has a great blog and today he interviews one of my favorite authors, Alicia Gifford, whose incredible short story "Toggling The Switch" was chosen as the best online short story of 2004 by voters in the prestigious Million Writers Award sponsored by Story South Magazine. Just follow the link right
here
and be sure to stay for a while and check out some of Dennis' work as well. His sure to be brilliant collection of poetry titled "Grand Mal" will be published by
Suspect Thoughts Press
.
Hey, I'm also doing some traveling. On November 19, 2005, I will be at the
Pink Banana Boutique
in Virginia Beach signing copies of my book with other Phaze Authors. That should be a total blast. I understand that there may be, um, male models and live demonstrations?! Oh god. Well, what can I say, I always enjoy the strange and exotic.
Okay, music news...
Eric has a very cool gig playing drums with
Dr. Dark
in Connecticut on October 16, 2005. More info on that later. He's also on a pretty heavy duty practice schedule with the Shannon Penn band in anticipation of future shows and a tour. Julie has upcoming gigs with
Chuck Treece/McRad
and if you visit that link and read all about Chuck, you'll see just how cool
that
is.
Tonight and Sunday at 8:00 p.m. the School of Rock presents the music of Devo at the First Unitarian Church, 21st and Chestnut Streets, Philadelphia, PA. Eric is the assistant music director of this show, and since the actual director has left the city to go on a major tour with his own band, Eric will be running both the show tonight and the Sunday show as well and from what I hear, it's fantastic. These kids were also part "Devotional", a Devo fest held in Ohio a few weeks ago and they wowed the crowd with their set. So please come out and support Eric and the Rock School team -- they've worked very hard and it should be an awesome time.
If you can't make it or are not a Devo fan, please show up at Independence Hall tonight to support Cindy Sheehan and PROTEST THAT FUCKING STUPID ASS ILLEGAL WAR IN IRAQ. BRING OUR BOYS (AND GIRLS) BACK HOME!
Also, since I won't be around to announce it next week nor will I be able to attend since I'll be on vacation, I just wanted to also let you know that Eric's dad is assistant music director of the following show which Dylan is running, and it sounds like it's going to be amazing. Here's the details:
The Grandaddies of ROCKABILLY
Indre Studios 1418 Darien
Philadelphia PA
2pm Matinee! Sat Sept 17 Sun Sept 18
Finally, while I haven't updated the news section of my
website
yet pending confirmation of some pretty major announcements as concerns both my writing life and my kids' musical careers, I have updated the stories page there to include links to four new pieces published this summer so I encourage you to drop by and have a read.
Okay, then. To sum it up: Devo or Peace Protest tonight; read Alicia Gifford's interview in Dennis Mahagin's blog, and if I don't get a chance to post tomorrow, see you guys back here September 25! (Unless, of course, I break down and go to the library suffering from Internet withdrawal which alas, I must admit, is entirely possible).
I leave you now with the following photos of my dog, who, as you can see, is in fact allowed on my new furniture, because, well, he's part of the family, and he's so freaking great Julie can't resist giving him a little kiss.